Many modern women, when planning their wedding, move away from stereotypical decisions and rely on originality. Including they choose a green wedding dress instead of the traditional snow-white. And it's really great! After all, such an approach speaks of them as soft, sincere, charming people who love to explore the world in all its manifestations. Read on for how to choose an outfit in the right color and pair it with accessories/makeup.
Should a bride wear a green dress?
Why not? After all, nowhere is it indicated what color the wedding dress should be. Even for the Church, it is only important that it covers the shoulders, elbows and legs of the bride and is not transparent. The only thing is that parents can be against it. But the wedding is yours, not anyone else's. And only you can decide in what outfit you marry. be ordinary andstanding in front of the altar in a snow-white dress or looking amazing, like a forest nymph who came out of the forest in order to illuminate the festival with her beauty - this is also your choice.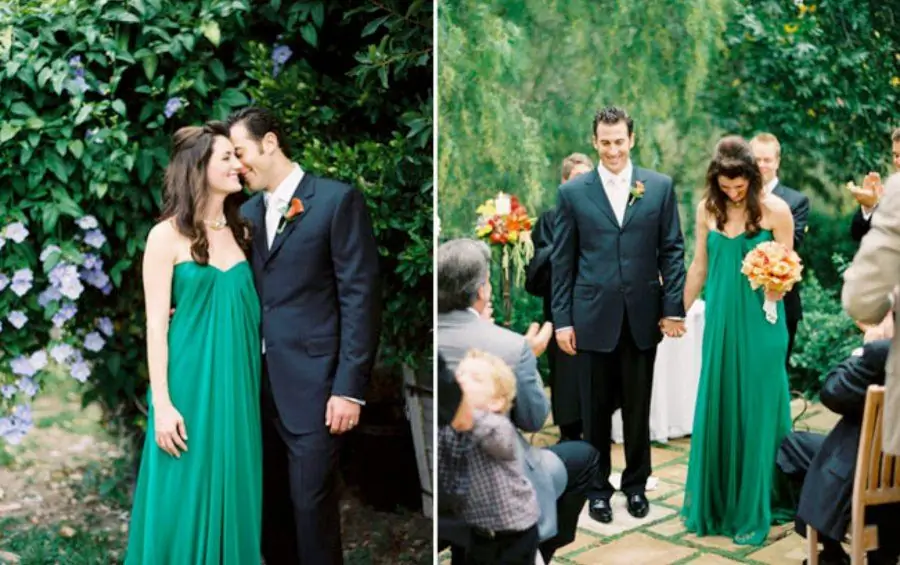 How to choose a green dress for a wedding?
It's better to look at your color type. So, a brunette bride with dark eyes will suit an outfit of a cold shade: emerald, fern, mint, lime or dark green. A blonde with light eyes - a light green or pale pistachio shade. A red-haired girl whose face is decorated with sunny freckles - olive or malachite. A brown-haired woman with blue / gray eyes should pay attention to a dress in the color of a fern or freshly cut grass. If the hair has been dyed, its natural color must be taken into account. If the color type is mixed, a green wedding dress should be chosen, focusing on the tone of the eyes.
Models of long dresses for the bride
All eyes will be on the bride on the day of the celebration, and therefore she must carefully think over her image in advance. It is worth remembering that only a well-chosen model of a green wedding dress will help to advantageously present the dignity of the figure and hide its flaws. Today, fashion designers sew outfits in the following styles:
Luxurious - a dress similar to the attire of a fairy princess. It is very fashionable. And besides, it allows the bride to feel like a queen. But it can be slightly uncomfortable due to the too flared skirt and the need to wear a petticoat with 2-3 metal rings. In addition, it is easy to get dirty inslush.
Empire - the peculiarity of this dress is the combination of an open neckline and a high waist. Dresses of this style were especially loved by medieval French women: brunettes and plump women. But for girls with large or too small breasts, such vestments are not suitable.
A-silhouette - if you look at the photo of a green wedding dress of this style, you can see that the outfit has straps or sleeves flared "from the chest". It is very delicate and almost airy, as it is sewn from satin, chiffon or organza. Suitable for thin women.
Mermaid - this outfit sits on the figure, and diverges from the knees with a fluffy skirt. It suits those brides who have a pronounced waist and beautiful hips. But women with massive shoulders and overweight should avoid it.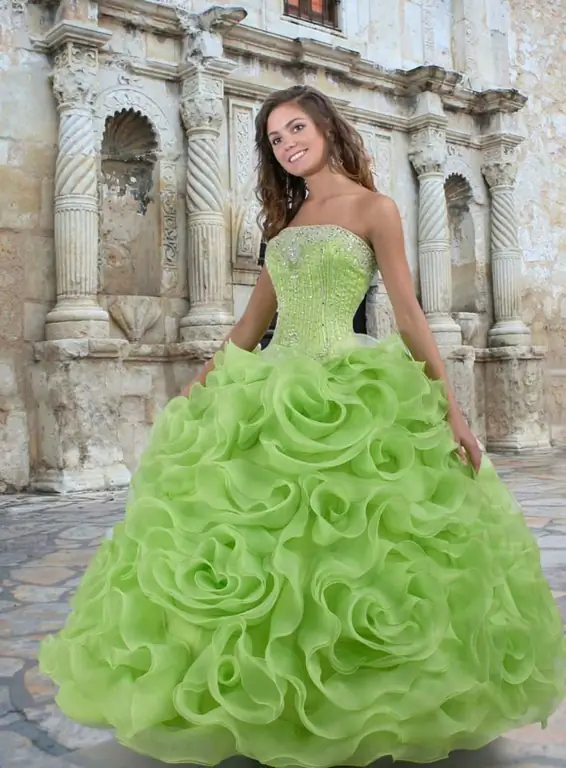 Dresses of all the styles listed above deserve your attention. But remember: you need to choose an outfit taking into account your figure, without idealizing it. That is, if you are a lush beauty with voluminous breasts, you should not cram into a tight-fitting outfit. Better take the one that really suits you.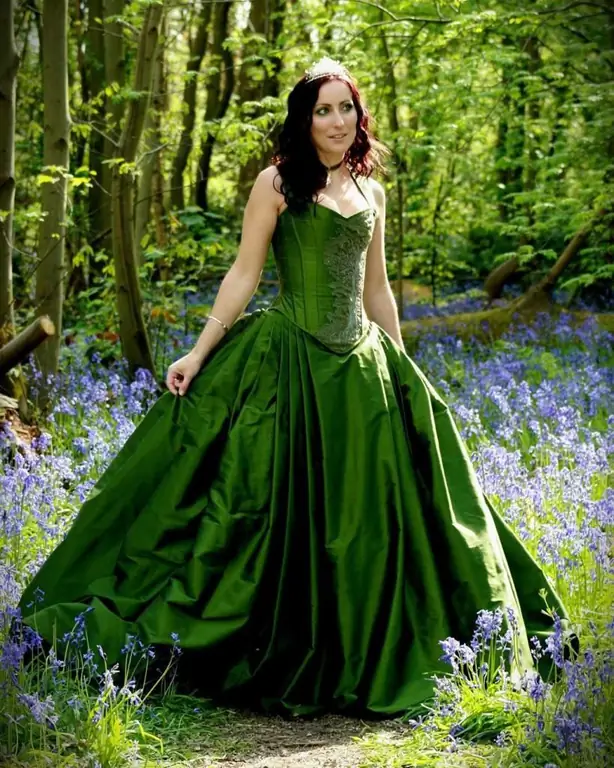 Short green wedding dresses
A short dress is worth choosing if you don't want to spend the whole evening thinking about how not to stain a long skirt. In addition, it will allow you to show off your beautiful legs and dance to your heart's content. And it can also be worn after the end of the celebration. You can be convinced of the magnificence of the outfit by looking at the photogreen wedding dresses presented on this page. When buying, pay attention to the features of your figure. So, slender brides with a pronounced waist are perfect for case models that tightly fit the body. And women with an "apple" figure should think about buying a dress without a pronounced waistline. It will hide the sides and stomach, balance the ratio of hips and shoulders.
Bridesmaid dresses with green details
In recent years, fashion designers have carefully considered the design of bridesmaid dresses. They strive to make such outfits look truly fantastic. And if you look at the photos of wedding dresses with green elements, you can say with conviction: they succeed! Clothing looks elegant and emphasizes the beauty of the bride: sets off the color of her eyes and hair, emphasizes a thin waist, etc. Green ruffles, bows, etc. wonderfully decorate powdery, yellow, black or lilac outfits. But white and green wedding dresses look especially luxurious. They are suitable for those girls who want to follow cultural traditions and at the same time bring some kind of bright accent to their image.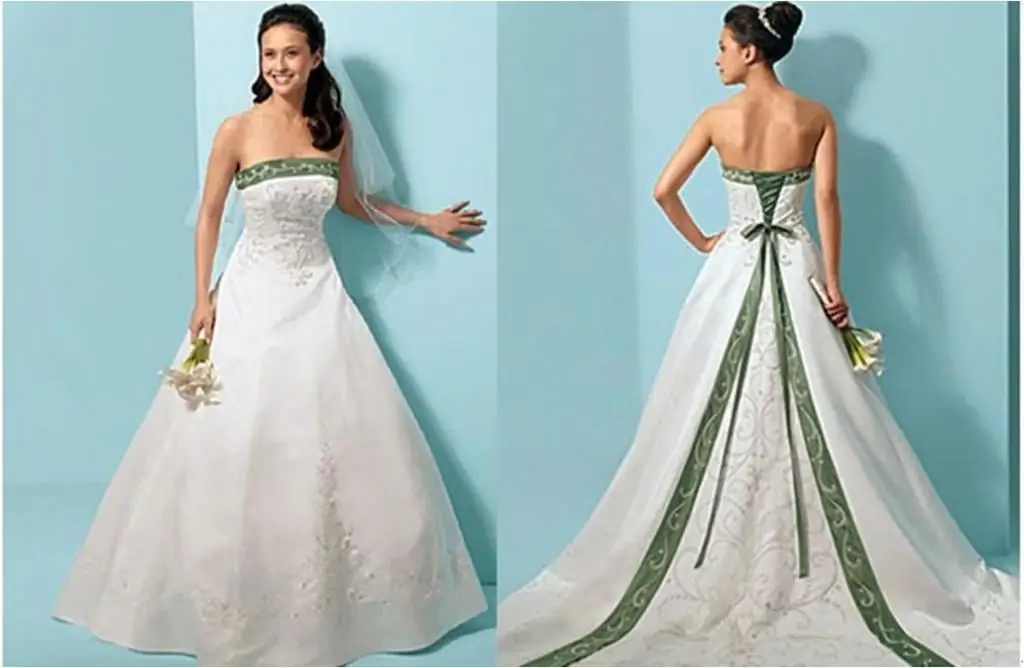 Selection of accessories for a green dress
To make the image harmonious and complete, the bride should think over her style of clothing in advance. If she wants to look gentle and romantic, then the emphasis should be on a green dress. Brightly painted or decorate yourself with dazzling accessories in this case is not necessary. Another thing is if the bridegoing to arrange a photo shoot in nature. Here she can "get lost" against the backdrop of foliage. To add color, you need to wear bright accessories: a beautiful cape, gold or red earrings with a necklace. You can also put a flower wreath on your head or pick up a bouquet.
Selection of makeup and hairstyles
Before applying makeup, you need to choose the right cosmetics. So, the shadows can be black, brown or gray. You can also use pink ones, but in this case you should wear a dress not pure green, but dark emerald or menthol. And one more thing: when choosing such cosmetics, it is important to ensure that the color of the shadows does not match the color of the eyes. Otherwise, your look will become expressionless. As for lipstick, you should give preference to the one that is in harmony in color with the dress. The tone of the blush should be chosen in the same way as the lipstick: cold - to dark green or turquoise dresses; warm - to bright outfits.
Hairstyle must also be in harmony with the style of the dress. Its creation is best entrusted to a professional hairdresser. At home, you can decorate your hair with a small amount of natural or artificial flowers or ribbons. You can also wear a green headband. If you go to the altar with your hair down, try curling it a little. It will be more beautiful and more festive.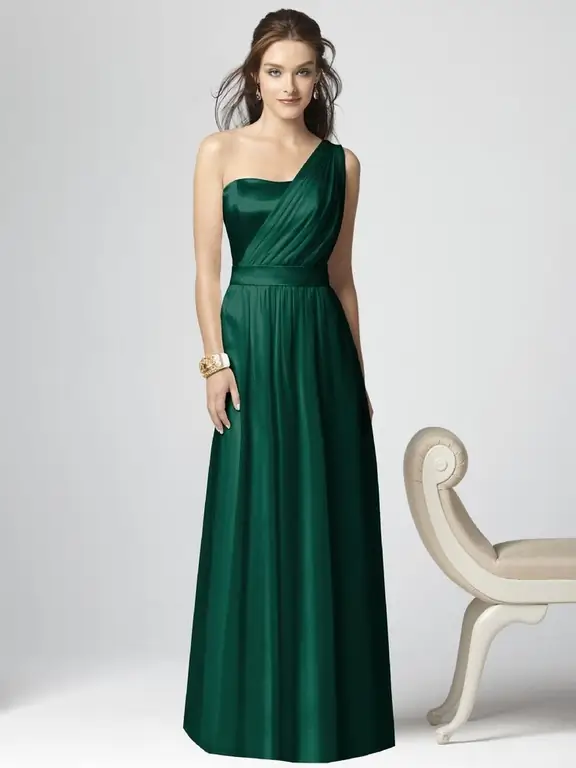 Stylist Tips
In recent years, fashion designers have been actively developing wedding dress designs. They recommend choosing dresses with bare shoulders or straps for summer celebrations, and those with long straps for winter celebrations.sleeve. For those who like to shock, experts offer models where the top and bottom are made in different styles. They also say that the bride, who decides to wear a green dress for her wedding, should take care of choosing outfits for the groom in advance. It should be wearing something of a similar color, such as a tie, shirt, some accessories, etc.
If you are embarrassed to wear a green wedding dress, but really want to, ask your girlfriends to wear matching outfits. So, you will feel comfortable and cozy. Also, be sure to think over the interior of the wedding hall and table setting. Remember: there should be a lot of green things around you. But not so much that you get lost in their background.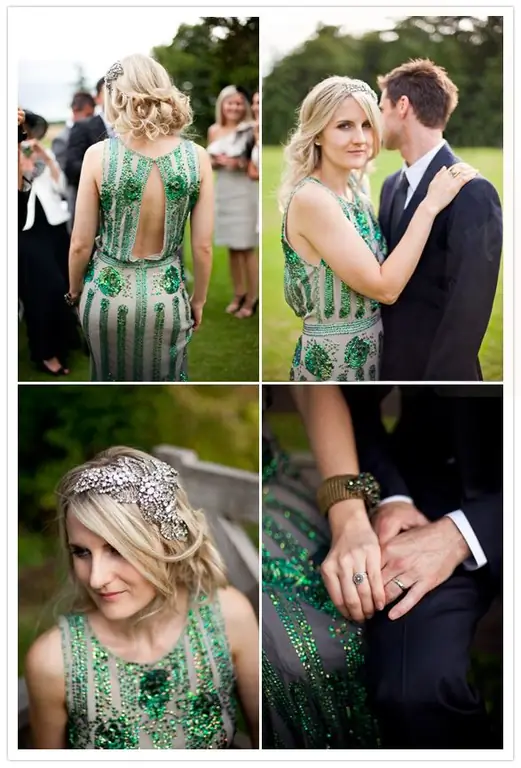 As a conclusion
According to signs, a green wedding dress is chosen by calm and self-confident brides, for whom marriage and family are the most valuable thing in life. And also those who marry not for the first time. Such girls never trade on trifles, prefer to express their own feelings through actions and are ready to give their partner a reliable shoulder at any time. Husbands will always carry these beauties in their arms. They will never leave their we alth with good luck, as well as happiness. If you are still thinking about whether to wear a green dress to your wedding or not, just come to the salon and try it on (they don't take money for this!). And if it suits you, be sure to get it. Good luck and happy marriage!
Recommended: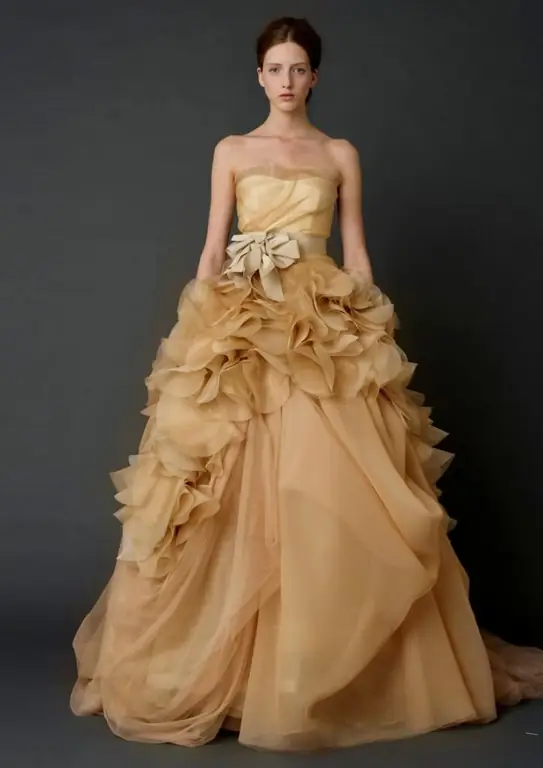 Wedding is a joyful event for every couple in love. The girls are waiting for him with bated breath, thinking through all the details. An ideal celebration will remain in the memory of the spouses for a long time, and in order for the memories of this day to be the best, the girl must become the star of this event. A golden wedding dress will help her with this. By choosing the right style and accessories, the bride will create a luxurious look that will definitely amaze all the guests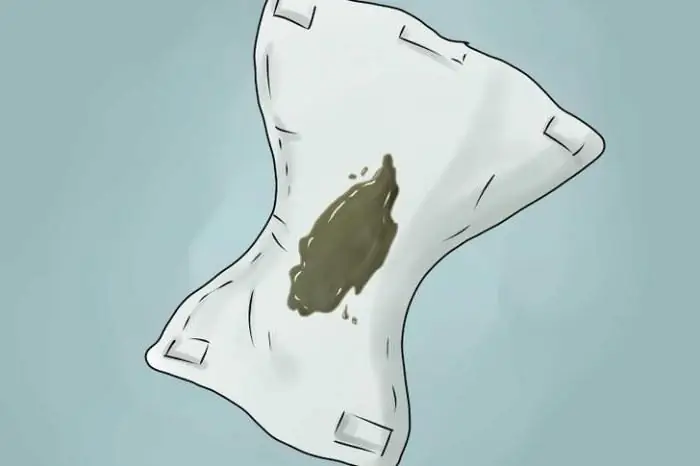 Various analyzes are the only way to get maximum information about pathological processes in the body. One of the most obvious and accessible for diagnosing children's tests is the study of bowel movements, so it is not surprising that many mothers, like doctors, are interested in why the baby has green poop, whether this is a problem or not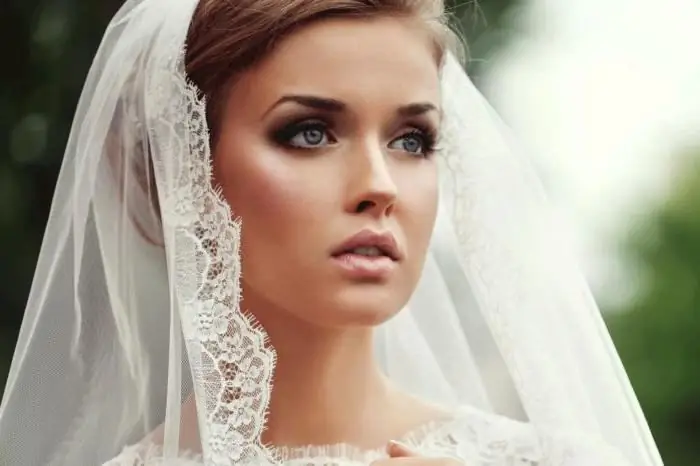 Marriage proposal is an amazing moment in the life of any girl. However, from this time on, a truly responsible and exciting period begins for the bride and groom, filled with experiences related to the organization of the future celebration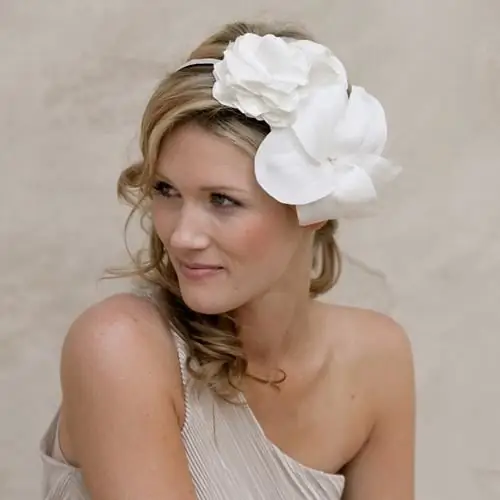 Wedding accessories are an integral part of holding festive ceremonies and creating the image of the groom, bride, witnesses. Such trifles can be purchased in specialized stores or salons, made independently or made to order from the master, according to your preferences, the theme of the event and the color scheme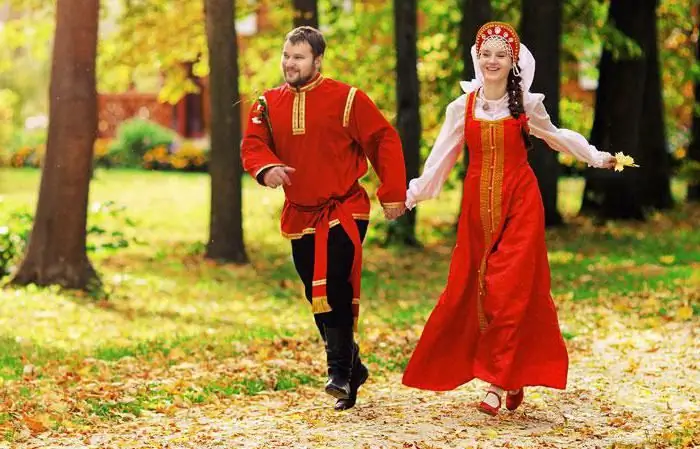 Do you want to have a wedding in the national style? Then you should know what Russian-style wedding dresses are. In this article, you will learn about what the dresses of Russian women were like many years ago, and what they are like today