Today, national paraphernalia is becoming increasingly popular, which is present almost everywhere: in hats, accessories, shoes, clothes and other details of everyday life. This feature was caught not only by famous designers, but also by ordinary fashion designers, as well as atelier workers. And away we go. Shops, markets, boutiques and other outlets, including bridal salons, were filled with goods with traditional designs. And the most spectacular were wedding dresses in the Russian style. What is special about them? What national outfits were before? And what are they like today? What does contemporary fashion offer charming Russian brides?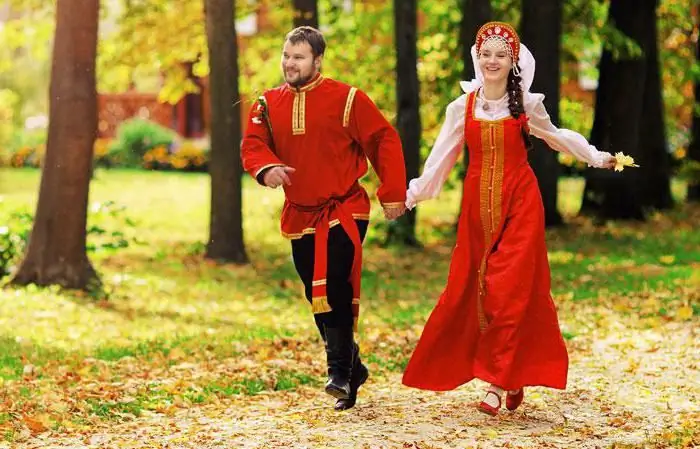 What was the wedding outfit like before?
Many people know about the ornament, colors and even some details of the wardrobe worn by brides in Russia. Only not everyone knows that the wedding dress weighed about 10 kg (or even more). Shocked? But for the young women of that time, this outfit did not seem so supernatural. On the contrary, it was a source of pride, as it was created by hand. Andbrides themselves were engaged in design and tailoring. It was believed that the more patterns on the wedding dress, the more industrious the wife would be.
It is noteworthy that the Russian folk dress of the bride was put on over the undershirt, which was also sewn and decorated independently. By the way, the creation of the entire outfit was a very laborious process. And it's not even the amount of decor that covered clothes from top to bottom, but the number of numerous skirts that add splendor. All of them were also made by the hands of a craftswoman.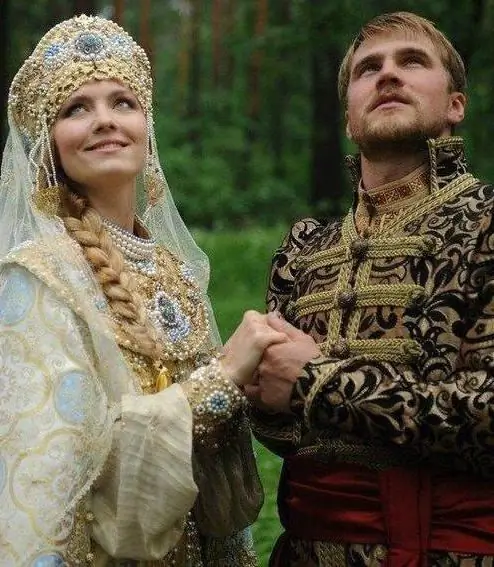 Show me your dress and I'll tell you who you are
Since the wedding was considered a very costly affair (since that moment, little has changed), in many families there was a tradition to pass the wedding attire from mother to daughter and further down the female line. In addition, each owner of the outfit was obliged to add something from herself to it. The result was beautiful sundresses studded with pearls, precious stones, and beads.
Wedding dresses in the Russian style could be decorated with a brocade mantle. They were attended by national embroidery with gold and colored threads. And, of course, by how expensive the bride's dress looked, others could judge the financial situation and social status of her parents.
Accordingly, if the family was poor, then the wedding dress itself was much more modest. There were no frills on it, but national symbols were present.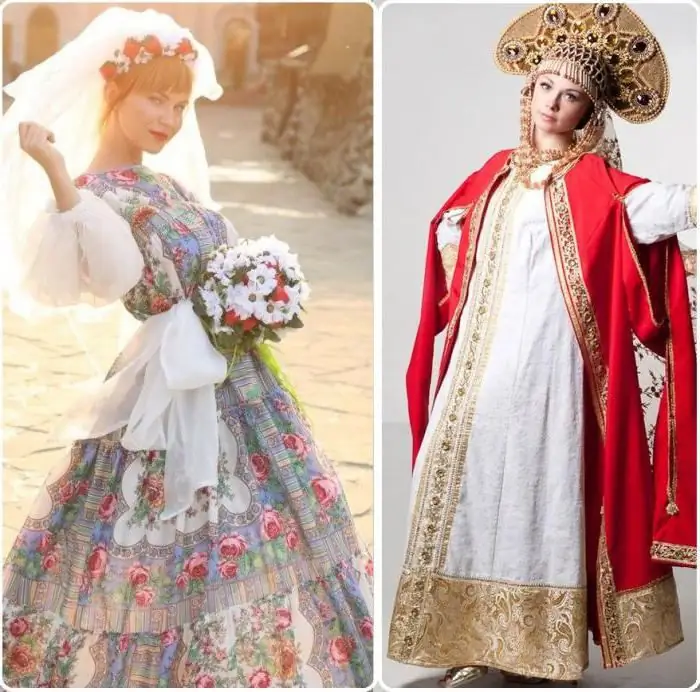 Headdresses of brides in Russia
Like a wedding sundress, headthe dress for the brides of that time was also created by the hands of young craftswomen. And, of course, its variety and number of decorative elements depended on the we alth of the bride's family. So, ordinary village girls put a wreath of wild flowers on their heads. Or they used satin ribbons as decoration.
We althier brides could decorate their hair with high hoops with inlaid stones, pearls, or hide their hair under a fashionable wedding kokoshnik at that time. Jewelry made of gold, silver or bronze was a bright addition to such dresses.
In winter, the bride's dress was covered with warm outerwear. Over the outfit, poor brides wore sheepskin coats made of hare, sheepskin or squirrels, and rich ones wore fur coats made from beaver, fox or sable skins. Hands were warmed in fur muffs or mittens.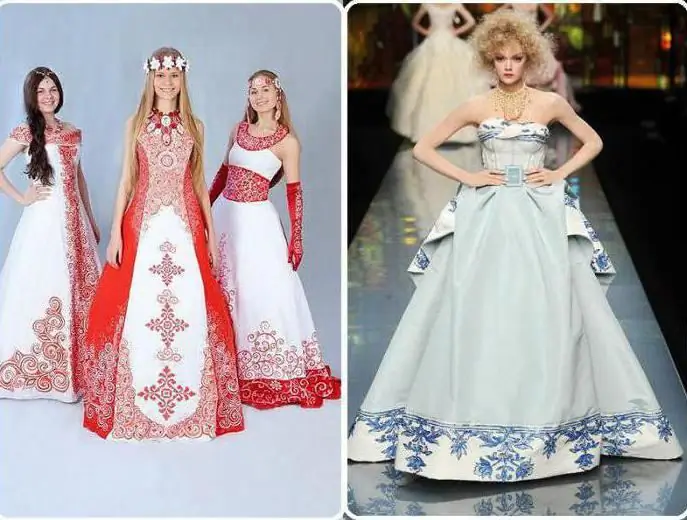 National outfits are an inexhaustible source of inspiration
Despite the fact that a lot of time has passed, national Russian costumes continue to interest modern fashionistas. And for most designers, Russian folk dress has become an inexhaustible source of inspiration.
Of course, modern fashion trends are somewhat far from the original wedding costumes of Russian women, but they still have common decorative elements and cut features.
Which dresses do designers offer brides?
Few of today's fashionistas would agree to wear kokoshniks and sundresses of the past. It is much more pleasant to choose designer wedding dresses in Russianstyle. Modern couturiers have also done their best to preserve the subtle threads of the past in their creations, slightly embellishing them with completely new touches. For example, during fashion shows, you can see spectacular outfits with a wide and long floor-length skirt or chic semi-fitted dresses.
As an option, you can choose A-shaped dresses and sundresses. In such dresses, any bride, as a rule, looks elegant and graceful. And most importantly, they are ideal for women with any type of figure. Recall that this style of clothing traditionally consists of a bodice and a long skirt, expanding from the waist.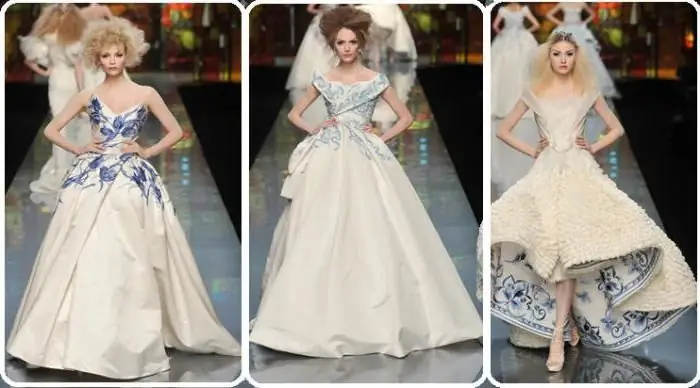 What colors are used in the design?
In order for the Russian wedding dress to look as spectacular as possible, modern fashion designers use a certain combination of colors. For example, among such models, predominantly white classic colors, characteristic of the bride's clothes, predominate. However, a striking addition to them is embroidery or printed ornament in red or blue.
If the choice of the bride falls on a stylized outfit, then instead of the classic attire, she will have to wear a red sundress, complemented by a white blouse with puffed sleeves. It is noteworthy that it can be a fitted or flared style, or a dress a la "Natasha Rostova" (consists of a bodice and a fluffy skirt that begins to expand from the chest).
Among other colors that are used in Russian wedding costumes, you can also find the following shades:
sand;
cream;
blue and blue.
Green, mountain ash, pink, bright lingonberry, yellow, silver and gold colors may be present in the ornament, which abundantly covers the bride's dress.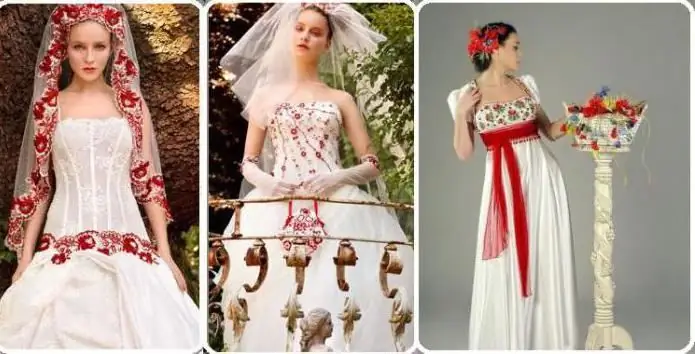 What fabrics are used?
To create Russian-style wedding models, as a rule, natural materials are used. For this purpose, suitable, for example, cotton or linen. But since fabrics so light and pleasant to the body wrinkle a lot, a very thin staple is often used instead.
By the way, it already contains viscose thread and cotton. It almost does not wrinkle and drapes beautifully (creates the right amount of folds or flounces). Here are just wedding dresses in the Russian style, created from such material, suitable only for a summer wedding. This is due to the fact that mainly summer wedding sundresses and dresses are sewn from cotton. It is very light and suitable for creating any style of clothing. It can be white dresses with narrow or wide straps, flared skirts, fitted or semi-adjacent silhouette.
A few simple rules for creating the image of a Russian bride
Despite such a wide variety of models of wedding dresses made in the Russian style, there are a number of rules that should be observed when creating them. For example, a traditional wedding dress with national motifs should be made in a restrained style. This means that the models should not be supplemented with a too deep neckline.or an overly revealing slit.
If we talk about the length, then many fashion designers prefer not to go in cycles in any one. Therefore, among their works you can see not only long dresses on the floor, but also medium-length models (mini styles are much less common) with fitted or semi-fitted silhouettes. They may contain flounces, lace seams, puffed sleeves and, of course, a folk ornament or printed pattern.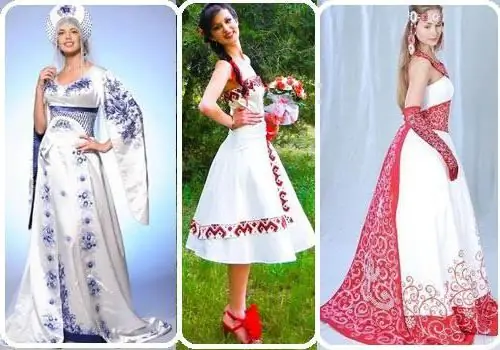 Wedding dresses in Russian style: decor and decoration
The traditional wedding dress of a Russian woman, no doubt, should be bright and expressive. This effect can be achieved by decorating the fabric with a national ornament, for example, it should be a printed print or beautiful embroidery (gold and colored threads, ribbons). It is noteworthy that embroidery can be present in various places of the outfit, but most often on the sleeves, in the chest, waist and on the hem of the skirt.
What can I wear with a wedding dress?
When choosing wedding dresses in Russian folk style, you should take care of additional accessories and shoes. For example, for a beautiful and long outfit, light ballet flats are suitable, for a medium-length dress (depending on its color scheme) - half boots. And, of course, the type of shoes directly depends on the time of year when the marriage takes place. In summer, these are sandals, in autumn - shoes, and in winter - neat shoes or boots.
Additionally, the outfit can be decorated with red beads or a string of white pearls. You can wear a modern version of the kokoshnik on your head,a wreath of artificial or natural flowers or weave ribbons. And complete your look with a long and luxurious braid.
But most importantly, all accessories and the outfit itself must be combined, because without harmony you will not be able to achieve the desired effect. And if you follow these simple nuances, you will become a real Russian bride in a traditional wedding dress.
Recommended: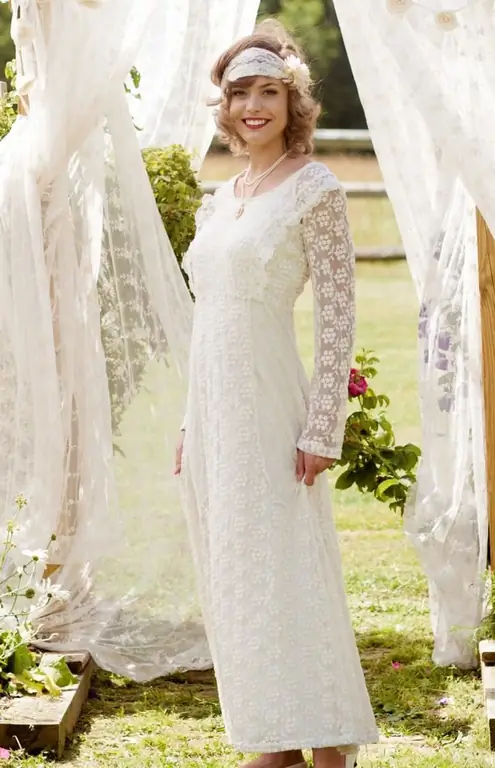 In recent years, vintage items are gaining popularity in many areas of human life. They have not bypassed the fashion industry either. Many designers draw inspiration from outfits from different eras. A wedding dress in this style makes the bride tender, elegant and mysterious. The bride can choose a dress according to her taste and create an incomparable wedding look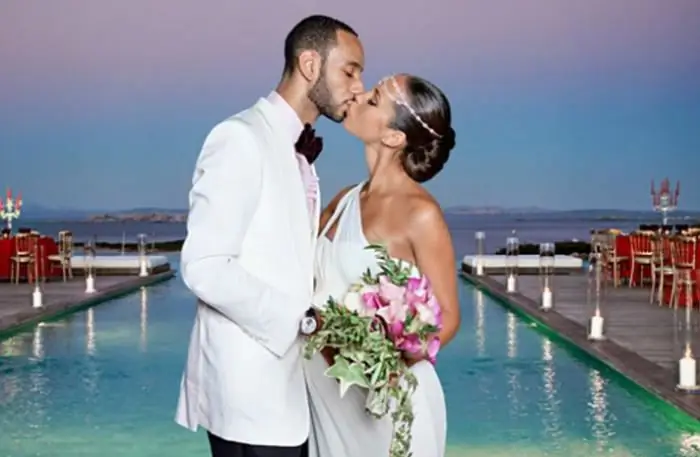 Themed weddings are very popular today. What it is? What are the wedding styles? How to organize a holiday on the chosen theme? This will be discussed in this article. In the photographs offered to the attention of readers here, you can see fragments of weddings in different styles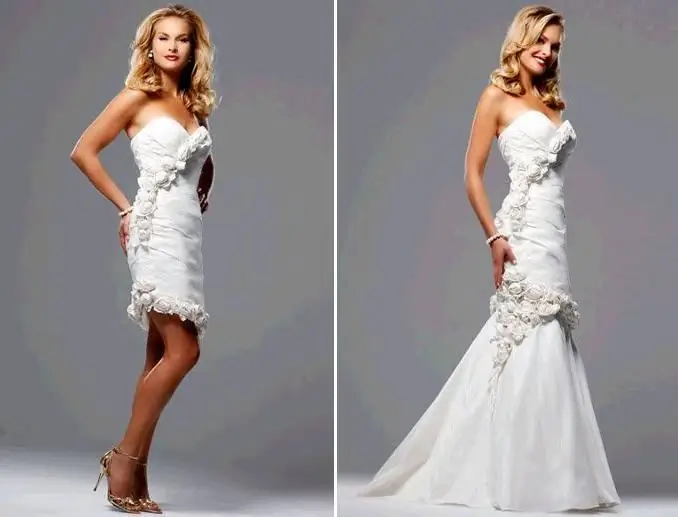 A transforming wedding dress is a unique opportunity to appear at the long-awaited celebration in two images without fuss and painful dressing. For example, you can go to a wedding ceremony in classic elegant and lush, and have fun with friends and family in a flirty cocktail. What types of wedding dresses-transformers exist today? And are there any downsides to this choice?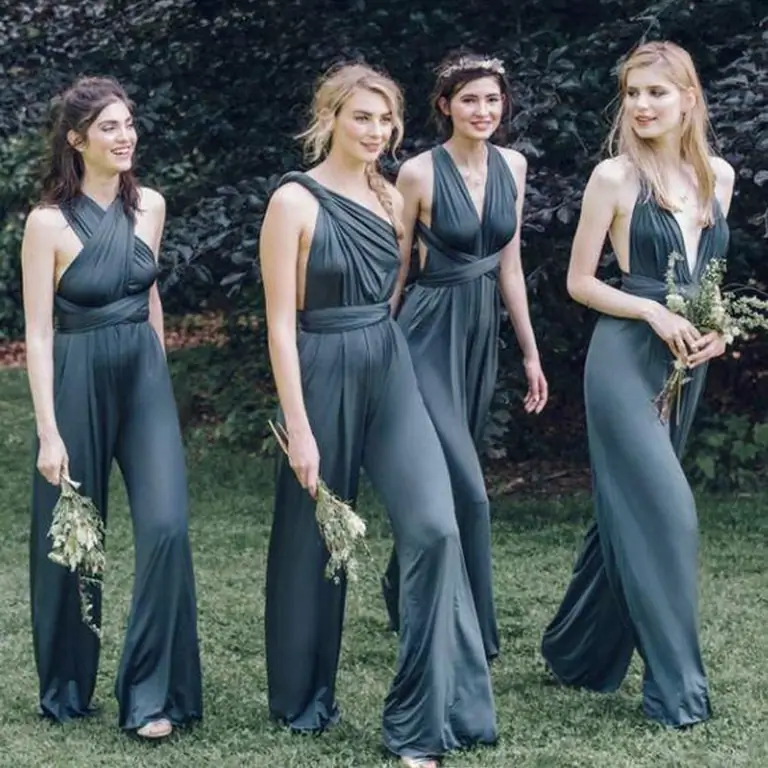 Dresses for a bridesmaid for a wedding: photos of classic, original and trouser styles. Bridesmaid dress trends for 2018 What will be fashionable at weddings this year. Bridesmaid dress for spring and summer, autumn and winter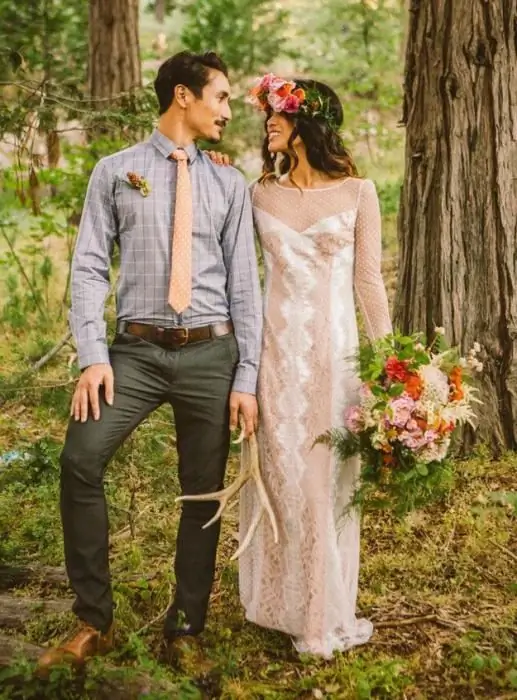 For young people, marriage is the most important event in life. And they strive to organize it in such a way as to impress not only those around them, but also their descendants. This day should be original, bright and unforgettable. Organizing a wedding in boho style will add unusualness and individuality to the celebration