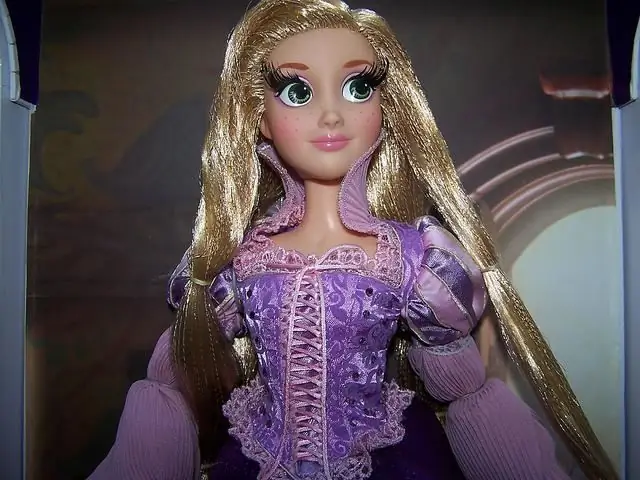 The golden-haired Rapunzel doll owes its arrival to the world to the Disney cartoon "Rapunzel. A Tangled Story, filmed in 2010. The touching story of a beauty imprisoned by an evil witch-stepmother in a high tower, and then saved, of course, by a noble prince, gained such fame that toy manufacturers could not help but respond to the popularity of the fairy tale characters and created a whole line of "cartoon" toys. The centerpiece of this expressive Disney series is the adorable Rapunzel doll, recreating the image of a Disney princess. All dolls are equipped with hinges that ensure their mobility, and the high quality of the materials from which they are made allows parents not to worry about the safety of the child, his wonderful mood and peace of mind.
Toy images of charming Rapunzel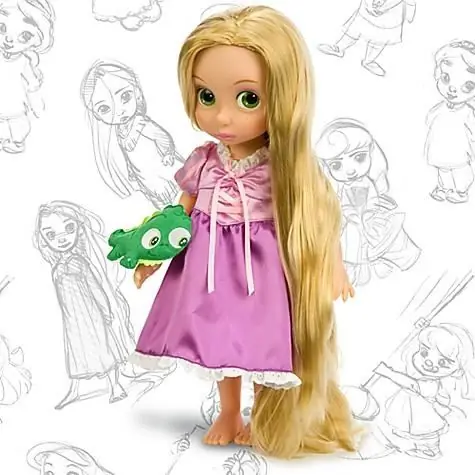 Designers did not stop at a single image of a fabulousprincesses. They created several dolls that quickly won the hearts of little fans. For example, Rapunzel as a child is a nice girl in a wonderful outfit with long hair that can withstand repeated braiding, pouting lips and bare feet.
One more image - doll "Rapunzel singing". One has only to touch the palm of the princess in a lavender dress, as she begins to sing in English. The beauty's outfit is trimmed with fine lace and embroidery. Singing Rapunzel has a hairbrush in the color of her dress, with which you can always bring her luxurious hair to perfect condition.
Rapunzel doll (Disney) for adults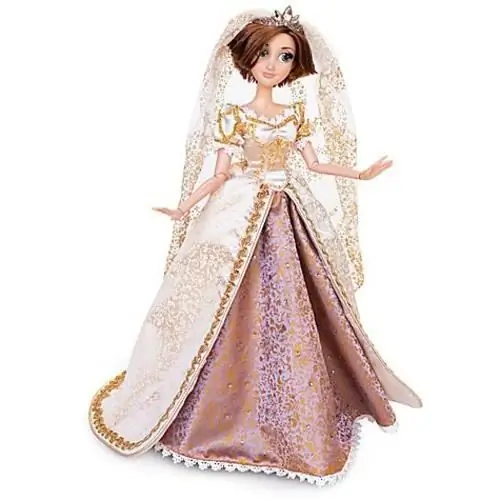 For collectors, Disney releases limited edition exclusive versions of the doll princess, which are quite expensive. So, in the world there are only 5,000 copies of the luxurious collectible Rapunzel doll in a dress with rich trimmings and amazing, shimmering hair. The circulation of another collectible doll, whose name in Russian is "Wedding Rapunzel: Happy Forever", is 8,000 copies. The bride of Rapunzel shines in a luxurious ivory dress, decorated with lace, gold embroidery, intricate lacing and imitation pearls. The bride's hairstyle - a perky bob and chestnut curls - is very different from the long thick hair of other Rapunzel dolls.
Puppet princess as a means of education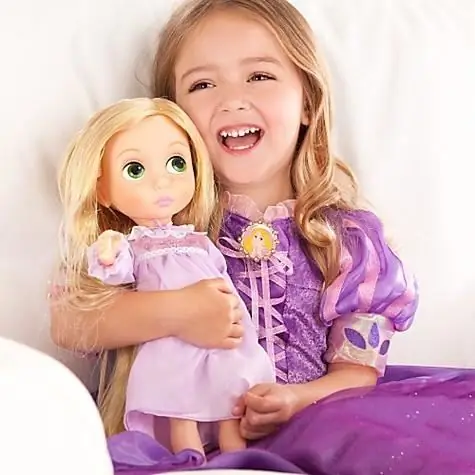 Adults who decide to buy a Rapunzel dollfor their little daughter, act sensibly. After all, every baby, playing with dolls, repeats the same actions that her mother does in everyday life. The girl washes and combs the doll, puts things in order in her room. During the game, she is engaged in a very serious matter - she realizes her place in society, acquires the necessary skills, and prepares for the role of mother and mistress of her hearth. If a beautiful Rapunzel doll "settled" in your baby's room, be sure that before the eyes of the child there is a wonderful example of good taste that can influence the choice of your own style. Playing with a princess doll, the girl develops her imagination, gets used to neatness, realizes the need for constant care for her appearance, and her little world is filled with magic and charm.
Popular topic