All of us in childhood loved to fold various figures out of paper. So why not teach this fantastic and magical skill to our children? The tradition of creating paper crafts came to Russia from Japan, where the origami technique reached perfection.
Origami for kids is not only a fun activity. It helps to develop perseverance, patience, attentiveness, the ability to imitate and, most importantly, improves fine motor skills, which is so important to develop at a very early age. But that's not all! By creating beautiful crafts, the child will learn to appreciate the beautiful, he will form his own artistic style, and develop creative abilities.
Adults, setting an example for a child, will be able to achieve good results. At first, the kid will just help to create, and over time he will want to independently make an origami paper model for children, whether it be a cat, a fox or a boat.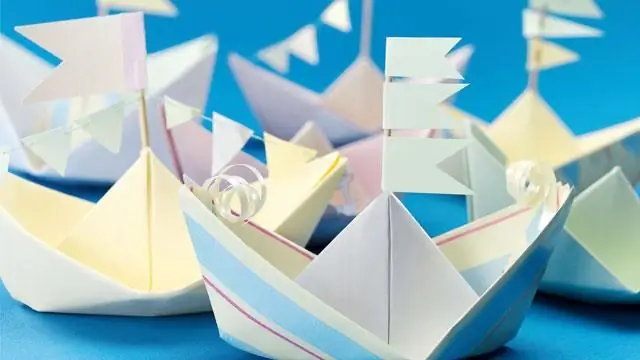 It is sometimes very difficult for a child to understand how a variety of crafts are obtained from an ordinary sheet of paper. Therefore, there is nothing strange in the fact that children really like this activity. After all, it is akintricks performed by a real magician. Having learned to create amazing things on their own, the child will not only enjoy the result, but also master the technique so much that he can surprise his peers.
With the help of origami for children, you can create a lot of interesting figures. Movable origami is of great interest, with which you can later play. There are also origami toys with talking little faces. With their help, you can deploy a real puppet show, putting the figures on your fingers. Equally funny and attractive are inflatable origami toys that are filled with air or water.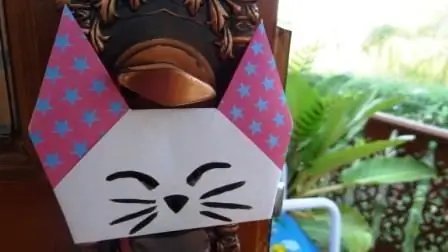 It is necessary to start learning origami for children from the simplest elements such as a square, triangle or other geometric shapes. Gradually, you can move on to more complex tasks. For example, fold a "ship" out of paper origami for children, which is quite simple to make. And there is no need to dwell on the description of the scheme.
Having perfectly trained his hand on simple paper models, the child's skill and imagination will play out so much that he will be able to independently create, for example, origami for children "cat".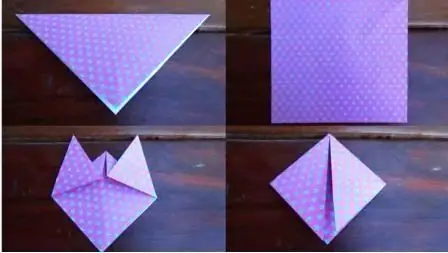 To create a cute cat, you will need a simple sheet of paper, the size of which depends on how much you want to get a big figure in the end. The diagram shows the stages of work quite simply and clearly.
The square folds in half diagonally.
Anglesthe bases of the triangle from the side of the fold are wrapped towards its top.

origami for children diagram

The resulting "wings" are again folded in half so that the tops of the small triangles form cat ears.
The free bottom edge of the sheet is folded up, and the figure is turned over to the other side.
Side corners are folded in.
The bottom edge goes up and the corner wraps in.
The cat is ready, it remains only to draw her face according to your taste and desire.
Popular topic