In childhood, a child should be able to move freely. Modern children spend too much time playing computer games while sitting at the table. Therefore, it is very important to encourage children to move outside the home. Sports corners in kindergarten should be equipped accordingly. What are the main requirements for their design? This article helps you figure it out.
Where to place a sports corner in kindergarten?
A standard kindergarten usually has a music room. In more modern projects, there is often a room for physical education. In addition, sports corners in kindergarten can be located in the groups themselves. The management of the preschool institution must provide the necessary stationary equipment.
Decoration of the sports corner
A classic option, suitable for any kindergarten, should include a wall bar, baskets with balls, mats, stands with flags, hoops, ribbons, etc. Many modern preschools have simulators. Usually theydesigned for children from senior and preparatory groups.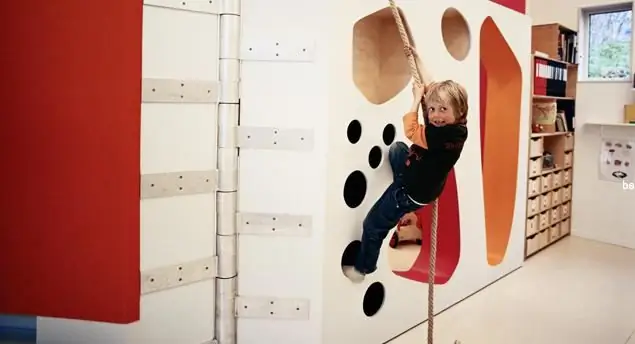 Periodically, sports corners in kindergarten should be refreshed by changing attributes. They must be appropriate for the age of the children. For example, for kids in the younger group, you should pick up light balls of medium size - they are easy to roll or throw at each other. You can make small gates out of plywood or plastic for rolling balls.
For children in older groups, it is necessary to have several different types of balls. Large ones will be used for gymnastic exercises, and small ones are suitable for throwing at a target. You can make a target out of plywood and hang it on the wall at the level of the eyebrows and eyes of the children.
Sports corners in kindergarten are a place where you can store those items with which children perform daily exercises during this period. It is desirable that there are slightly more attributes than children in groups. During morning exercises, you can use flags, balls, flowers, cubes, hoops, gymnastic sticks. At other times, there may be fewer in the corner.
Sports corners in kindergarten can serve as a place to store many items for hardening. For example, there may be massage paths. Such inventory is sold in stores. A prickly plastic track will be successfully replaced by a button track, which can be easily made with your own hands. For the correct movements while walking, special "footprints" can be made.
Who is the performer?
Beautiful and functional sportythe corner is not too difficult to make, but you still have to tinker. If the leadership of the preschool, teachers in groups and, of course, the parents of the children get down to business together, then such efforts will not go to waste. A corner for sports and games will be fun and practical.
Inventory for children is usually ordered centrally. It should be fixed in compliance with all safety regulations. For example, Swedish walls after installation should be checked.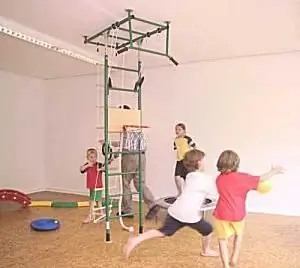 It is advisable to order equipment at the same time, such as pendants, stands for various attributes. It should be chosen so that it is not only useful. Children love everything beautiful, bright. Therefore, sports corners of saturated colors will become especially favorite among children. An excellent solution could be a cockerel, on the wings and in the pockets of which handkerchiefs and flowers are located, and all kinds of multi-colored hoops hang around the neck.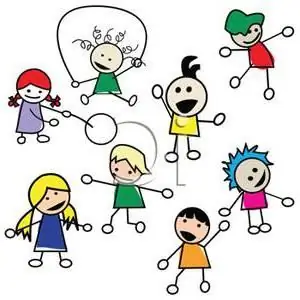 Many parents help make or purchase special sports complexes, which are often installed in apartments. Also, moms and dads can make some attributes, such as gates, targets, a massage track with buttons, etc.
Results
As you can see, the construction of a sports corner is a simple procedure. A little money and labor - and your children will be able to grow up, strengthening their he alth.
Recommended: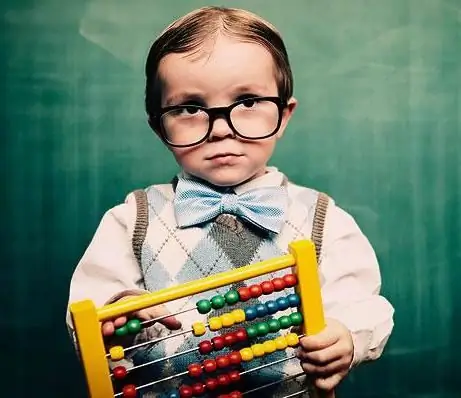 How to arrange corners for parents in kindergarten? Where is it more convenient to place them and what information should they carry? Read about it in the article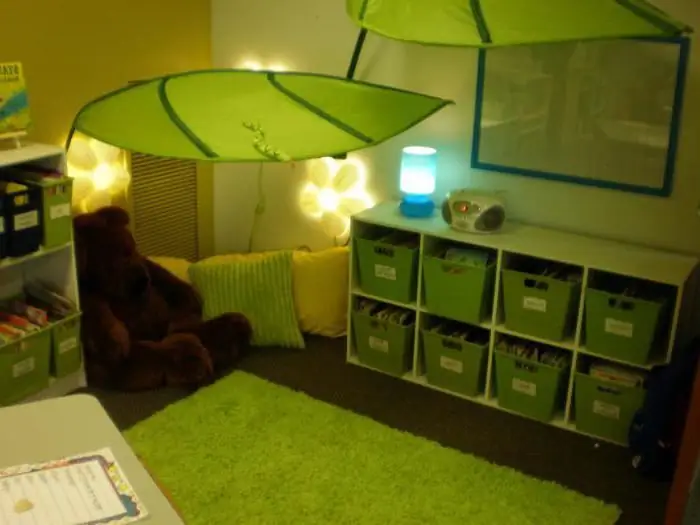 A properly organized environment will help the little man quickly adapt to a new place and learn to manage his emotions. One of the most effective tools for optimizing work and managing the mental load on a child are privacy corners in kindergarten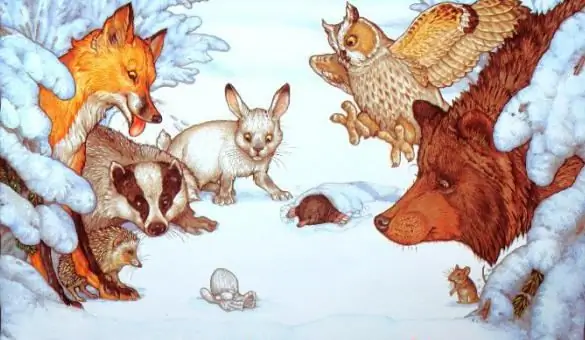 Despite the unpretentious content, the kids really like the fairy tale "Mitten". Its text is filled with colorful names of animals, logical repetitions that are quickly remembered by kids and develop their speech. The fairy tale teaches to be hospitable, friendly, to take care of others. The animals feel sorry for each other, do not let them freeze, let each new comrade into the dwelling, while they themselves are crowded, experience inconvenience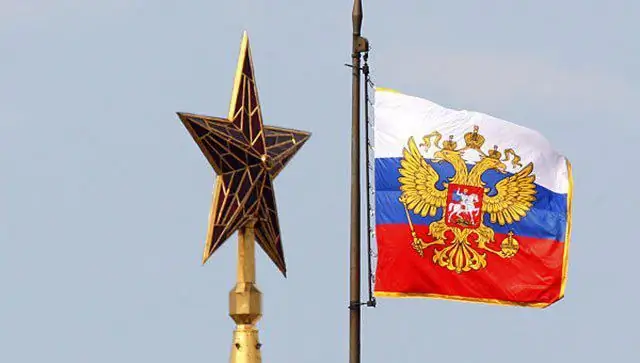 The article contains a description of the rules for designing patriotic corners in kindergarten. The methodology of the teacher's work on the education of patriotism in kindergarten is considered. The main attributes and goals of creating a corner are described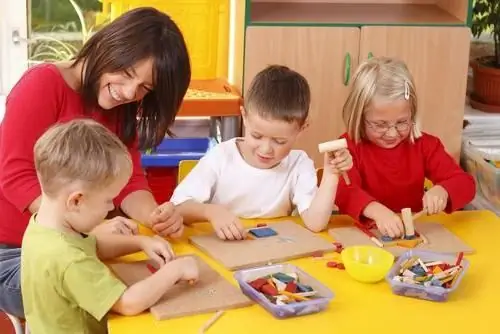 Congratulations! Your child was given a ticket to the garden, a new world with all its colors will open for him. However, most parents experience very mixed feelings of joy and fear, anxiety about a new stage in a child's life. How to prepare a child for kindergarten? What feelings does the baby experience?