Since ancient times, wedding wreaths on the head of fresh flowers symbolized the purity and innocence of the newlyweds. Our distant ancestors had a tradition according to which this decoration was launched into the water. They were woven mainly from various wild flowers or from ripe ears of wheat. After reading this article, you will learn a lot of interesting things about this wedding accessory.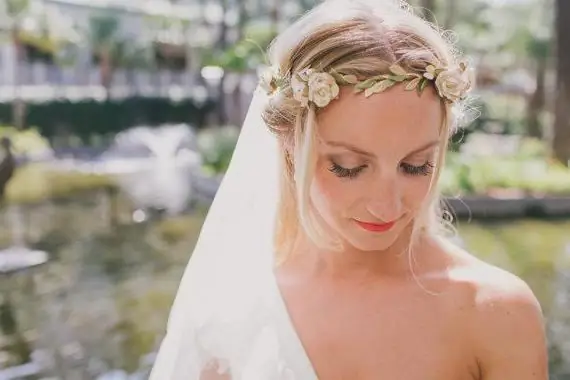 Main Features
Today, the fashion for a wedding wreath on the head is gradually returning. Many modern brides replace the traditional veil with them. This inexpensive and stylish accessory is especially relevant in the summer. It looks best on long hair, loosely loose over the shoulders. Girls with short haircuts can pick up a composition of small delicate flowers.
When creating a wedding wreath on your head, you can use not only live, but also artificial plants. To give an image of romance, it is desirablecomplement the bride's decoration with translucent ribbons. For a hippie or country style celebration, a wreath decorated with daisies, buttercups, forget-me-nots or cornflowers is suitable. To create a more elegant and sublime look, you can decorate the bride's head with an accessory woven from chrysanthemums, daisies or orchids.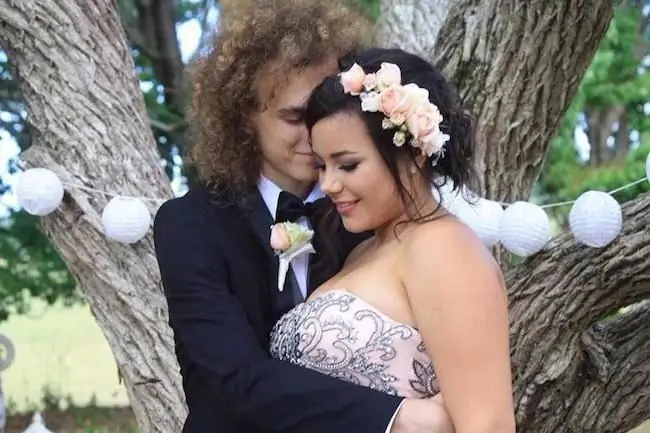 What materials will be required to create such an ornament?
To weave a wedding wreath on your head, it is not necessary to turn to professionals. This can be easily done with your own hands. To create a stylish accessory you will need:
bundle of dusty miller;
flowers in harmony with the overall style of the celebration;
pliers;
floral ribbon;
thin wire.
If you wish, you can decorate the wreath with sequins or beads. They also need to be stocked up before starting work on creating a wedding accessory.
Sequence of actions
A couple of hours before the start of work, selected flowers are recommended to be placed in a cool place. Thanks to this, the wreath will retain its original beauty and freshness throughout the celebration.
At the initial stage, you need to make a circle of thin wire. Its diameter should correspond as closely as possible to the size of the bride's head. After that, it is carefully wrapped with floral tape. This is necessary to hide the unaesthetic wire. After preparing the form on which the flowers will be planted, you can take care of the plants themselves. Their stem is cut like thisso that about three or four centimeters remain.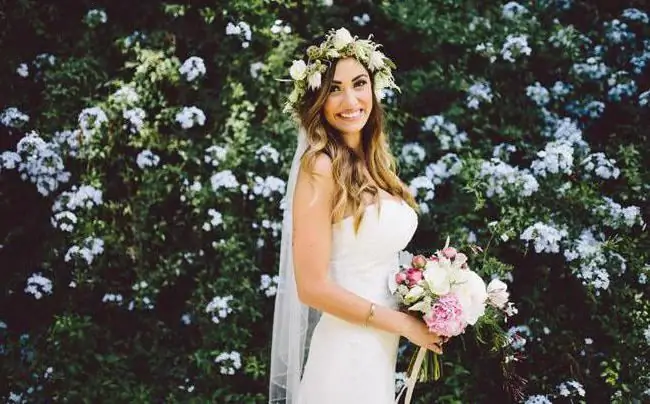 Usually weaving starts with the largest flower. So that the wreath does not look monotonous, it is advisable to select plants that differ slightly from each other in tone. Flowers are attached to the frame with a pre-prepared tape. From above, you can add suitable decorative greenery. The finished accessory is decorated with beads or lace.
What signs are associated with a wedding wreath?
Our distant ancestors believed that flowers that did not fade for a long time indicated that the new family would have many children. Some European peoples believed that after the celebration, the wedding wreath (put on the head the day before) must be sewn into the marital bed. These manipulations were supposed to ensure a long and happy life together and a warm harmonious relationship between the newlyweds.
It was believed that this accessory should be kept until old age, and then be inherited by children or grandchildren so that they can create a happy family. In some countries, amulets were woven into a wedding wreath of flowers (the bride's head was often decorated in this way). In this case, he turned into a kind of talisman protecting the young wife from evil forces.
Popular topic