Wedding is considered one of the most grandiose events, during which various thematic attributes and accessories are used. For example, the irreplaceable elements of each event are the bride's bouquet, boutonnieres, bonbonnieres, wedding ring pillows and much more. Despite such a huge assortment, one of the most important details of such a festive assortment is still wedding glasses. It is from them that young people drink during the ceremony. We will tell you how to decorate them in this article.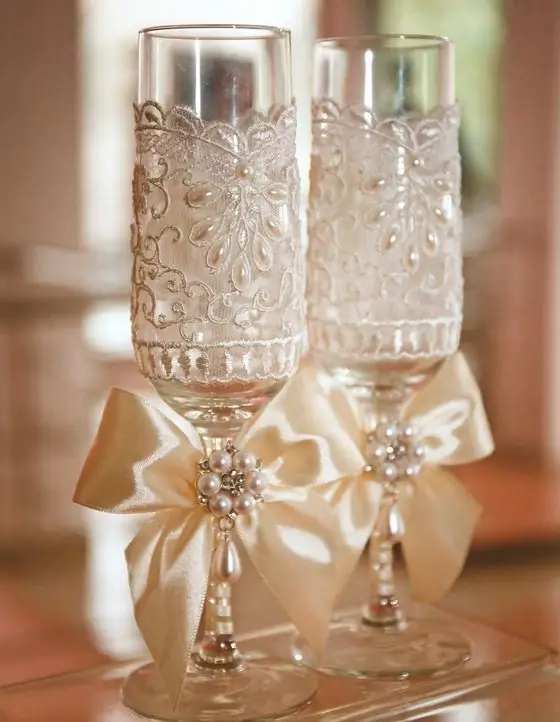 What to choose: ready-made or original options?
Undoubtedly, you can buy champagne glasses for a wedding in specialized stores, where there are many different thematic paraphernalia. This approach will save you from unnecessary fuss and hassle. However, it will not be original. Fans of attending wedding ceremonies will definitely notice the identity of the glasses. And some of them are surewill note that they have already seen similar ones from someone else.
In order to avoid such unpleasant situations, you should make glasses for the wedding with your own hands. And to make it easier, we have selected some interesting options for you.
How to decorate products with flower petals?
One of the most favorite ornaments for newlyweds, which is quite possible to cover glasses for a wedding, are floral patterns. At the same time, each of you has the right to choose a suitable color for yourself, which will be on your first joint dishes. For example, it can be rose petals. After all, this particular flower is considered a symbol of love, tenderness and family happiness.
The choice of the color of the rose in the ornament also plays an important role. For example, a white rose is a symbol of pure intentions and wonderful family relationships, a red one hints at the passionate nature of the newlyweds, a pink one tells about the presence of romance and tender feelings.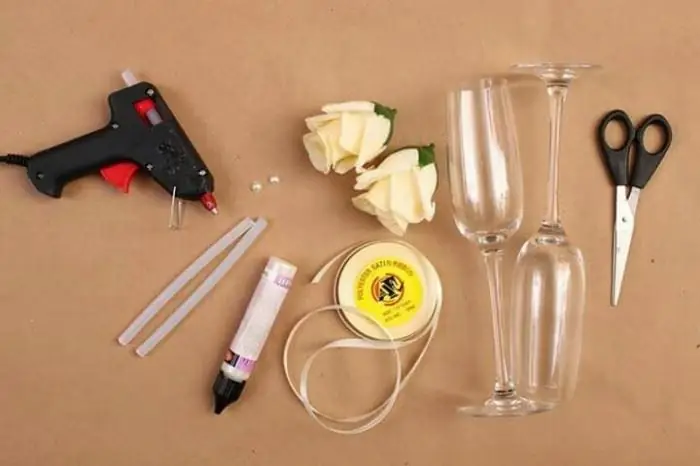 What do you need for creative work?
To make glasses for a wedding, you need to have patience, imagination and all the necessary materials. For this you will need:
Several clean plain glasses (better to take with a margin of not 2, but 4).
Pair of beautiful artificial roses with showy petals.
Instant or silicone glue.
White or mother-of-pearl beads (imitation pearls).
Scissors and pencil.
A small piece of cloth or handkerchief.
A blank sheet of paper (A4 size will do).
Thinpaint brush.
Acetone or alcohol (for degreasing glasses).
Special stained glass paints in two colors (one should be lighter and the other darker).
And only after all the tools are ready, make room for yourself and start the creative process. We will tell you more about how to make glasses for a wedding with your own hands and decorate them with flower petals.
Step-by-step design of glasses
The first step is to degrease the glass. To do this, walk along the outer walls of the glass with a cloth previously moistened with alcohol or acetone. Rinse off the remaining funds with running water and carefully wipe the glass until a characteristic creaking sound.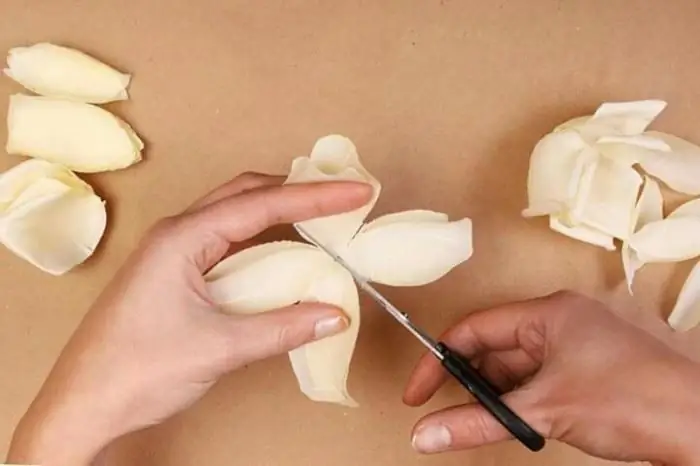 At the second stage, you should take the buds of roses or any other flowers and carefully separate the petals in them. Lay them out on a piece of paper. Take scissors and carefully cut them around the base. Thus, you visually round the ends. With their help, you can easily create beautiful glasses for a wedding.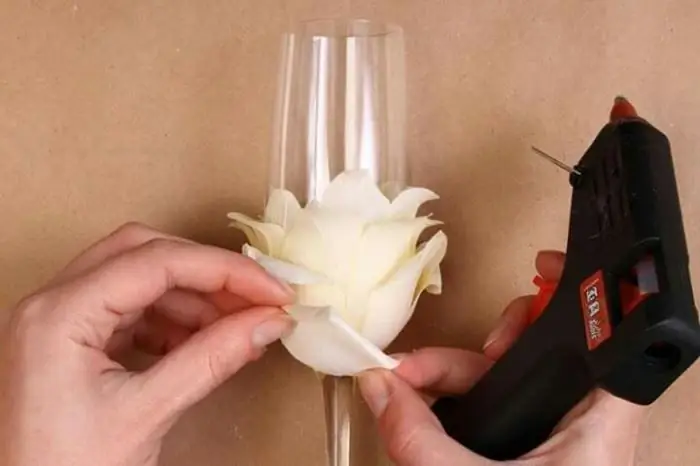 In the third step, take the glue and the smallest rose petals or any other flower. And then, start gluing them to the base of the glasses in a circle, creating a kind of bud. Let the glue dry and repeat the same thing, but with large petals, making a slight indentation down. Continue to cover the wedding glasses with petals until you create the effect of a fully opened flower. ForFor better effect, you can take a small white ribbon, tie it into a bow.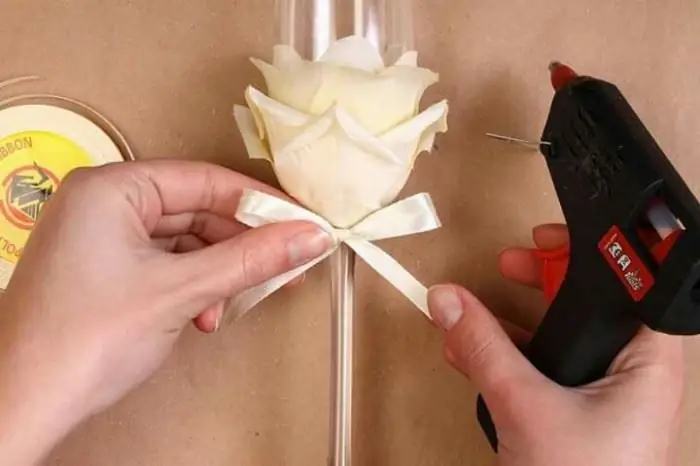 Make commemorative inscriptions
To make it much more interesting, in addition to flower petals, commemorative inscriptions can be made on the glass walls. To do this, take plain paper, print on it, for example, the names of the newlyweds. Cut out. These elements will be excellent stencils and will allow you to make the inscriptions relatively even. Next, attach them to the glass, take a brush with paints and start tracing them. As you can see, this is a very simple, but quite original design of glasses for a wedding.
If you think all this is not enough, complete your design with additional patterns, hearts, swirls and other patterns. But don't overdo it. At the end of the work, take the beads, carefully cut them in half (you can use them as a whole) and stick them around the perimeter of the glass. It turns out very stylish and quite gentle.
What materials can I use?
Before you make glasses for the wedding, we advise you to take care of purchasing all the necessary materials. For this, not only artificial flowers, satin ribbons, lace, silk fabrics, pieces of velvet, organza, tulle, but also a variety of beads, rhinestones, miniature figurines, and much more are suitable.
In a word, it is quite possible to use completely different decor. At the same time, there is no difference at all whether it will be a pre-purchased ready-made paraphernalia or it will be created from what is currently at your fingertips. The main thing is that hematched with the overall style.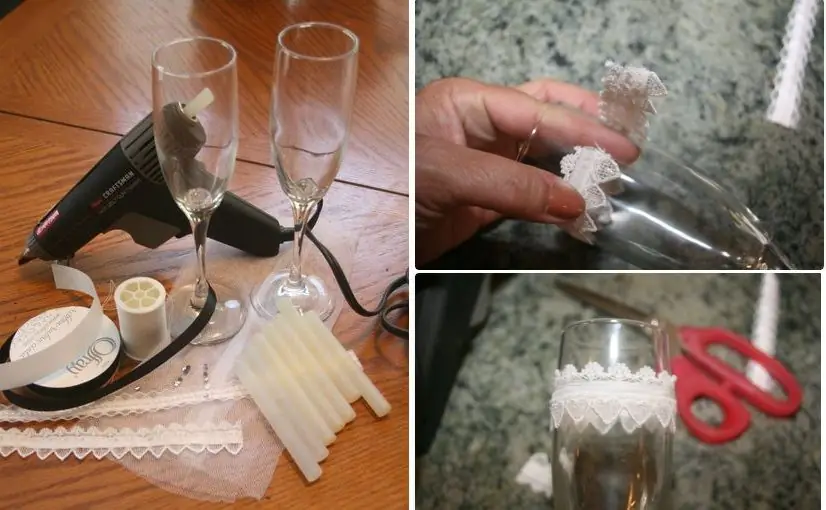 How to decorate the work with lace?
As we have already said, it is quite possible to decorate glasses for a wedding from improvised materials available at home. For example, lace is perfect for this.
It is a pleasure to work with them, as they are a wonderful decor in themselves. So, to decorate the glasses, you can take a small piece of tape and gently stick it horizontally on the glass (approximately in the middle).
If you wish, you can leave it as it is, or add decoration, for example, with beads or rhinestones. As an option, gathered lace, strung on a thread and put on the transition between the bottom of the bowl and the leg, is suitable. To match the lace, you can pick up beautiful satin ribbons tied with a bow. These are the glasses for the wedding. Photos of ready-made options for decoration are an excellent confirmation of the attractiveness of lace and similar decor.
How to decorate glasses with ribbons?
There are a huge number of options for how you can decorate with ribbons. For example, take a ready-made wedding bow, fasten it to the stem of a glass, or carefully wrap a ribbon around it in a spiral. And in order to prevent the tape from unwinding, fasten its ends with glue during the winding process. An example of this design can be seen in the photo. Decorating glasses for a wedding is not at all difficult. The main thing is to show imagination and not be afraid to experiment.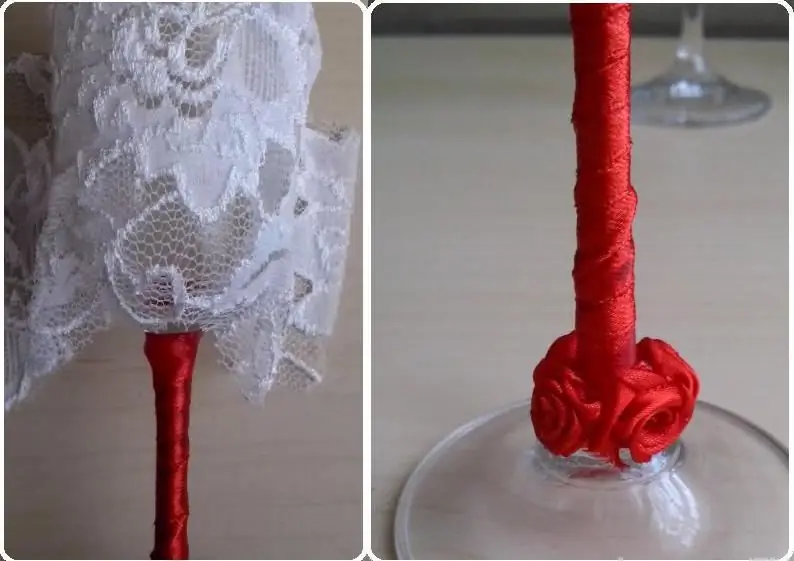 Make a bride out of ribbons
The decor looks very original, visually resembling a reduced copy of the bride and groom's suits. We offer you one of the most interesting options for such a design. This will require one glass and double-sided tape. Take a ruler and step back two centimeters from the top of the glass. Fix the mark with a black marker. Take double-sided tape and start wrapping it in a circle, starting from the set mark. You need to make two such circles.
Next, take a skein with a white satin ribbon and start gluing over the tape. You will need to make exactly four such circles with the participation of the tape. In this case, it is recommended to cut off the excess tape, and burn the ends with a lighter. Then take a small piece of transparent fabric and cut out a circle with a diameter of 11.5 cm from it. For greater convenience, we recommend that you first draw such a circle on paper, cut it out and use it as a stencil.
In order to get the effect of a puffy wedding skirt, you need to cut out about 25-27 similar circles from tulle. In the next step, take one of the finished fabric circles, fold them in half a few times to make a small triangle. Grab the end of it.
Apply it just above the bottom line of the tape and use the hot melt adhesive to start gluing in a circle. You will get 3 rows of fabric triangles, which will eventually form a beautiful puffy skirt. And at the final stage, it remains only to take an openwork white braid and stick it on the front bar (this will be the topdresses). On top of the skirt, you can glue the same braid or a beautiful decoration with rhinestones, which perfectly imitates the bride's belt. These are the original glasses for the wedding. How to decorate the glass and dress it in the suit of the groom, we are talking in more detail.
Make a groom out of ribbons and tape
To make a glass in the image of the groom, take a ruler and take measurements (as shown above with the bride). Next, glue exactly four strips of tape in a circle to the glass. Determine where you will have the front of the suit, and in this place, glue three more small strips of tape (they are needed for a white fabric imitating a shirt). Then carefully stick white pieces of tape on this kind of ladder.
Take a black satin ribbon and start sticking it on top of the tape, leaving only a small space in the middle. The very last strip of tape will come out with a full turn. After that, you need to take a black openwork braid and use hot glue to glue along the edges of the shirt and jacket.
In the end, all that remains is to glue a couple of round rhinestones on the jacket. This will be an imitation of buttons. And to complete the whole look, make a bow out of black and white ribbon. Glue it under the shirt collar. It turns out a spectacular wedding suit for the groom, in which your glass is dressed. And you can do it yourself, but following the safety rules.
Glasses for the wedding with their own hands
Step by step photos tend to help beginners get creative. If you don't like lace or satin ribbons, you can always use twine instead. Really with her help.decorate the stem of the glass. It also goes well with small cork or wooden figurines, tablets or beads, burlap cuts.
The decoration of glasses with rhinestones looks great. It can be completely ordinary crystals or Swarovski one or two colors. Of these, it is not difficult to lay out the names of the newlyweds, their surnames or any beautiful thematic figures, for example, hearts. At the same time, their size can always be beautifully beaten.
In addition to the main part of the glass, you can decorate its leg and stand with rhinestones. The finished decor looks good with matching satin ribbons and beads in pink or white (pearl-like).
Instead of rhinestones, you can use small and large beads. It is glued, usually, around the perimeter of the neck of the glass or on the bottom of the stem. The design of the glass looks very impressive with a large number of small sparkles of gold or silver color. To do this, you need to take a glass, generously smear its leg with glue and apply sparkles on it. Use a clear base coat as a fixer. It will allow the treated legs to shine and get rid of bumps and the "scratching" effect of sparkles.
What else to decorate glasses with?
The fantasy of every person is truly limitless. So trust her and create your own masterpieces. For example, if you do not have a large amount of materials, you can always consider an economy option. For this you will need:
Finished boutonniere with several white flowers on a wire.
A small piece of tulle or decorative mesh.
Thin satin ribbon.
Threads and scissors.
Gold and silver nail polish.
At the first stage, we recommend degreasing the glass and wiping it dry. Then do the following:
Take a boutonniere and separate the flowers with wire.
Cut the buds (at the very root, remove the wire).
From tulle or mesh, form bows.
Sew the bows with a thread and a needle. Cut off the excess with scissors.
Take a satin ribbon and cut it into four equal pieces.
Use a hot glue gun to attach the ribbons to the back of the bows (these will be the strings to secure the leg).
Glue flowers in the middle of the bows.
After the glue has dried, take some nail polish and use it to make a few light strokes on the bow and flower.
Use lacquer to paint one or two stripes on the base of the glasses.
Fix it with glitter and clear polish.
You should end up with some pretty pretty glasses. If desired, they can be supplemented with a small amount of rhinestones and pearl-like beads.
Can feathers be used?
If you want some exotic, we recommend using feathers when decorating festive dishes. However, they can be not only white. Choose passionate reds, burgundy, bright blues, greens and even yellows.
But do not forget that the shade you choose must be in harmony with the whole design. The same applies to the general theme of the wedding. Glasses- this is a kind of addition and at the same time a competent accent that should be placed correctly. Keep this in mind when decorating wedding attributes.
Popular topic