Before a hairdresser becomes a professional, he needs not only to master the theory, but also to work out the technique. It is here that a mannequin for hairstyles and haircuts comes to the aid of a novice master. In professional language, they are also called "blanks", "dummies" or "chrysalis". There are a number of subtleties that must be considered before buying, and we will talk about them in our article.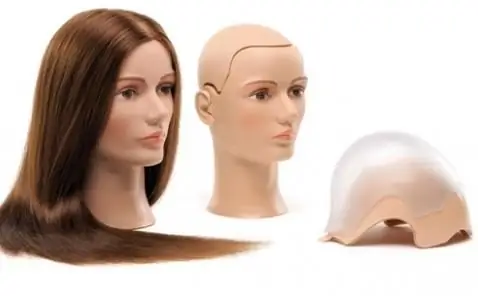 The most budget option is the mannequin head for hairstyles with artificial hair. However, it should be borne in mind that nylon strands hold their shape very poorly. In addition, synthetics cannot be washed, much less dyed, blow-dryed, ironed or curled. Branded scissors deteriorate from contact with such material. Therefore, it is better to use training tools for haircuts.
If you don't really want to spend money on an expensive hair mannequin, then choose a dummy with protein hair. They can be cut, washed and dyed. But you have to be careful while laying. Maximumadmissible temperature - 180 degrees. It is very important to read the information about the manufacturer and the instructions before buying. Be sure to clarify the list of allowed manipulations.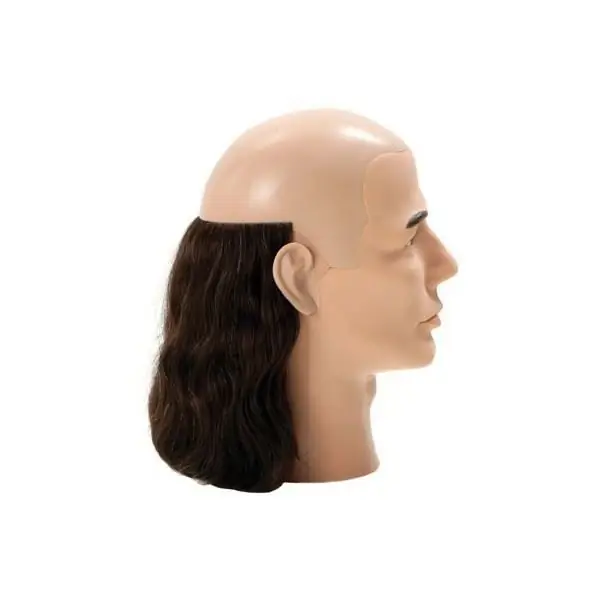 Hairdressers who plan to use a mannequin for hairstyles for a long time and hone all their skills, models with natural hair are suitable. They will easily withstand any test: from a creative hairstyle to a perm. The most important thing is to properly care for the blank, then you can keep its attractive appearance for several years.
Another option is to purchase a bald mannequin for hairstyles with overlays: side zones, bangs or whole caps with strands. The advantage of such a dummy is the possibility of easy hair replacement after cutting or dyeing. Thus, you will have one, but very functional doll for experiments.
What else is important to consider before buying such a "simulator"? Many nuances depend on the purpose of the acquisition. If you plan to practice all sorts of haircuts on them, then stop at specimens with artificial hair about 70 centimeters long. In this case, brown-haired women or brunettes are better suited, since the technique of the master is better visible on a dark color.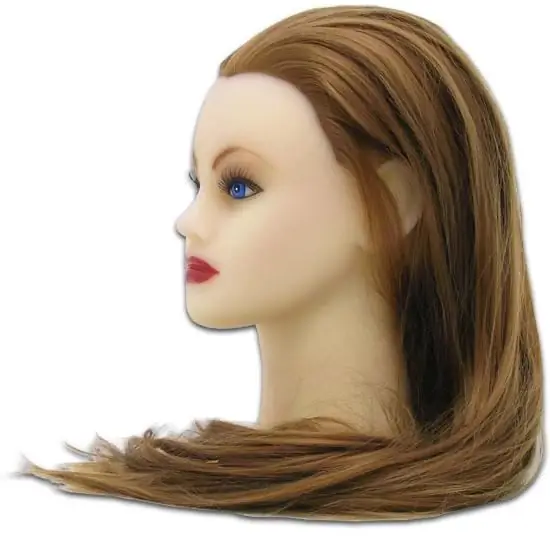 Hairdressers specializing in evening and wedding hairstyles will suit a model with natural light-colored hair from 30 to 50 centimeters long. No less functional can be a doll with strands of a mixed type, with a synthetic content of no more than 50percent. Professional masters for practicing complex techniques are best suited for blanks with hair up to 70 centimeters long. When painting models, it is worth remembering that the tone on such a head will not match the declared one. It's all about the different structure of the hair that makes up the "doll". But this will not interfere with training and mastering the technologies of highlighting, coloring and applying paint.
Now you know what features a hair mannequin has. The price of such "simulators" starts from 1700 (models with artificial hair) or from 2000 rubles (natural strands). Good luck in mastering the profession of a hairdresser!
Popular topic