Towel in every home is an indispensable item for care. Each of us plunges into his arms after taking a shower, after going to the bathhouse. Wiping hands, face, body, everyone wants to feel softness, warmth. Many choose beautiful things to complement the design of the kitchen and bathroom. The "correct" towel becomes a friend for a long time, while a poor-quality product will quickly disappoint the owner. When buying, you need to know how to choose a towel, pay attention to the density, material, durability, absorbency and other characteristics. This will be discussed.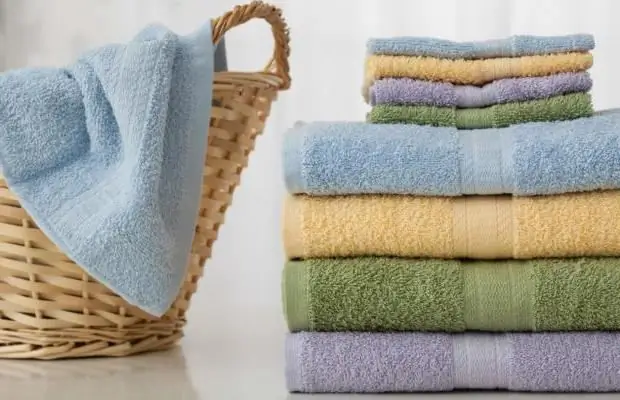 Main types of towels
Before you go to the store for the desired accessory, you should decide for what purpose you are making a purchase. How to choose a towel, what is it for? There are a lot of types of this product, and each has its own properties. The most common and basic are the following types:
Bath towel. Must be large. It is nice to wrap yourself up in it after taking a shower, bath or sauna. It should perfectly absorb moisture, be soft, gentle, warm. Usually bath towels are large terry products.
Kitchen towel. There are special requirements here. Towels in the kitchen are constantly exposed to water, grease, dirt, harmful liquids. It is intended for wiping dishes, tables, hands. The material should be without a long pile, and preferably without it. It is good to choose linen or waffle towels for the kitchen.
Face towel. These products are in contact with sensitive, delicate skin. The choice needs to be approached more carefully. It is better to stop on soft, well-absorbing specimens. Bamboo towels are suitable for washing.
For hands and feet. Such towels are selected small in size, they are hung near the washbasin. The main requirement is good absorbency.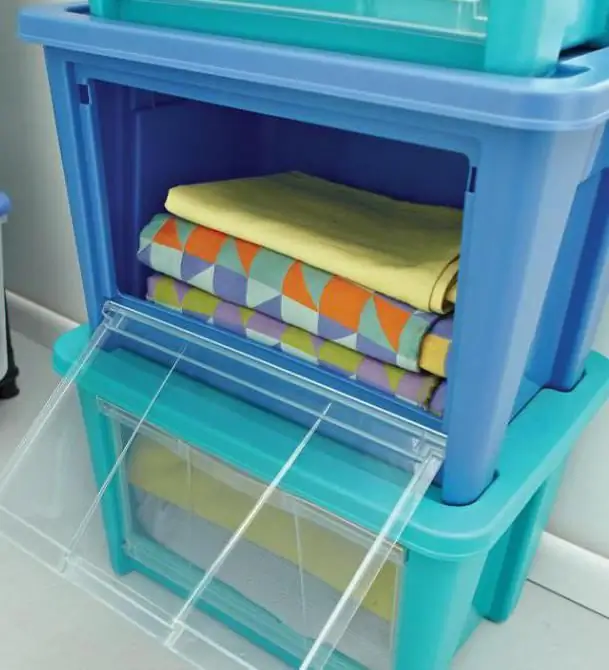 Other species
In addition to the listed types, there are many more different towels. Particular attention should be paid to products for children:
Baby towels. The material for such specimens is special: soft, delicate, having a double-sided terry. For children, towels with bright patterns will be interesting. Often they are made with a hood so that the baby does not throw off the towel from his head.
A beach towel usually combines two functions at once. It is pleasant for them to wipe themselves off after swimming in the sea, and also to lie comfortably, sunbathing in the sun.The main requirement is good absorbency, as well as a convenient size.
Towel or wedding towel. Carries more semantic function. Gift for an important event. It is usually made of linen, decorated with embroidery, floral designs, images of doves, larks, swans.
Massage towels are specially made with a specific combination of cotton and linen. They are more rigid, allowing you to relax and soothe the muscles.
Sizes
Before you choose a towel, you need to decide in advance on the size of the product. Like all textile products, towels have their own size standards. Imported ones may differ slightly, but basically the indicators are the same, mainly as follows:
Guest or toilet towels. Size 30x30 (30x50). Used for hands or in the kitchen.
Kitchen standard 50x70.
Facial towel 50x85(90).
Towel 50x100 is usually used for the face or as a small shower.
Medium bath (can be for a shower) 70x140.
Classic bath 80x160.
Large sizes 100x150 or 90x160 are often used in baths and saunas. You can wrap yourself up in such a towel. Can be used as a small terry sheet on the beach, in a massage room.
Size 80x200 is also used in the bath or massage room.
Sizes from 150x200 to 175x250 can already be attributed to terry sheets.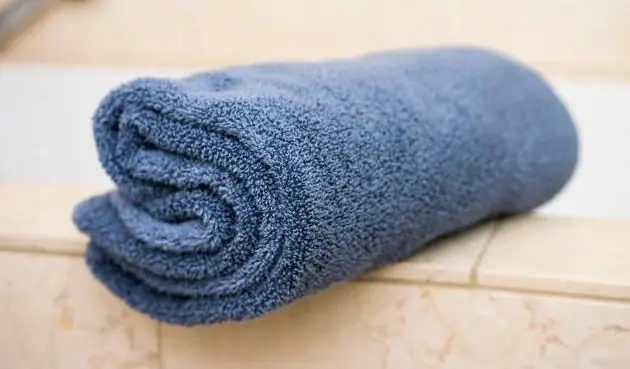 How to choose a towel. Fabric types
When choosing a towel, you need to consider the fabric,from which it is made. Each product has its own advantages:
How to choose a terry towel? Such a product is woven into four threads in such a way that small loops are obtained on the surface. They give the fabric volume and softness. A terry towel with large loops attracts with convenience and comfort, excellent absorbent properties, abrasion resistance and hypoallergenicity.
Velor towels. Cotton is woven into four threads, and the resulting loops are simply sheared. The surface eventually becomes shiny, looks beautiful. Useful velor towels for facial skin, they are gentle and soft. But they absorb moisture a little worse than terry.
Waffle towels. Cotton is woven here in a completely different way. Small cells form on the surface of the tissue, hence the name "waffle". Most often used in the kitchen for dishes, for hands, they absorb moisture well.
Jacquard towels. For weaving, special machines are used. Cotton threads are tightly intertwined, the pattern is formed in a special way. These items are more expensive than others. Jacquard towels are woven from a double thread, double-sided. There are both terry and smooth. The appearance is stylish and beautiful.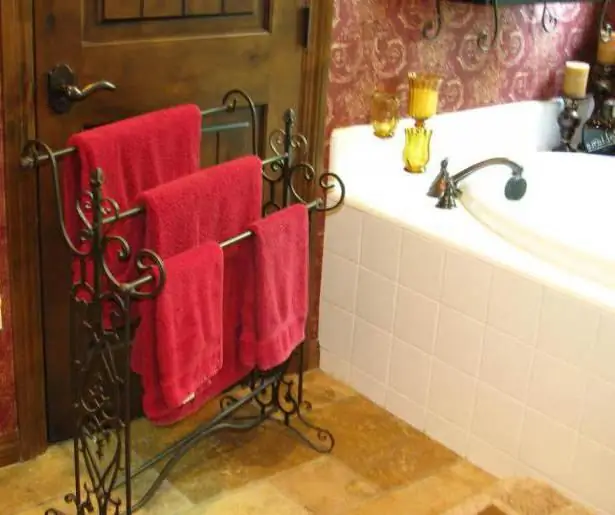 Materials
The most common and respected material in the production of towels has always been considered cotton. This natural material perfectly absorbs moisture, is environmentally friendly, durable. In addition, it is pleasant to the touch, soft and hypoallergenic. Good onescotton towels are more expensive than synthetic counterparts, but also last better and much longer.
Before you choose a good towel, carefully read the product label. Some manufacturers cleverly deceive us by indicating "100% cotton M" in the composition - this indicates the addition of artificial fiber or, for example, "100% cotton PC" - in this case, polycotton is added. When choosing, you need to take into account the country of origin of the cotton. The highest quality terry cotton from Pakistan and Egypt.
The composition of the fabric for towels often includes such a type of synthetics as modal. It makes the towel more beautiful, soft, fluffy, pleasant to the touch. Products with modal are quite wear-resistant. The addition of other synthetic fabrics will adversely affect the absorbency of the product.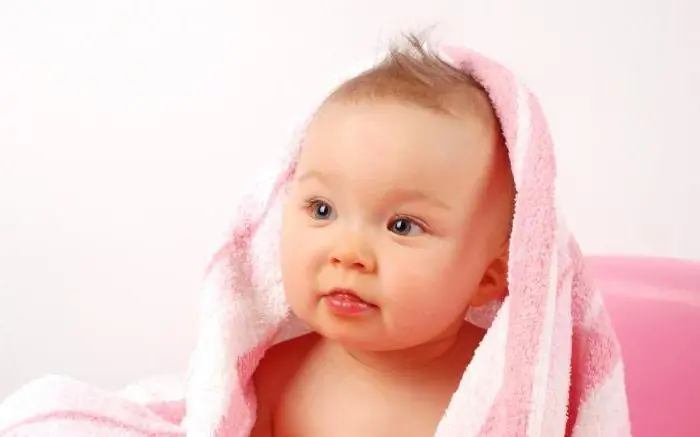 Bamboo
Recently, the most popular towels are products made from bamboo fiber or combined with cotton. If you are faced with the question of how to choose a bath towel, we advise you to pay attention to bamboo products. They perfectly absorb moisture, look shiny, delicate, and have antibacterial properties. They are suitable even for allergy sufferers and asthmatics, comfortable to use, pleasant to the touch. These towels are stronger than cotton products and will last much longer. The composition along with bamboo (except cotton) may include lyocell. This fiber is made from eucalyptus, which is also natural, environmentally friendly, copes well with moisture, dries quickly. One minus - it wears out a little faster than cotton andbamboo.
Silk and linen can serve as other components in addition. These natural fibers also improve the quality of the product. Make it shinier, smoother, more durable.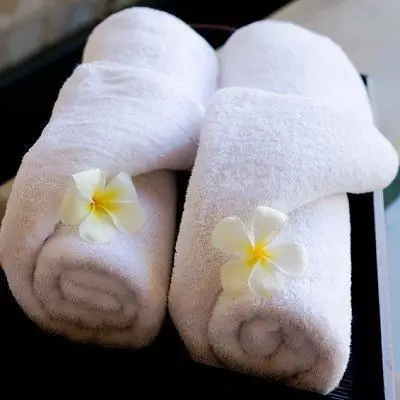 Checking the quality
You have already learned how to choose the right towel for the type of fabric, size. Now we need to determine the quality of processing. Pay attention to the processing of seams and the quality of staining. Already in the store you can find bad staining. Swipe the towel with a white damp cloth, if it is even a little stained, refuse to buy. The product will shed on the first wash.
Pay attention to the seams. All threads must be of the same type and evenly cut, not stretched beyond the border of the product. Most often, the edges are processed with an overlock or a seam. The second option is preferable, the edges will not wear out longer. The line should be even and strong.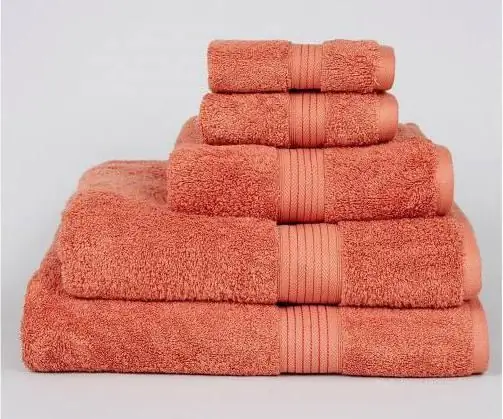 Towel density - how to choose?
The density of weaving for all products is different. It is indicated per square meter of fabric in grams. Thin waffle towel has a density of 150-250gm2. Higher numbers from 300 to 800gm2 indicate the weight of the terry towel. How to choose a terry product? Pay attention not only to the density, but also to the height of the pile. The strength, absorbency and elasticity of the towel depends on this. Higher density values ​​will guarantee a long service life. How to choose a bath towel based on performancedensity? The optimal choice is from 400 to 600 gm2. Such a towel perfectly absorbs moisture, but does not get wet through immediately, as soon as you wrap yourself in it. Dries quickly and lasts for years. Terry products with a density of less than 350 will not last long, so even in order to save money, it is not profitable to buy them. As for the pile, it must be added that the most optimal option is a pile 5 mm long. Products with 8 mm fibers, at first glance, are fluffier, softer, but after several washes the towel will become stiff, as they simply roll up.
Caring for towels
And, of course, it is worth mentioning the care of towels. As for washing, after buying a new product, it is better to wash it. It is unhygienic to use a towel straight from the store. When washing, the water should not exceed a temperature of 60 degrees. Load the machine no less than 70%. The powder should be used for colored laundry. Set the wash to medium speed (up to 800), otherwise the loops may stretch. Do not use a lot of conditioner, the absorbency of the terry is subsequently impaired. You don't need to iron the towel, but if you do, use a damp cloth and heat the iron to no more than 150 degrees. If there are puffs on the towel, they can be easily cut with scissors, weaving allows this. Carefully take care of the products, and they will serve you for many years.
Popular topic