Children's warm clothing by the Danish manufacturer Molo has recently entered the Russian market. Everything that is required for autumn bad weather and frosty winter is presented in domestic stores. Overalls for all ages, hats, mittens will protect children from colds. Everything is carefully thought out by Molo. The jumpsuit is a special pride of the manufacturer.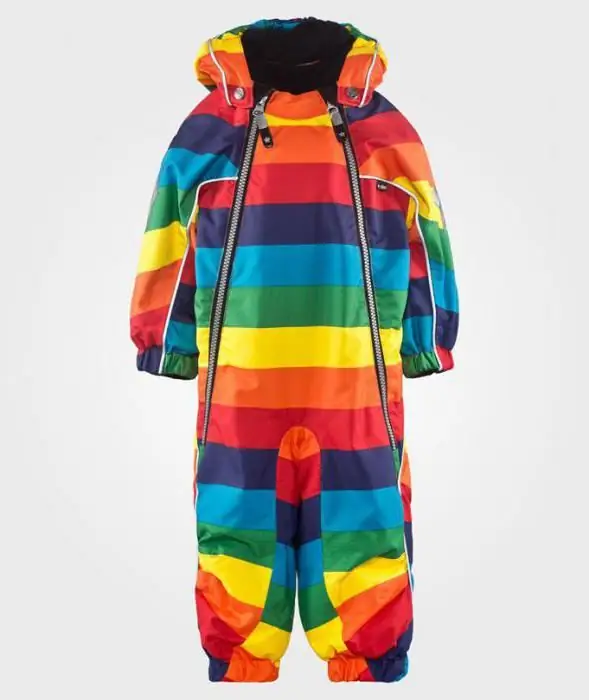 General characteristics
All brand products are produced using new technologies that are constantly being improved. Parents and children are happy with the things that Molo experts create. The jumpsuit - bright, warm, waterproof - is intended for children from infancy to almost adolescence (12 years old). And this is the time of special mobility of children who tend to run, skate and ski, play snowballs and go on hills. Designed by Molo experts, the jumpsuit does not hinder movement. Children are comfortable in it.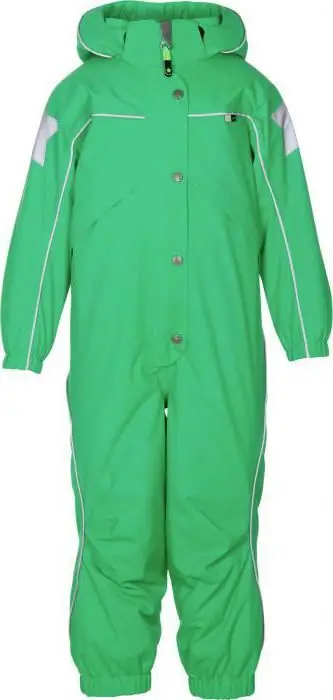 Aesthetics and technology
What characterizes the designMolo clothes? The jumpsuit is distinguished from other similar products primarily by its bright color, prints in the form of flowers and animals, stars, as well as unexpected combinations of colors that are pleasant for their cheerfulness.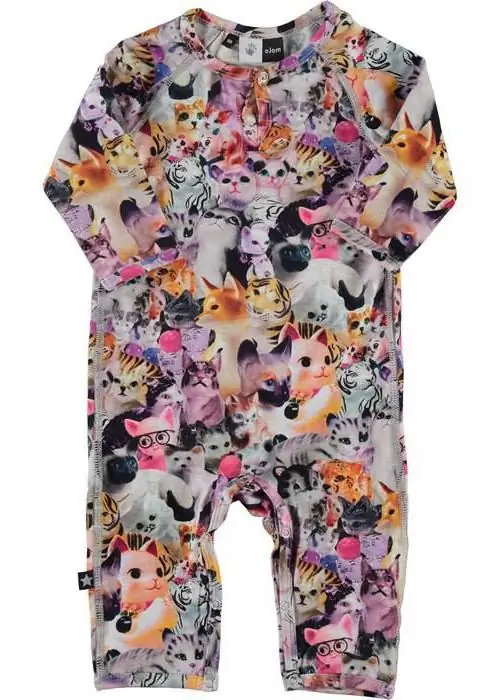 The very quality of Molo clothes is very high due to the use of membrane fabrics and modern insulation.
For the little ones
For relatively warm weather, 100% polyester or fleece overalls are produced, they are very gentle, pleasant to the body, with long raglan sleeves, a hood. There is lightning in the center. There are pockets on both sides of it. These overalls are washed in water with a temperature not exceeding 30 degrees by hand or machine wash.
For babies, Molo makes overalls from jersey jersey, which includes 90% cotton and 10% elastane. The sleeve is also raglan, as it is more elastic and gives the necessary mobility.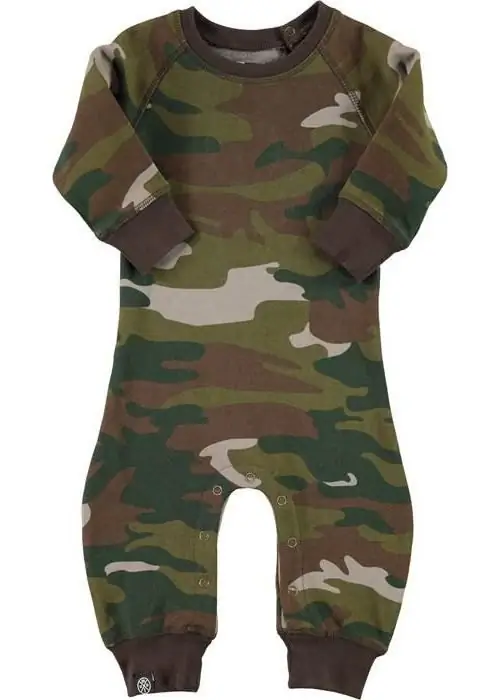 For winter, such babies are made of overalls made of dense fabric that is not blown by the wind and does not let moisture in from the outside, but allows the skin to breathe. The filler is thermolite, and the lining is made of fleece, so you should not put on extra clothes for the child: he will be hot, he will overheat. Such overalls often have a smell on the chest, fixed with Velcro. This is an additional protection from wind or snow if the baby has already begun to walk. These jumpsuits can have one central zipper or two side zippers, which is probably more convenient,if you need to change diapers. Accessories (zippers and buttons) of very high quality. Buttons, for example, are covered with silicone. The bag also comes with buttons and buttons. "Snow skirts" are made on the legs of the overalls. Everything is like adult snowboarding clothes: snow will not get into shoes or under overalls.
Jumpsuits for boys
This is one of the most comfortable outdoor wear. For older children, semi-overalls are bought. At this time, they are very active in running and jumping, riding slides. Therefore, when choosing clothes for the autumn-winter period, you should carefully consider the durability, fabric density, and high-quality insulation. Fleece has these qualities when it comes to spring and autumn.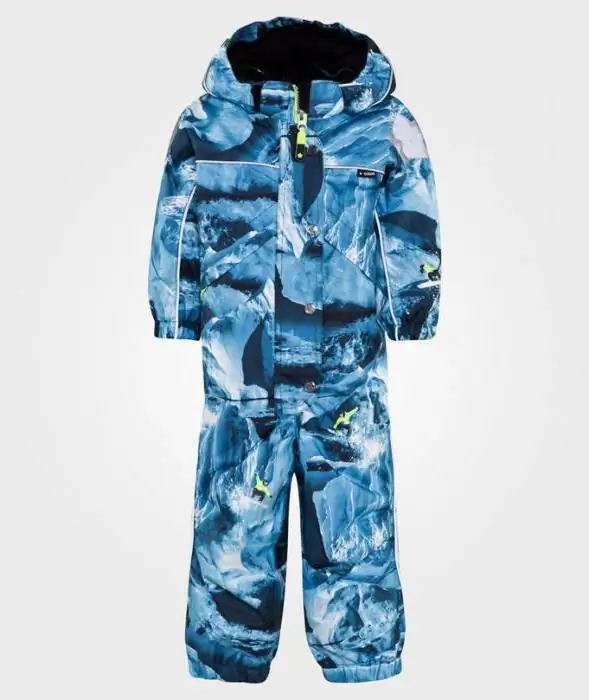 It does not interfere with the active movements of the child and has hygroscopic properties. When it gets colder, Molo (overalls) for winter appear on sale, which protects from snowfalls, does not get wet and saves heat well.
Jumpsuits for girls
They are more elegant and have a variety of styles.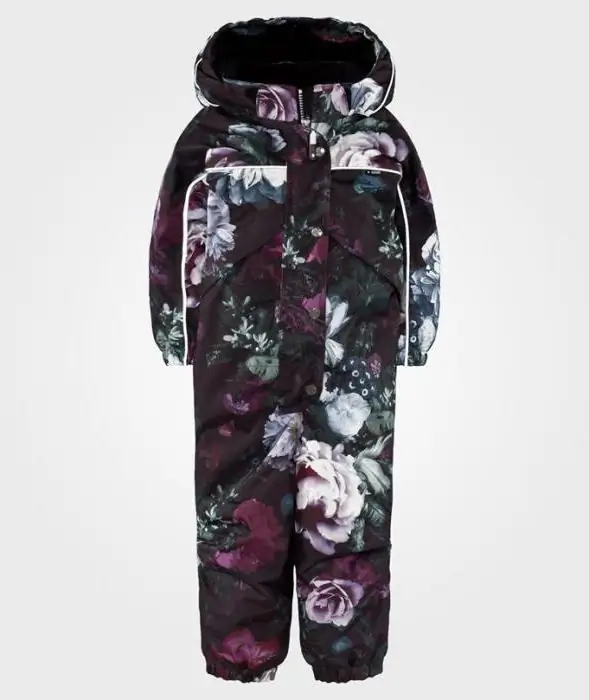 Of course, a good insulation, high-quality fabric, and the quality of sewing work are important. But the main thing is that the air flows under the clothes move freely and do not allow the child to freeze. Both fur and synthetic winterizer can be a heater.
What customers think
In general, buyers characterize Molo baby overalls positively. Their advantages include elegance, lightness, pleasant and dense fabric. The presence of fleece is especially distinguished. They note the quality of the seams, the evenness of the line. The Russian buyer fell in love with the Molo jumpsuit. Reviews about the price, although it corresponds to the declared quality, are sometimes negative.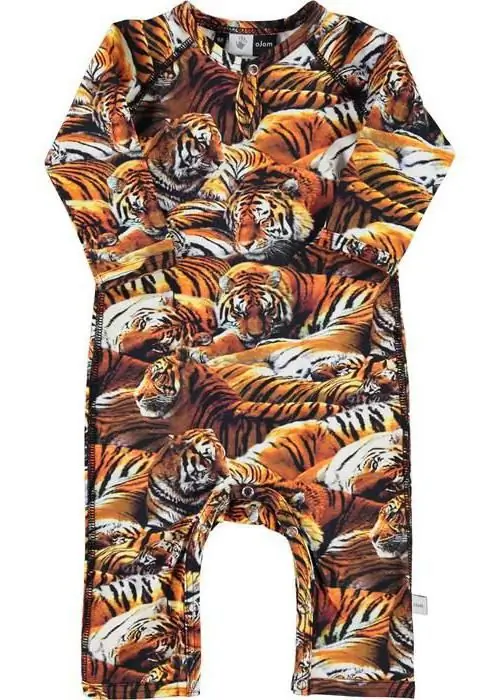 This ten-year-old brand has earned positive reviews for its quality from caring parents who want their child to wear quality clothing.
Popular topic