Today we offer a closer look at two of the most interesting breeds of dogs that were once born in Ireland. For hundreds of years, these four-legged beauties have been faithful companions and helpers of man. They remain so today.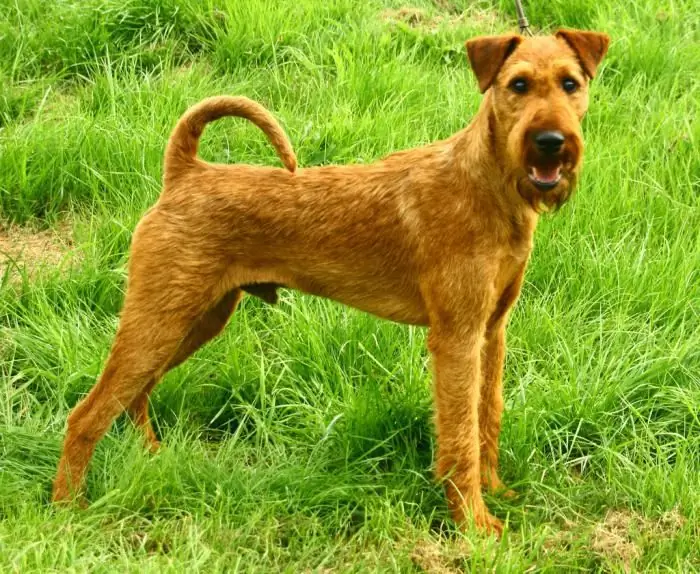 Irish Terrier: photo and appearance
Representatives of this breed should give the impression of a mobile, energetic, strong and very hardy dog. The Irish Terrier is a medium sized dog. The height at the withers of the breed is from 46 to 49 centimeters, and the weight varies from 11 to 13 kilograms. This native of Ireland has a well-proportioned, square-shaped body with long, strong paws, a broad chest and a long neck. The head of the representatives of the breed is elongated, similar to a brick, with triangular small ears and almond-shaped expressive dark eyes. Irish Terriers are characterized by the presence of mustaches and beards on the muzzle.
Coat and color
The coat of these dogs consists of two layers of wool: a thick, wire-like outer, and thinsoft inner. The breed standard allows the following color options for the Irish Setter: solid wheaten, light red, red wheaten and golden red. Representatives of the breed shed little, but need regular brushing with a stiff brush.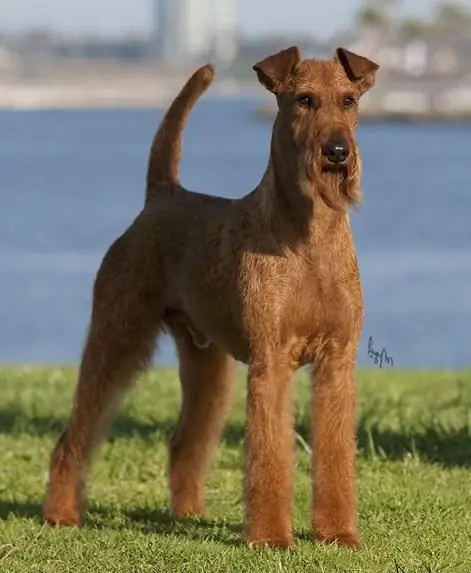 Character
These dogs are very energetic, brave, loyal and quick-witted. However, sometimes they can be quite violent. The Irish Terrier is very attached to his family and enjoys spending time both in a relaxed environment with adults and in fun games with children. Representatives of this breed become excellent watchmen and bodyguards, ready to protect the life and home of their owner to the last drop of blood. In relation to other pets or strangers, the Irish Terrier is often aggressive. Due to the fact that these dogs have a rather violent temperament, it is not recommended to get them for people who do not have experience with dogs.
Maintenance and Care
Representatives of this breed can easily get along both in a country house and in a compact city apartment. However, in both cases, it is the duty of the owner to provide their pet with a sufficient level of exercise, since these animals are naturally very active. If your dog is often left alone and bored with nothing to do, his character will inevitably deteriorate, which can lead to very undesirable consequences.
As for hair care, it is necessary to regularlycombing the Irish Terrier with a stiff brush. It is recommended to bathe representatives of the breed only in case of emergency and only with the use of a suitable shampoo for dogs.
Early socialization and general training with your pet is very important. Due to the fact that the Irish Setter has a high intelligence and is distinguished by obedience, as a rule, the owners do not have any special problems with this process.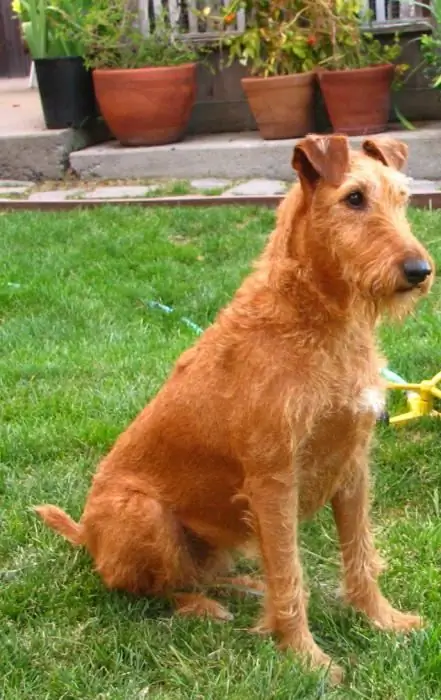 History of the breed
These dogs were born in the 18th century in Ireland. To date, they are rightfully classified as the oldest varieties of terriers. For many years, they have been faithful helpers of local farmers: they guarded their homes and livestock and were used for hunting. During the hostilities, representatives of the breed were actively used to send messages, as well as to search for wounded soldiers. Today, the Irish Terrier, whose price ranges from 500 to 1000 US dollars, is a fairly popular dog. It is used not only as a pet and companion, but also successfully trained to serve in the army and police of different countries.
He alth and longevity
In general, the Irish Terrier is a fairly he althy, strong and hardy dog. However, representatives of this breed are prone to the following diseases: various allergies, melanoma and hip dysplasia. The lifespan of these gorgeous dogs is typically between 12 and 15 years.
Irish Wheatsoft-haired terrier: appearance and description
Representatives of this breed are compact and proportionately built dogs. They are characterized by a square-shaped body with long strong legs, an elongated neck, a straight back and a high-set tail of medium length sticking up, which can be docked at the request of the owner. The Irish Soft-Coated Terrier has an elongated, brick-like head. The breed is characterized by small V-shaped ears, almond-shaped dark eyes, a large black nose, and a pronounced beard and mustache on the muzzle. As for the dimensions, the height at the withers of these dogs is 43-51 centimeters, and the weight varies from 14 to 20 kilograms.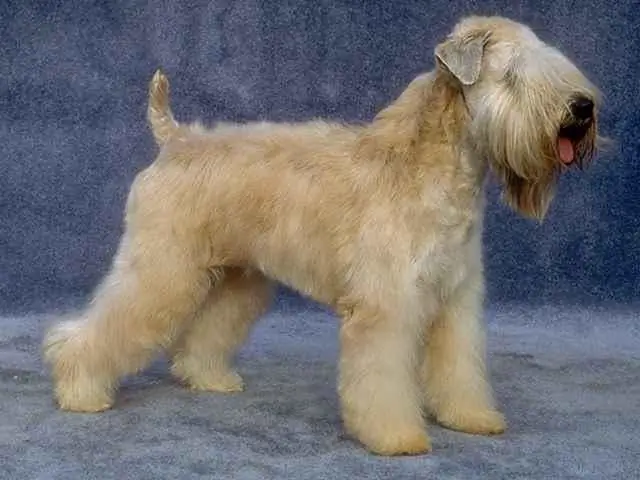 Color and coat of representatives of the breed
These four-legged natives of Ireland have a wavy thick coat of medium length. As for the color, the breed standard allows any shades of wheat color. Moreover, puppies are born dark brown. The final color of their coat acquires at the age of two years.
Irish Soft Coated Wheaten Terrier Character
Representatives of this breed are strong, agile, energetic and friendly. They are very fond of children and usually get along well with other dogs and pets. However, if you do not engage in the upbringing and socialization of the dog from the very first months of its life, it can grow naughty and aggressive. Irish Soft-Coated Terriers are highly intelligent, which makes their processtraining is quite simple.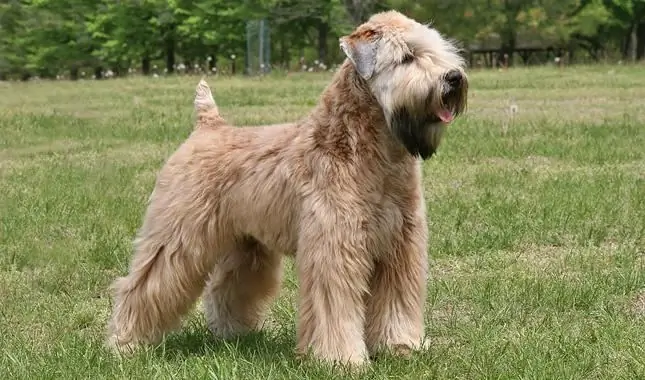 Care and maintenance
Because the Irish Wheaten Terrier is very energetic and agile, it is best to keep it in a country house with a large yard where your pet can frolic. However, representatives of this breed will get along without any problems in a city apartment, provided that you provide them with regular long walks with the opportunity to run off a leash.
As far as grooming is concerned, it is essential to thoroughly brush your terrier several times a week to remove dead hair. As needed, representatives of the breed can be bathed using special dog shampoos for this purpose.
Despite the fact that these dogs, as a rule, do not show aggression, they need some education and initial training.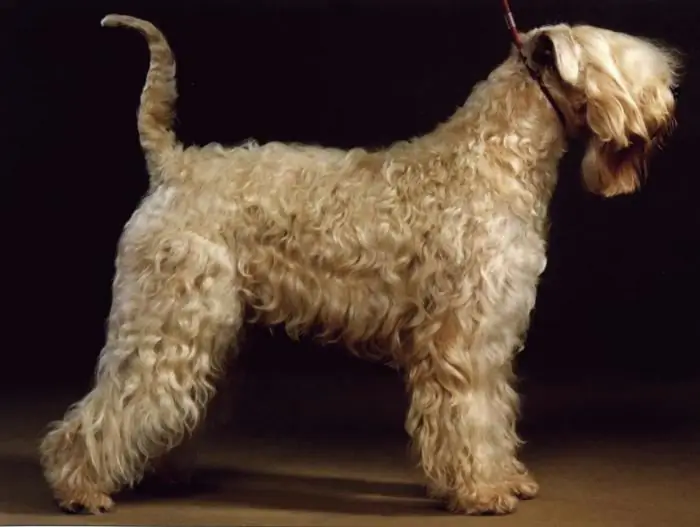 History of the Irish Wheaten Terrier
Specialists believe that representatives of this breed are descendants of dogs that have lived in Ireland for many thousands of years. In addition, later Irish and Kerry Blue Terriers were also used in breeding work. These dogs were the universal helpers of local farmers: they were engaged in the extermination of rodents, grazing livestock, guarding the owner's house and property, and were also used for hunting.
He alth and longevity of the Irish Wheaten Terrier
With good care and proper nutrition, as a rule, with the he alth of representativesthis type of problem does not arise. However, there are a number of diseases to which these dogs are predisposed. These include nephropathy, Addison's disease, renal dysplasia, and enteropathy. The life expectancy of the breed is an average of 12-15 years.
Popular topic