The design of wedding glasses can be different. You should turn on your imagination, prepare all the necessary materials and start creating. Believe me, you can create beauty with your own hands. It's easy and short. It will take a little patience and you will get beautiful wedding accessories. Find ideas and tips for decorating wedding glasses below.
Painted + rhinestones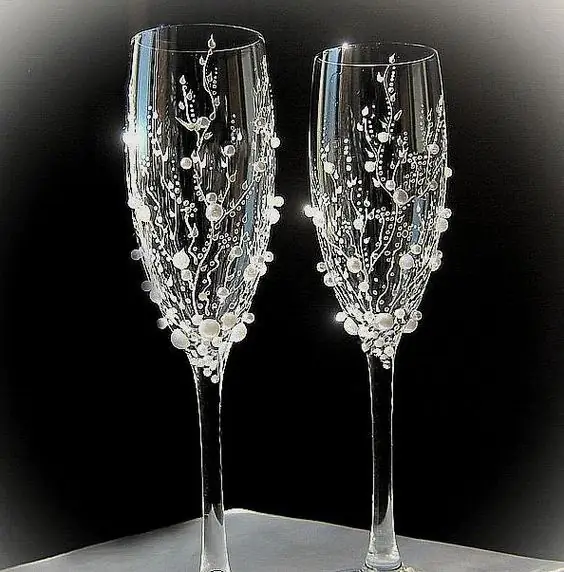 This decor option looks luxurious. Mother-of-pearl beads, shiny rhinestones and a white outline perfectly complement each other. And it is not so difficult to create a token beauty. The first step is to draw a sketch. This is the future drawing that will decorate the glass. If you can't come up with it yourself, use our sample. After the preparatory work on paper is completed, you can proceed to drawing on glass. Using a wax pencil, draw an image on the glasses. Now, according to your sketch, you need to lay the lines. You can paint glasses with both acrylic paint andspecial contours on glass. When the pattern is applied, it is necessary to stick the decor. Fasten beads and rhinestones with a glue gun.
Glasses with applique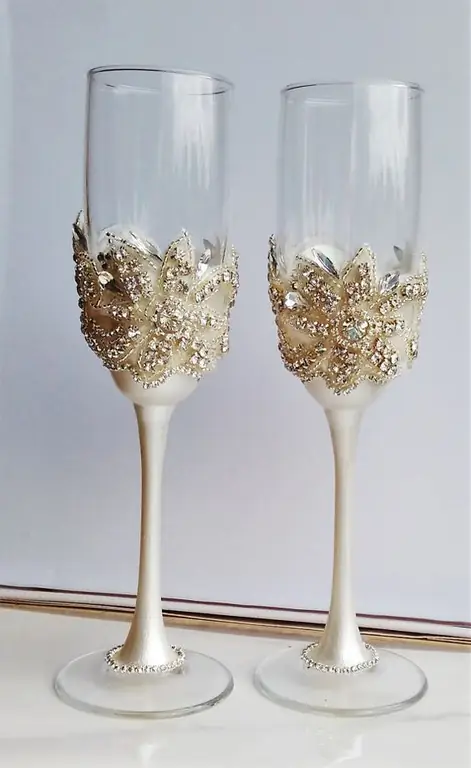 This design of wedding glasses would be appropriate for a wedding, which is held in the Baroque style. Although you can use these accessories not as additional decorative components, but as the main compositional element. How to create a similar decor? Glasses should be prepared by degreasing the glass. Now you need to take white paste paint and apply it to the leg and bottom of the glass. Why can't you use regular paint? The fact is that acrylic will not give the desired volume, it will simply give the necessary color. When this stage is completed, you should take a piece of lace, dip it in PVA glue and quickly place it on the glass. Now you need to wait until the decor dries. If you want to tone the lace a little, you can go over it with a dry brush and acrylic paint. It remains to stick rhinestones and beads. You can decorate with shiny stones not only the central part, but also the stem of the glass.
Black glasses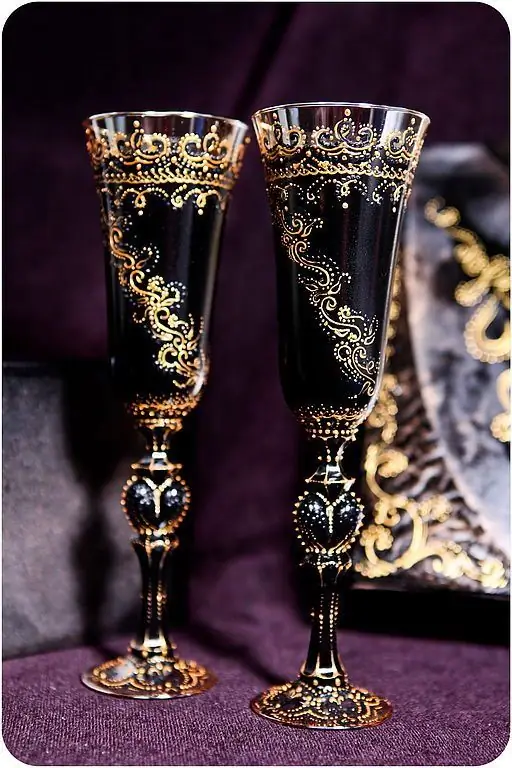 The design of wedding glasses in this style is suitable for a themed wedding. For a celebration in a classic style, they will not be very appropriate. Many people may think that black color at the wedding does not bode well, but it is not. The main thing is the relationship of young people to each other, and paraphernalia plays a secondary role.
How to make such glasses?The glass needs to be tinted with black paint. It is advisable to do this with a sponge. The brush may leave unwanted streaks. Now you need to prepare a sketch. As an analogue, you can take an old goblet. We draw a pattern on the glass with a needle or an awl. And then outline it with contour paint. To keep the coating of the glasses for a long time, you can fix the result with a transparent varnish. It comes in two variations: matte and glossy.
Vegetable decor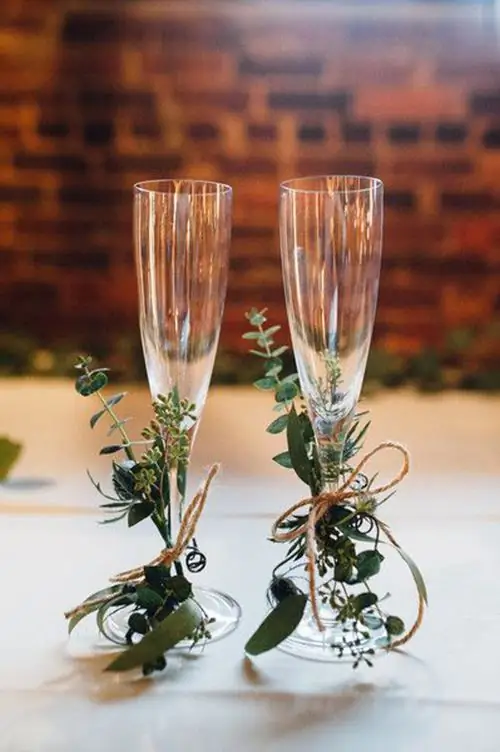 Will your celebration be decorated with live plants? Then wedding champagne glasses should be decorated in the same style. How to do it? The easiest way is to order a few more boutonnieres in the florist's shop, similar to the one that will decorate the groom's chest. They should be tied to glasses. You can decorate only the glasses of the bride and groom or all guests.
If you collect your own bouquet and decorate the room, then the greenery from the plants will remain. She, too, can be put to work. It is not necessary to decorate glasses with flowers. You can collect a small decorative element from three to five leaves of different plants. Tie them with coarse string and tie them to the stem of your glass.
Decor with dots

Wedding champagne glasses can be decorated with improvised materials. What could it be? For example, nail polish. How to do it? A master class on decorating wedding glasses in pictures is presented above. The first step is to degrease the glass. Now take a cotton swab, dip it in nail polish and place dots on the glass. At the stem, they should be made larger, and towards the central part of the glass, the points should thin out and disappear. Such a design, like no other, would be appropriate for a sparkling drink. The golden bubbles will blend with the champagne bubbles, making the drink even more inviting than it really is.
Acrylic drawing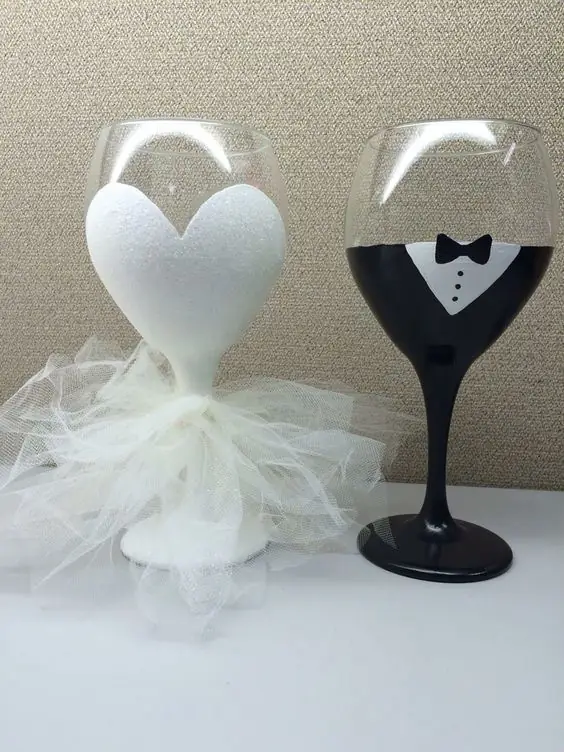 Such an unusual decoration of wedding glasses is quite suitable for a creative couple. The drawing of the wedding dress and suit, depicted on the glass, will cause an involuntary smile on the faces of the guests and cheer everyone up. How to make such glasses? For decoration you will need acrylic paint. Let's take the bride's glass first. We draw a white heart on one side, and on the other we draw a straight line at the level of the middle of the heart. Paint over the resulting dress with white.
To make the glass look more elegant, after the paint has dried, cover the drawing with glue and sprinkle with glitter or acrylic powder. And also a glass can be made a loop. The tulle rectangle should be sewn seam forward with a needle on one side, then pull off the edge and tie the resulting blank around the leg.
Now we need to make a glass for the groom. Paint over half of the wine glass with black paint. Draw a triangle in white. And now in the middle of the resulting shirt you need to depict a bow tie and put a few dots-buttons.
Bead decor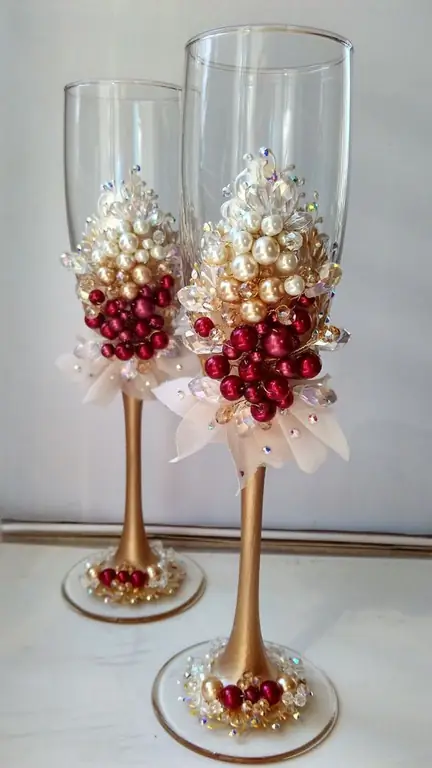 Asdecoration of wedding glasses, you can use beads and rhinestones. Flowers, hearts, bunches of grapes and other decor are laid out from them. And it is not necessary to use white beads. Red, gold, or silver are fine. How to replicate the design above? We put one bead on the wire and twist the ends. Now we collect a small bunch from the resulting balls. We repeat the operation again, only with beads of a different color. For example, if you took red fittings the first time, take gold fittings the second time. Using a hot gun, attach these two brooches to the glass. Now, with rhinestones and other beads, we glue the decorative overlays along the contour. Below, near the stem, you can fix a few petals cut out of thin fabric.
Flower decor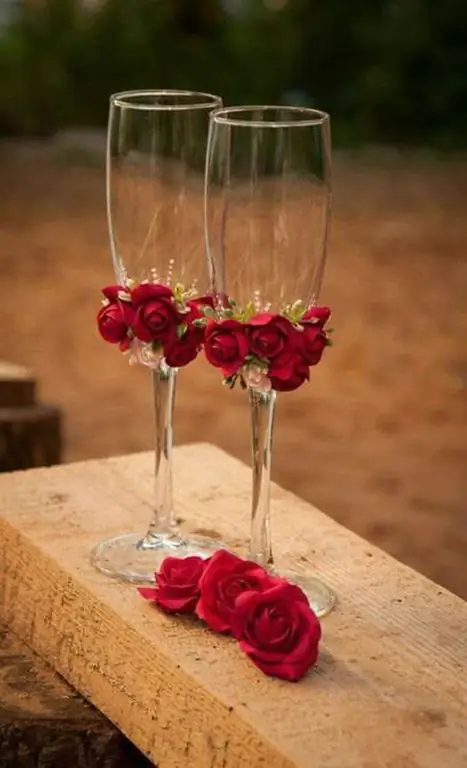 Crystal glasses are beautiful on their own and do not need to be painted or beaded. But the decor of the flowers will not hurt them. You can use both live and artificial plants. If you don't have crystal glassware at your wedding, don't worry. This decor will perfectly decorate glass goblets.
If you are decorating dishes at once, it is better to use fresh flowers. Get a few sprigs of spray roses. They are enough not only to paste over the glasses of the bride and groom. Small flowers of three branches can decorate a service for 10-15 people. If you want to keep the glasses and use them after the wedding, then use artificial flowers. It can be roses, daisies, peonies, etc.e. You can make these decorative elements yourself from ribbons or buy blanks in the store.
Foamiran decor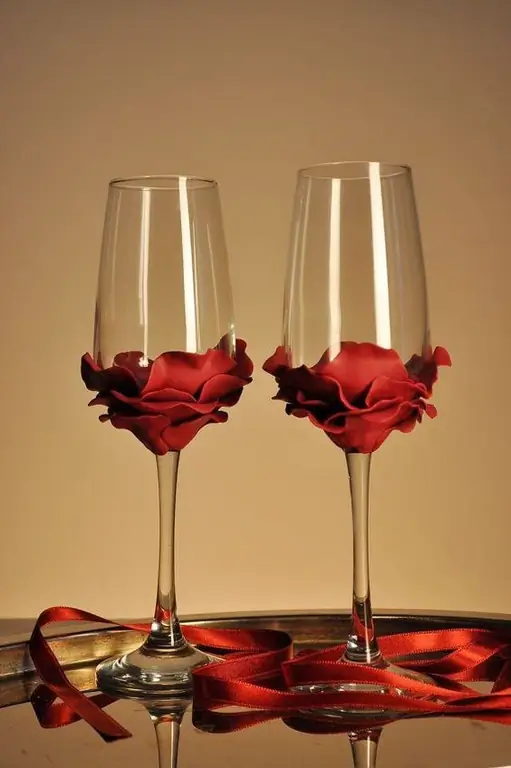 You can use modern materials to decorate wedding glasses with your own hands. For example, foamiran. This is foamed rubber, from which needlewomen make artificial flowers. In this way, you can decorate both crystal glasses and glass ones. How to do it? First you need to draw a pattern of petals. Now cut them out of foamiran.
If you don't find the right color material, don't worry. Rubber is easily tinted with dry pastels. We stretch the petals a little to make the edges thinner, and now we begin to glue them one by one to the glass. The easiest way to do this is with a hot gun. Finished flowers can be decorated with rhinestones, beads or ribbons.
Wings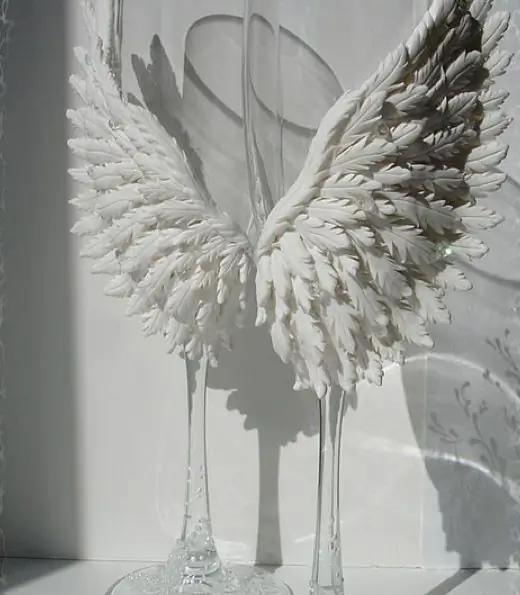 Thinking about how to decorate wedding glasses in an original way? Decorate them with wings. And what can such a non-trivial decoration be made of? Of course, from feathers. Don't know where to get them? They are sold in craft stores. And you can choose any color. But in the white version, the wings look more interesting. To make them, you should cut a blank from cardboard. Now it needs to be glued on both sides with feathers. You need to attach such decor carefully and in layers. You need to start from the bottom, row by row moving up. Do the same on the other side.
You canmake wings from foamiran. They will also be light and beautiful. But in this case, it will take longer to mess around. You will need to cut each feather, stretch it out, and then glue the blanks. You can attach the wings to the glasses with a hot gun.
Painting with contours
Design options for wedding glasses are different. One of the simplest is to paint the material using a glass outline. This paint is packaged in tubes and comes in a variety of colors. You can buy both classic white and silver or gold. The pattern can be applied throughout the glass, or you can decorate only a part.
How to decide what to draw? If this is not the first time you hold a contour in your hands, then you can choose a complex image. It should be applied only to part of the glass, otherwise it will not be an organic addition. If this will be your first experience of painting wedding glasses, then it is better to choose a simple pattern. It can be applied to the entire glass, excluding the stem.
How does the process work in stages? First, the glass is degreased, then a drawing is applied to it with a wax pencil, and only after that the glass is covered with a thin layer of contour paint.
Constellations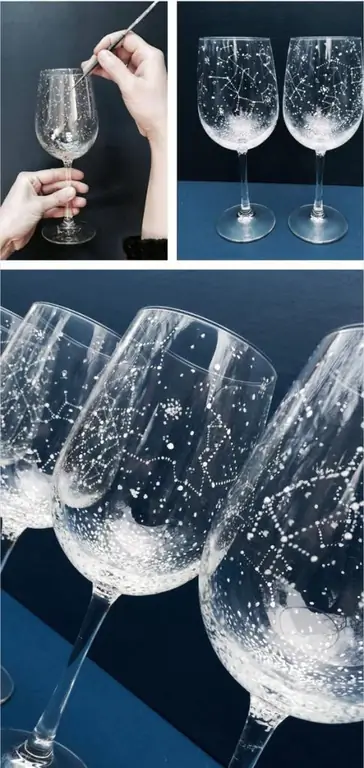 Don't know how to arrange wedding glasses? Draw a starry sky on them with acrylic. It is especially original if the constellation of the guest and the heroes of the occasion is depicted on each glass. Of course, not many today understand astronomy, soif you do not want to find out who was born and when, you can draw the constellations, not focusing on the real astronomical picture, but relying only on your imagination and your artistic taste.
Degrease the glass, and then use a thin brush to put dots and lines on it. They should not be placed in a random order. Place the points so that a picture of the night sky is created. To make the result more expressive, you can even slightly tint the glass in dark blue.
Ribbon decor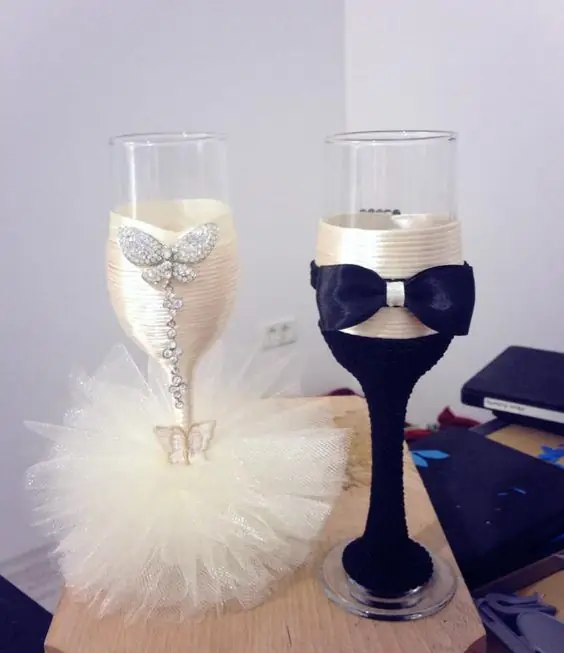 How to make personalized glasses for the bride and groom? Easily! To do this, you need tape. You can pick them up in any color. For example, make the bride's dress cream and the groom's suit blue. But in the standard version, the bride's outfit will be white, and the groom's will be black.
You can see an example of decorating wedding glasses with ribbons above. And now we will tell you how to repeat it. Stock up on tape and a glue gun. First, we will make a glass of the bride. Starting from the middle of the glass and following down, you need to wind the white ribbon in a circle. Every 2-3 cm, small dots of glue should be placed. Why not just streak? This will use more material, and also increase the chance that the glue will crawl out of the edges.
Having wrapped the glass, you can start decorating it. We attach any brooch. It can be something consisting of rhinestones or beads. The bottom of the glass can be decorated with a bow from an old children's hairpin. By the same principle, you should decorate the groom's glass. Here follows 1/3 partwrap the products with white tape, and the second 1/3 with black. A bow tie should be made from a thick ribbon. With the help of an elastic band, it will need to be put on a glass. You can glue a rhinestone or a bead in the center of the tie.
Lace + threads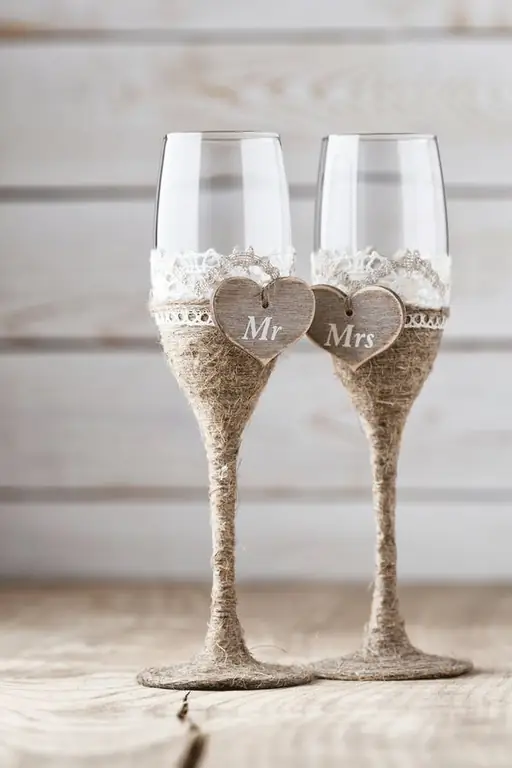 One of the easiest ways to decorate a glass is to wrap it with thread. If difficulties can arise with the tapes (they need to be beautifully distributed and looked at so that the overlap is small), then a thick rope will not cause such trouble. To keep it well on the glass, it is recommended to do the following. Take PVA glue, pierce it through with a needle or awl, put a thread through the holes, wrap the glass around it.
When this part of the decor dries, you can attach a thin strip of lace. To make the glasses look more interesting, you should attach wooden plates to them. Names of guests and heroes of the occasion can be written on them.
Initials
Glasses for the bride and groom can be made personalized. For example, put the initials of the newlyweds on the glass. It can be either one letter, or names, and even surnames. You should decide on the inscription in advance. If it is long, buy small rhinestones, and if it is one letter, then it is better to take large pebbles. They should be attached to a hot gun. You will be able to do everything the first time if you draw a sketch. You can decorate not only the main part of the glass, but also the leg. Stick rhinestones on it, and at the base you can tie a ribbon bow. Can match decor shinypebbles with real or artificial flowers. It will look interesting and unusual.
Popular topic