In interior design, the mirror plays a special role. It perfectly emphasizes the style of the room and visually enlarges the space. Today, more and more often for their work, many designers choose a large floor mirror. Let's see why this happens and how to properly use this item when organizing the interior.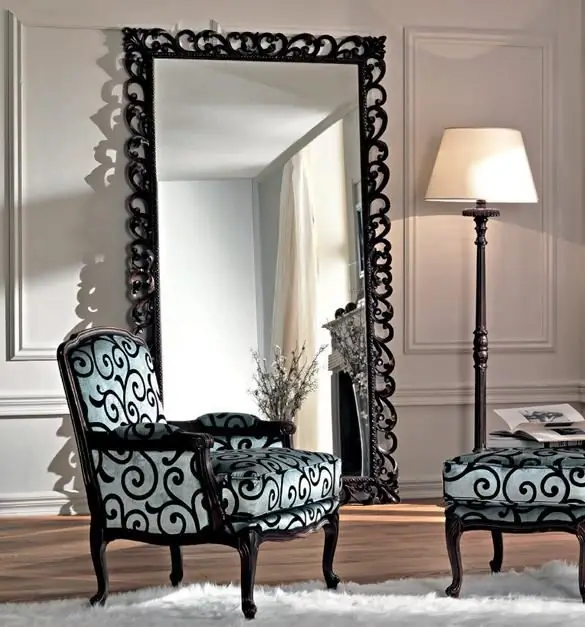 First of all, you should decide where it is appropriate to use mirrors. It can be any room: living room and kitchen, bedroom and bathroom, hallway, etc. Moreover, the room can be either large and spacious or very small. A properly selected floor mirror will visually increase the area of a small room, and in a large room it will emphasize its spaciousness.
You need to select a mirror, focusing on the overall interior design. It can be made in any style, from luxurious baroque to modest minimalism. Particular attention should be paid to the frame. For example, a baroque floor-standing mirror in a frame can be decoratedadditional accessories, forging or carving. Country style involves the use of laconic wooden frames. Sometimes they can be decorated with simple carvings. A floor mirror with an artificially aged canvas in vintage style looks very stylish. When organizing modern interiors, as a rule, side mirrors with simple frames are used. When choosing the right accessory, you should pay attention that the heavier the frame, the more stable the mirror will be.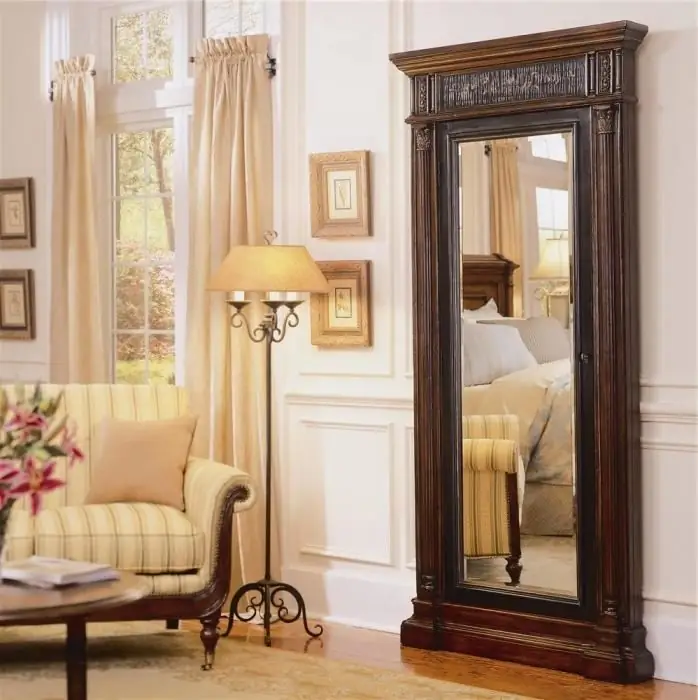 In addition to the above-mentioned attachment model, there are several more varieties of these accessories. These are floor mirrors on wheels, on a stand, and psyche mirrors. Most often, these models are used to decorate bedrooms or dressing rooms. They are less versatile and difficult to use in a living room or dining room.
The psyche mirror is one of the very first types of floor accessories. The mirror canvas in this case is on special rods, which are fixed on a stand. This design allows you to change the angle of the mirror, adjusting it to your requirements. Most often, these accessories have a classic design with carved frames, although sometimes you can also find laconic modern models.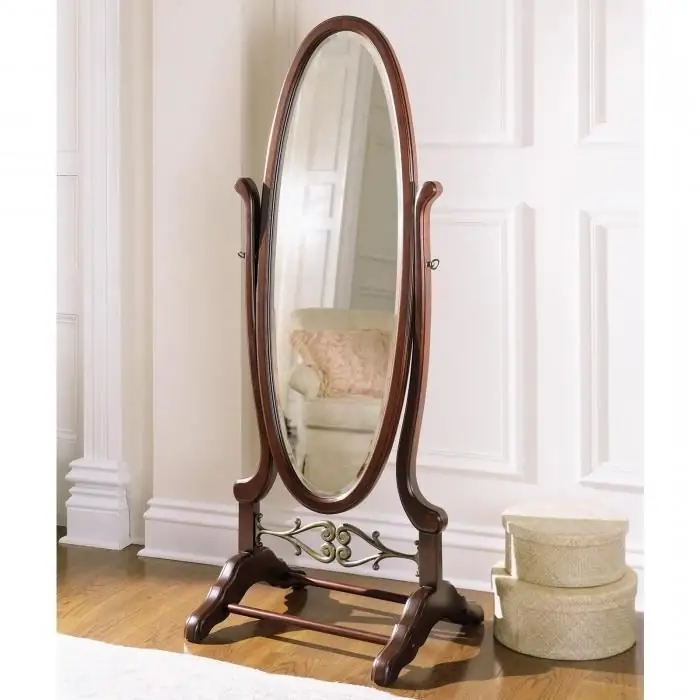 Floor mirror on a stand is convenient because it can be installed separately from the wall. As a rule, they are made in a minimalist ultra-modern style and are mirrored columns that emphasize the rigor and elegance of the interior.
Another piece of furniture that deserves attention is a mirror screen. This is an ordinary screen, decorated with mirror panels. It performs the same functions: it visually enlarges the space, decorates the interior, and in some cases can act as a partition when zoning a room. Such decor items can be made in a variety of styles.
Whatever model of floor mirror you choose, in any case, it will make your interior brighter and more interesting.
Popular topic