Wedding is an expensive celebration, but you can always do something with your own hands. We are not talking about a dress or a wedding cake, today we will talk about the nuances. Let's make wedding champagne labels. It's quick, simple, but will make your wedding unique and extraordinary.
Several techniques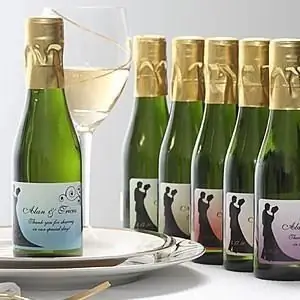 To begin with, let's decide which technique for decorating a wedding bottle is closer to you. If you need a high-quality wedding champagne label, Photoshop will help you. Using a computer, you can quickly create a real masterpiece, especially since there are a lot of templates of this kind. If you don't get along very well with a computer, then you can make your own wedding champagne labels. It will be more expensive, but the result will be more elegant. Let's start with the first technique.
Using Photoshop
You can use several options to create a label. Take a photo of you together and add your names and wedding date to it. All that remains is to print on thin photo paper and stick it on the bottles. If this optionseems very simple to you, try this: take and scan the finished label from any champagne. Instead of the main word, for example "Russian", write your new family name, for example, "Romanovskoye". Sign your wedding date in the bottom corner. Guests will be surprised that a wedding champagne has been released in your honor. The label, the template of which we have just described, can also be used for stronger drinks. In this case, Ivanovka, Smirnovka, Andreevka may appear. Finally, one more option. For a wedding champagne label, you can take any romantic picture, cut out a heart in the center and insert your photo, add a signature. Done!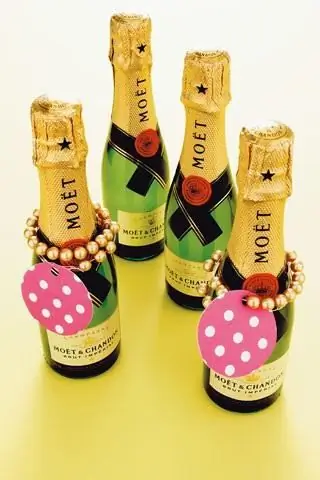 Handmade
Today this direction is more valuable than ever. So, in order to make a label, you need watercolor paper, not very thick, but with texture. Cut it at once into as many labels as you need. Place them on sheets of plain newsprint and get to work. To get started, just randomly splatter all the labels with drops of paint. To do this, dip the brush into the paint and quickly shake it onto the paper. Paints should be bright, matching each other in color. Now you need to stamp the inscriptions, for example, "Wedding" or "Wedding Champagne". These are sold in art stores. Add paper flowers, pearls, small buttons, hearts and ribbons. All this together will look cute and elegant.
A few tips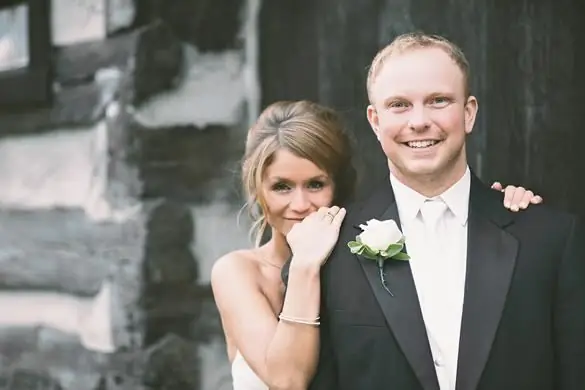 Labels for wedding champagne should be done in the spirit of the wedding itself, so that they do not stand out from the general theme. Two bottles of champagne on the table of the bride and groom should look different - even more elegant. On average, 25-45 labels will be enough for you. If your budget allows, you can print them in a print shop. You need to do this in advance, and it is better to provide them with a ready-made layout. In this case, the labels will look very natural and natural. And champagne will be the best souvenir for your guests and just a table decoration.
Popular topic