Children's bicycle stroller is also called a bicycle stroller or a tricycle with a parent handle. This modern transport is suitable for walking in the warm season for children who are already sitting steadily.
The bicycle stroller will successfully replace the usual stroller for walking. This device is a tricycle equipped with an additional parental control handle and a shopping bag.
When to buy
Buy a bicycle stroller is not until your baby learns to sit confidently, that is, after 8 months. Many children enjoy riding it until they are 2-3 years old. Just pay attention that sitting in such a transport, it will not be very convenient for a child to sleep on a walk.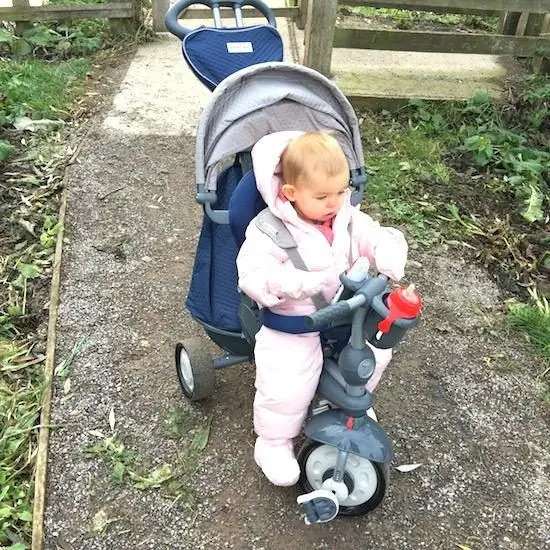 Features of baby stroller bike
Such transport combines the functionality of both a bicycle and a stroller. When the baby grows up, you can transform the bike stroller into a classic one.tricycle. The handle, seat back and other elements are simply removed. In addition to having a shopping basket and a parent handle, the bike has the following features:
large hood protecting the little passenger from hot sun or bad weather;
seat is a comfortable chair;
the presence of seat belts and a bumper that will not allow an active baby to fall out;
many bicycle strollers are equipped with a music panel and a loud horn to entertain the baby;
in most models, the angle and height of the removable handle for parents is adjustable;
The backrest of the child seat is adjustable, but unlike walking strollers, the stroller does not lower the back to 180 degrees.
This accessory for moving with a child is good because it makes it possible to develop the independence of the child and show him the initiative - he can already choose where to go and pedal. Mom, at the same time, constantly controls the situation. And if the child gets tired, then you can take control with the help of the parent handle.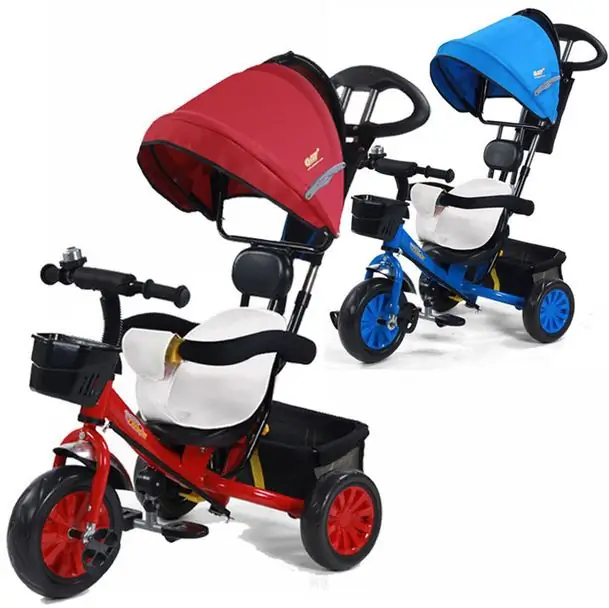 How to choose a baby stroller
Before purchasing, pay attention to such important points:
If you opted for a model with a small sun hood, it is desirable that the angle of the awning could be adjusted.
Size and material of wheels - unlike plastic wheels, rubber wheels will provide better cushioning and will not rattle. The morethe diameter of the wheels, the better the bike's flotation.
The function of locking the pedals and steering wheel of a bicycle stroller will not be superfluous. If the mother takes control, she can lock the steering wheel so that the child does not try to steer the vehicle in the other direction. And the pedal lock will come in handy for toddlers who can't ride yet - the spinning pedals won't hit the child's leg while driving.
High back bikes are a little more expensive but more comfortable for toddlers up to 18 months.
The wheelchairs in the photo in this article are of various options: children's bikes with a handle, classic models from leading European manufacturers and hybrid solutions.
Three-wheel Tilly Camaro T-362
This is a convertible bike with rubber wheels. The model is very durable and high quality. It can be used both as a stroller and as a bicycle.
The textile visor will protect the child from rain, wind and sun, it has a window with a mesh through which you can watch the child while moving. On the handle there is a small bag for various little things, the handle itself is covered with durable foam rubber, and on the back there is a removable basket for toys.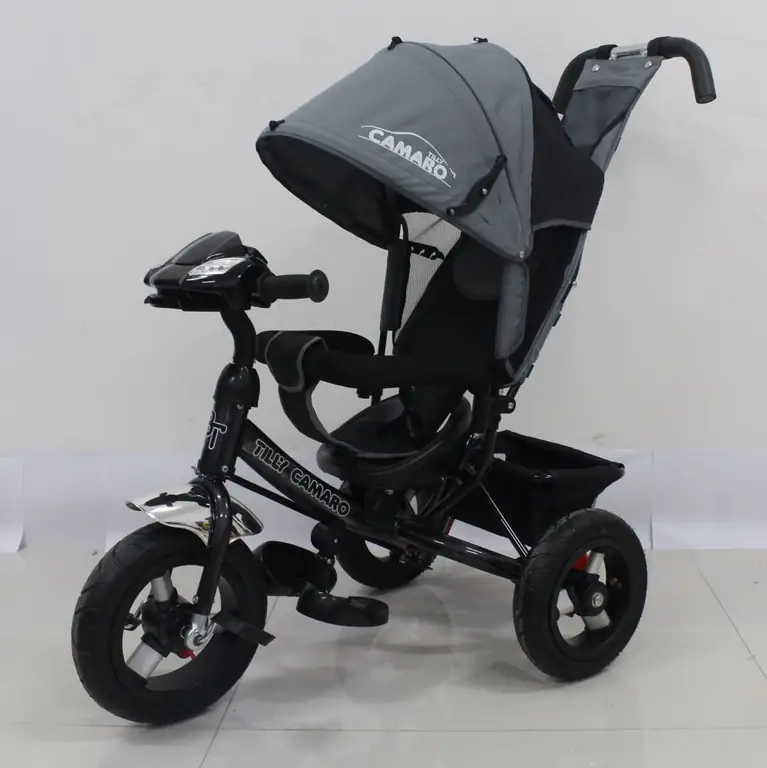 The keypad on the steering wheel and the glowing headlights of the bike will not leave the child indifferent.
Children's tricycle stroller has a number of advantages:
bike awning does not get wet, the quality of textiles is excellent, it does not fade in the sun and does not deform;
Rubber wheel bike ride is light and soft;
metal framereliable and durable, with stiffening ribs to the handle from the bumper;
there is an idle button to stop pedaling.
Bicycle Turbo Trike M 3212AJ-10
Three-wheel stroller-bike from a year is designed for children who have learned to sit steadily. The model is an excellent alternative to the summer "walk". The bike has an anatomical comfortable seat with a back and a soft lining on it. And also it is equipped with a protective frame that protects the baby from falling.
Furthermore, there is a sun shade fold-down awning, a fabric basket on the back for toys, a non-slip footrest and a small basket on the front for small items.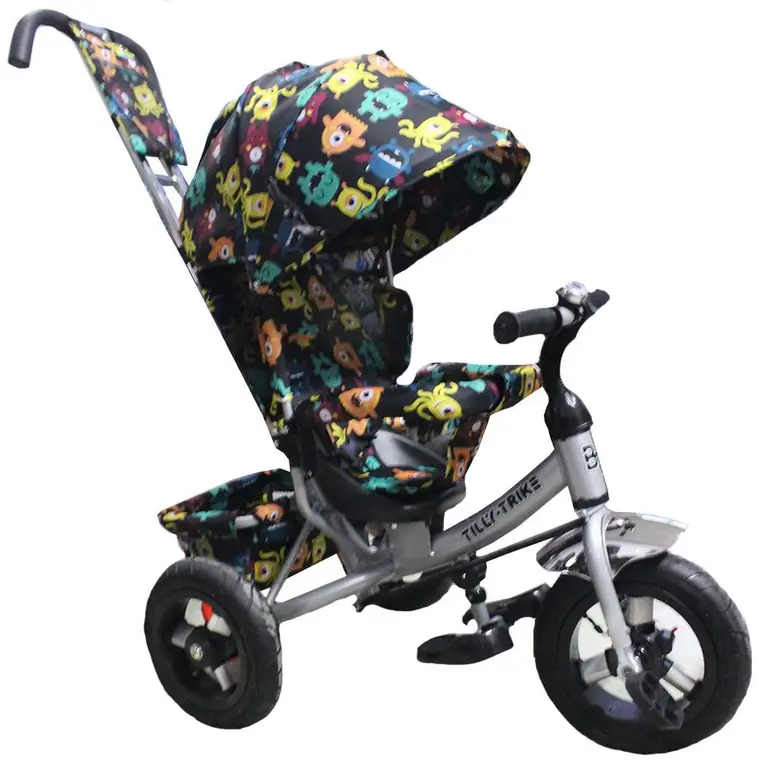 The bike is equipped with a reinforced comfortable parent handle and inflatable rubber wheels. A nice feature will be the swivel seat, thanks to which the child can be positioned facing the mother. As the baby grows, you can transform the bike into a balance bike.
Smart Trike Dream 4 in 1
This baby bike stroller with handle is designed for babies 10 months and older.
The Touch Steering system that this stroller is equipped with is a new development that has made it even easier to control. Now you don't have to put a lot of effort into steering on the road thanks to the free rotation of the wheels. It became possible to control the bike even with one hand.
Ease of assembly is one of the important advantages. You won't need any tools - thanks to the Click-Clack system, all partsbicycle strollers are assembled by snapping.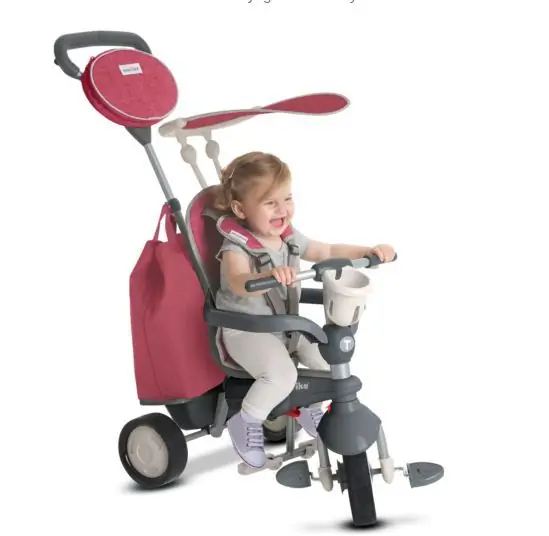 Moulded rubber makes the wheels more durable and quieter.
This stroller has everything for comfortable walks for the baby and his parents: a high back and headrest, a soft seat cover, a three-point seat belt, a folding footrest, a protective visor, a pedal release mechanism, a bag for mom, telescopic parent handle. Up to a certain age, the baby can freely turn the steering wheel without changing the direction of movement.
Bike Neo 4 Air
The Neo 4 tricycle is equipped with a safety barrier, a detachable telescopic handle and a hood. A universal model that combines a tricycle and a stroller with a swivel child seat. The seat can be rotated 180 degrees from the steering wheel and the baby can be turned to face the mother. The seat back angle is adjustable, and it itself is complemented by a three-point seat belt and a head restraint. The soft-coated border will protect the baby from falling during a walk. It consists of two detachable arches, which also play the role of armrests. The bike is equipped with two types of footrests. Classic folding platforms are designed for older children, and for the smallest - wide footboards with sides.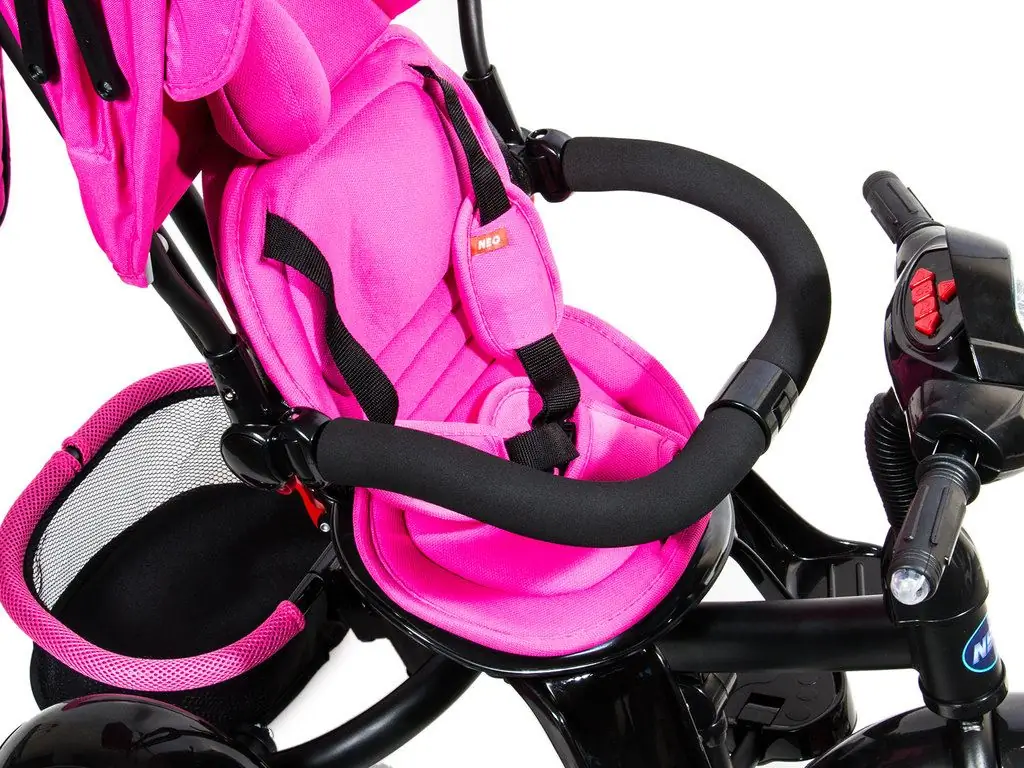 anti-corrosion matte frame finish;
headlight and soundtrack;
wings on all three wheels;
seat belt;
parkingbrake;
there is a rotary control mechanism in the bike frame;
telescopic handle, front wheel precise control;
upholstered insurance bumper;
free wheel function disengages pedals from front wheel;
footboards of two types;
luggage basket for things;
for convenience - reclining the back;
textile handbag for mom;
on a separate holder - folding sun visor.
Turbo Trike M Bicycle AL3645A-14
This stroller alternative has its own twist and uniqueness in its fully reclining backrest.
Easy to take this stroller on your trip with the foldable aluminum frame design. The model is equipped with inflatable rubber wheels on bearings, providing a quiet and smooth ride. For the legs of the baby - two comfortable stands. The Turbo Trike has an anatomically comfortable seat with a backrest and is equipped with a comfortable height-adjustable parent handlebar.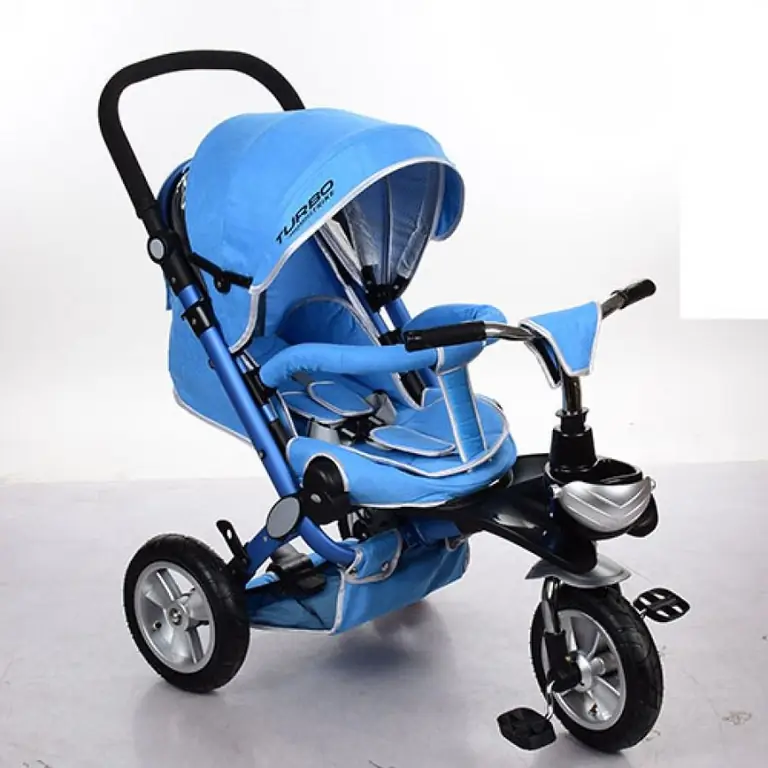 Key features:
frame material - aluminum;
wheel diameter - 26 cm;
wheel material - rubber inflatable;
swivel seat - plastic with soft cover;
back tilt - 3 positions;
front bumper - soft, protective, unzips in the middle;
folding awning with wheelchair type depth lock with viewing window;
5-point harnesssecurity;
parent handle height - 69-98cm;
parent handle - adjustable, removable, 5 positions;
luggage basket - removable;
buttons "quick release steering wheel and wheels";
twin brake.
Model TORINO TTC-002
This 2 in 1 baby stroller converts easily into a tricycle for older kids. Strong and high-quality, reliable and durable, it is convenient for children and parents. Large inflatable wheels will provide special comfort and silent smooth ride on our roads.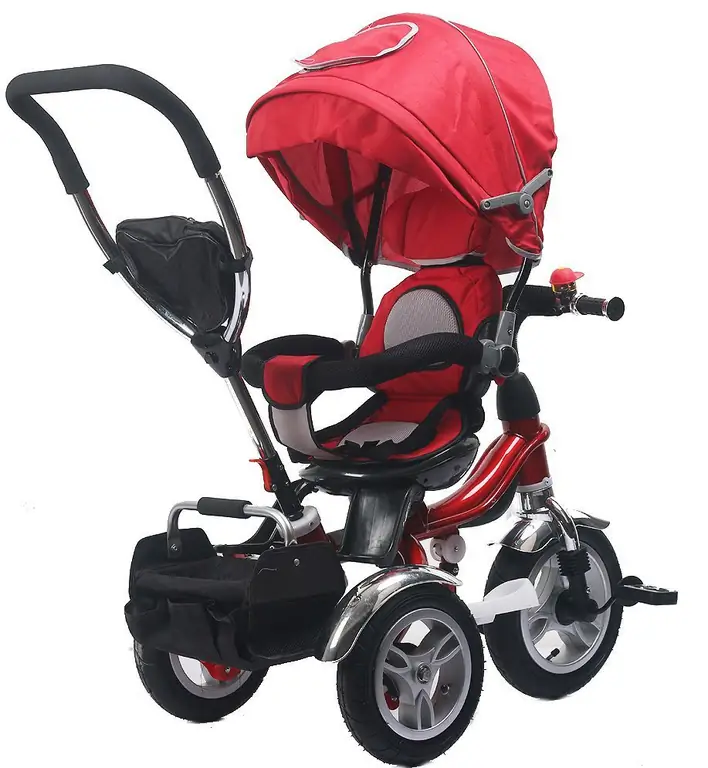 Features:
for children from one to five years old;
inflatable wheels;
max child weight 30kg;
stylish elegant design;
no toxic dyes;
strong steel frame, handlebar, front fork;
bell on steering wheel;
rubber grips;
comfortable seat with 360 degree rotation made of high-strength plastic;
detachable soft safety fence around the entire perimeter;
soft seat cover made of easy-to-clean fabric;
seat belt;
mud guards on all wheels.
Popular topic