Designing a wedding menu is one of the most painful and complex processes when planning a future celebration. It is necessary to take into account the composition of the guests, their number, time for the meal, budget. In addition, the menu may change depending on the season. However, the main factors during the filling of the table with various dishes remain unchanged. Firstly, these are cold appetizers traditional for the Russian feast, such as salads, fish dishes, meat and cheese cuts. Secondly, guests need to be treated with hot dishes of meat and poultry. And, finally, thirdly, everyone gathered at the wedding feast needs to be pleased with desserts, various drinks containing alcohol, as well as juices, tea, coffee. To decorate the table, you need to evenly space the vases filled with fresh fruit.
Calculate the number of products
On average, the total amount of food per person in the wedding menu is about two kilograms (excluding drinks). Alcohol and juices should be stocked at the rate of 1.5 liters per person.
A standard portion of a hot dish of meat and garnish should be at least 350 grams.
One ofoptions for filling the table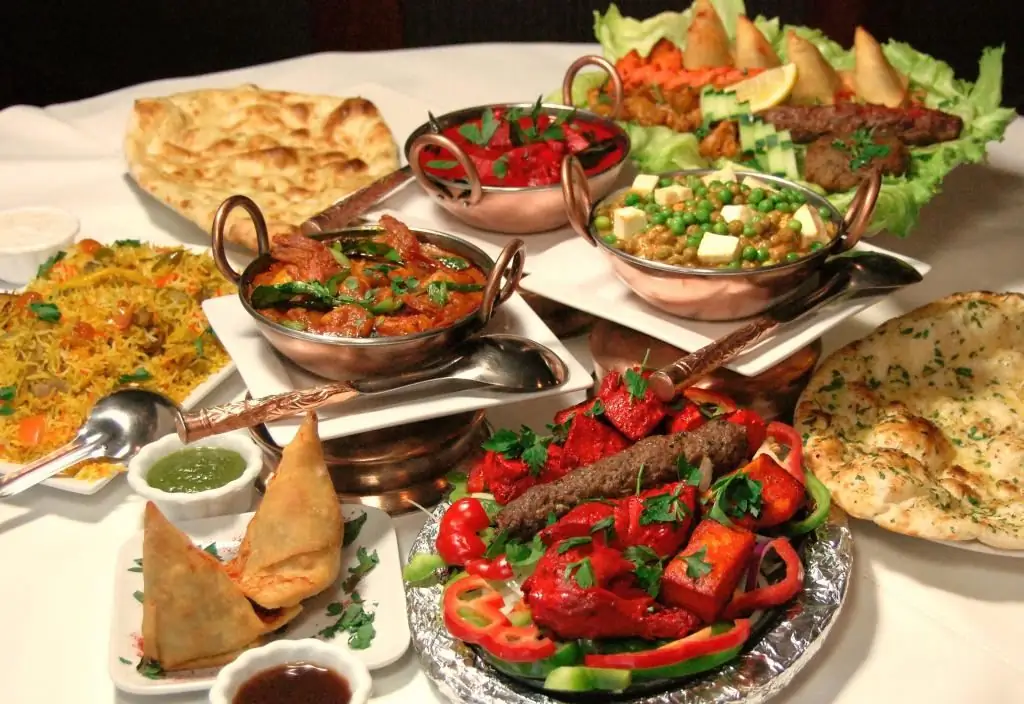 As cold appetizers for the wedding menu, slices of lightly s alted red fish (salmon or trout) are ideal. It will take about 50 grams per guest. It does not hurt to put on the table and cold-smoked fish (halibut, sturgeon, mackerel) at the rate of 50 grams per guest. Sandwiches with butter and red caviar (2 pieces per guest), bread with boiled or smoked sausage (also 2 sandwiches each) are popular during the wedding feast.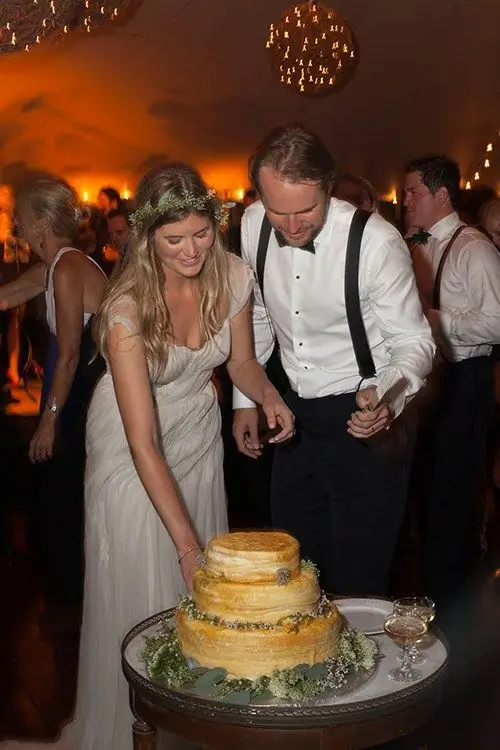 During the celebration of such a celebration as a marriage, salads are prepared from meat, mushrooms, shrimp. Many will like the chicken liver cake. Cooking such dishes should be based on 50 grams per guest.
Snacks
The wedding menu must include light snacks in the form of pickled cucumbers, mushrooms, tomatoes. Don't forget to put fresh herbs on the guests' plates, which are traditionally popular during the Russian feast.
Few people who come to celebrate the marriage of a young family will refuse fresh hot pies with various fillings. You can fill bakery products with minced meat, eggs and rice, sweet fillings (jam or jam). Usually they cook 2 pies for each person.
The next type of appetizer on the wedding table is bread and butter. When serving such a dish, there is one important nuance: butter should not be spread on bread, it is served ona separate plate in portions of 15 grams. Before serving, the oil is cooled in the refrigerator. But salads, on the contrary, it is desirable to arrange on plates. Thus, guests will not get up once again, disturbing the table neighbors.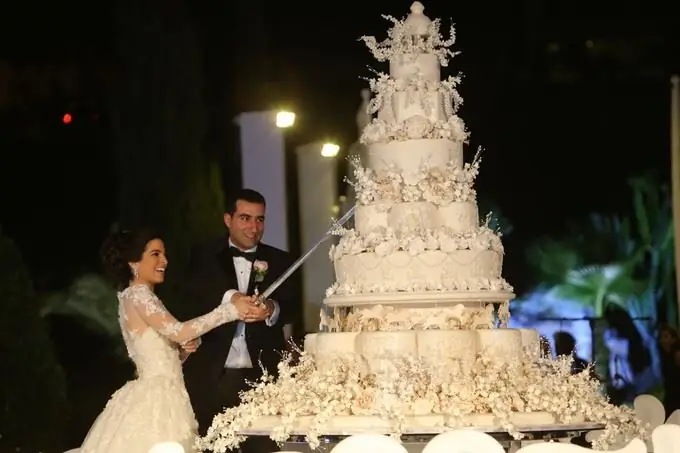 Hot meals are usually served on the wedding table first, but there is one exception: guests are treated to appetizers first if more than two hours have passed between the wedding ceremony and the festive banquet. The main menu will be especially desirable in the cold season. During this period, it is customary to serve cooked food very hot.
The menu of a wedding banquet often includes a hodgepodge of cabbage and meat, 250 grams per person, or meat broth, supplemented with crackers and herbs.
Fish delicacies
For lovers of fish delicacies, sturgeon baked in the oven with fresh vegetables will be to your liking. It should be served at the rate of 200 grams for each guest.
It is worth noting that hot fish dishes are not at all an obligatory part of the wedding menu in a cafe. Such a menu should only be used if it is possible to find a quality and fresh product. Hot fish products are a great save if among the invited people there are non-strict vegetarians who allow themselves to taste freshly prepared river or sea creatures.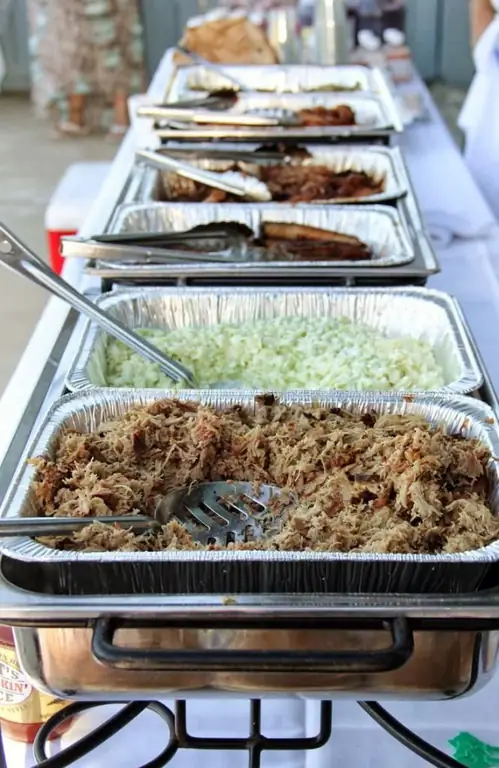 As hot meat dishes during a wedding feast, roast beef with vegetables (150 grams per person), friedpiglet or baked bird at the rate of 200 grams for each. As a rule, two hot dishes are served at the table at once. If the budget is limited, you can choose one.
Sweets for guests
A wedding menu in a restaurant is complete without sweet desserts. In the cafe you can order a custom-made cake with figurines of the bride and groom. Typically, such a delicacy is made weighing 2 kilograms or more.
Chocolates (50 grams per person), as well as cookies (30 grams per person) will not interfere with the festive feast. Various fruits should be present on the table: apples, pears, bananas sliced \u200b\u200band sprinkled with powdered sugar, oranges and grapes. Fruit cut into small pieces must be placed in a vase, and a set of chopsticks should be placed nearby so that guests do not eat with their hands.
Drinks on the wedding table in a cafe
From soft drinks, you must order mineral water, sweet soda, fruit juices, coffee and milkshakes. The calculation is made individually, depending on the preferences of invited friends and relatives to the wedding.
Hot drinks are also ordered depending on the circumstances. The male half of society, for the most part, prefers strong forty-degree drinks (vodka, cognac and whiskey), for women it is necessary to prepare white and red wine, champagne and martini. On average, it will take 0.5 liters of alcoholic beverage per adult.
Homemade wedding menu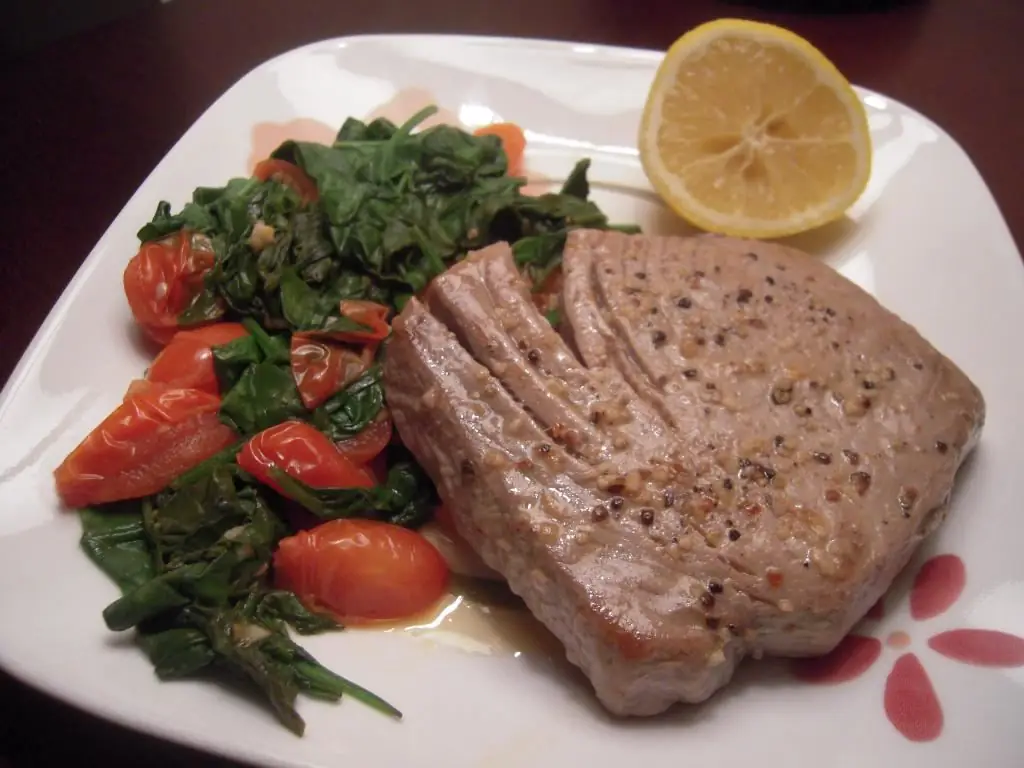 You don't have to think it through yourselfthe number and variety of dishes that a home-cooked wedding menu should contain. In this regard, advice from professional restaurateurs will come in handy. According to them, 6 types of dishes should be prepared:
Several types of salads.
Hot meat, poultry or fish dishes. If vegetarians are invited to the celebration, vegetable stew should be prepared.
Sliced sausage, cheese, slightly s alted fish, caviar sandwiches.
Sliced fruit in a vase.
Desserts in the form of a cake, pies, loaf and sweet cakes.
Also don't forget to buy enough alcohol: champagne, vodka or cognac, martini and wine. Fruit juices, lemonade, milkshakes, tea and coffee are ideal for a non-drinking company.
Diet meals
Do not forget that not everyone can eat meat, too fatty dishes, eggs, citrus, so you should prepare cuts of vegetables, cold pickles, as well as diet stew, roast or sauté without meat.
Homemade menu for the second wedding day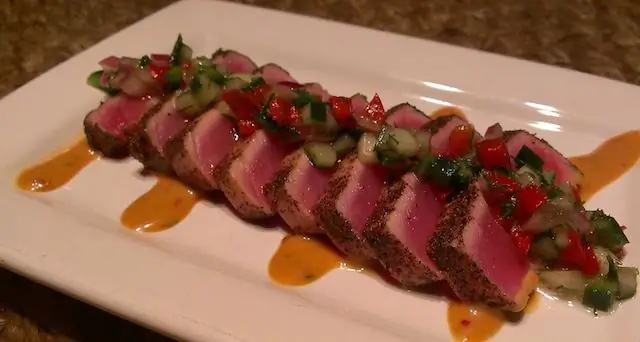 On the second day of the festivities in honor of the marriage of a young couple, light food and a large number of drinks - both alcoholic and soft for a non-drinking company should be prepared.
It is desirable that the dishes for the first and second days of the festivities differ from each other. You can conduct an experiment and cook exotic dishes from another country the next day, for example, meatFrench with wine sauce. You should also take care of the abundance of snacks from mushrooms, hard cheese and fruits on the table.
Popular topic