Dirt-protective bristle coverings - a modern popular material designed to protect the interior of the house from street dirt. These rugs are not too expensive, but the effect of their use can be very good.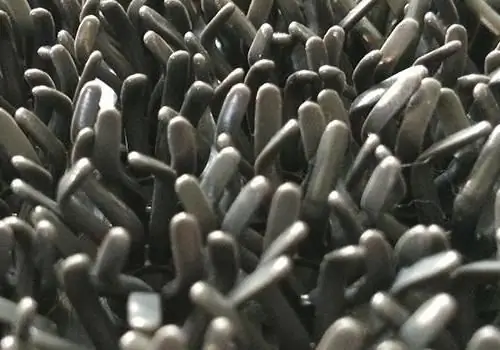 What is the material
Sold bristly coatings usually in rolls - running meters. They are an elastic flexible material with a thick rubber backing and artificial pile, most often made of polyethylene or polyurethane. Placed in front of the front door, these rugs effectively clean the dirt from the soles of street shoes. The colors of the bristle coatings may be different. Such products usually look very aesthetically pleasing, and therefore can serve as a decoration for a hallway or a porch. The cleaned dirt simply falls between the villi and becomes completely invisible. In another way, bristly dirt-repellent coatings are also called "grass".
Benefits of using
Just a small bristly rug placed near the door can pick up up to 3 kg of dirt at a time. Of course, this is significantreduces the time of cleaning the interior of the building. The rug itself is enough only from time to time to knock out with a stick and rinse, for example, under running water from a garden hose.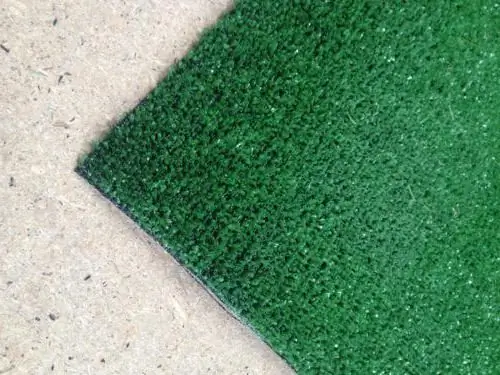 In addition to protecting against dirt, and therefore germs, the bristly coating "grass" can perform another important function. Very often it is laid on the porches in the winter to prevent steps from icing and slipping. It is simply impossible to fall on a tile covered with such a carpet.
Types of rugs
The "grass" coating can differ in several ways:
length and thickness of pile;
distance between tufts of bristles;
thickness of the base substrate.
Use area
Most often, rugs of this variety can be seen in front of the front doors of country private cottages. Small "bristled" squares are also laid in front of the doors of city apartments. You can put such a rug not only in the entrance or on the porch, but also in the hallway itself. These coatings often look very beautiful, and all thanks to the original arrangement of "villus" bundles and pleasant colors.
Very often the bristly covering "grass" is also laid in front of the entrances to offices, cafes, restaurants, shops. In this case, the most durable models that are resistant to abrasion are usually used. Sometimes these rugs can also be seen in the halls and stairs of public buildings.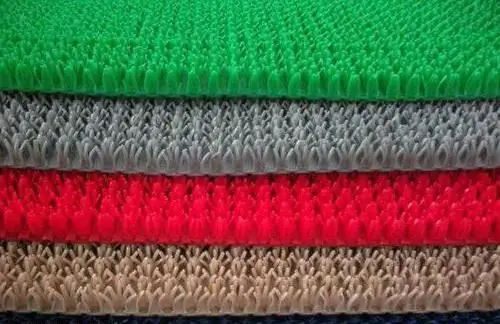 Another place where you can use bristle rugs is a sauna, bath or pool. Since these accessories are made of moisture-resistant material, they can serve in such premises for a very long time. In addition, they, of course, will prevent slipping on tiles, and perhaps even become a real decoration of the interior.
Garages, warehouses, sports fields and production halls are also places where stubble flooring can be installed. You can lay them directly on the concrete screed. Also, artificial pile mats are often used inside private cars, and sometimes even in public transport.
Best Bristle Cover Manufacturers
Most often in hardware stores you can see rugs made by Russian, Estonian and Finnish companies. At the same time, the following three brands are the most popular:
Centrob alt.
Bristlex.
Finn Turf.
Dirt-protective coatings "Centrob alt"
Products of this brand are produced by the Russian company of the same name. Most often, this manufacturer makes its rugs from environmentally friendly polyethylene. The high quality of Centrob alt products is determined by the fact that it uses the thickest and most elastic rubber for the substrate. The corners of rugs on this base never curl up.
Among other things, this manufacturer covers the bottom of the rubber with a special compound that prevents slipping. You can lay rugs "Centrob alt" on the most slipperyporch or hallway floor. They will not move due to the machined bottom surface and heavy weight.

Bristlex covers
The mats of this brand are produced by the well-known Estonian company B altplast, headquartered in Tallinn. In addition to flooring, this company also produces other rubber products: hoses, balls, PVC corners.
Bristlex mats are valued primarily for their excellent dirt-repellent properties. Snow and slush remain on this surface without spreading, which is certainly very convenient. The second advantage of the products of this manufacturer is durability. The bristles of the mats do not wear out even with the most active use for a long time. Like Centrob alt, Balplast covers its products from below with a special anti-slip compound.
Finn Turf mats
Dirt-protective coatings of this brand are produced by the Finnish company of the same name. Finn Turf carpets are made from polyethylene, extruded with a special UV protection. The special compositions used in the manufacture of coatings make their bristles elastic and at the same time mobile. Carpets from this manufacturer are just perfect for outdoor use, as they do not fade in the sun at all and tolerate frosts and extreme temperature changes very well without cracking.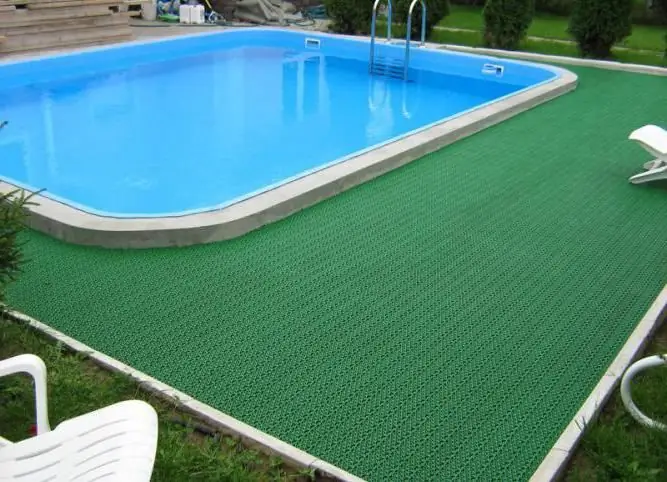 Dirt and sand from such products are removed very simply. In most cases, the mat just needs to be shaken a little. In case of severe contamination, the surface is vacuumed or washed with water. Just like other brands, Finn Turf mats do not need to be dried after wet cleaning. This procedure is necessary only if the coating is laid, for example, on a wooden or painted floor of a porch, terrace or veranda.
Price for rugs
The cost of bristle coating in rolls, as already mentioned, is not too expensive. Its dimensions may vary. However, most often the width of the roll is 0.9 m, the length is 15 m. For a rug of this size, you will have to pay only about 450-550 rubles. Such a coating is usually used on tiled or porcelain stoneware porches in the cold season.
There are also small rugs already cut, often used right in front of the door from inside or outside the room. The substrate is usually thicker, and the bristles are lower. At the same time, they are distinguished by greater strength and wear resistance. Products of this variety are usually a little more expensive. So, for a rug 60 x 45 cm you will have to pay about 150-170 rubles. But, in general, even this amount cannot be considered too large.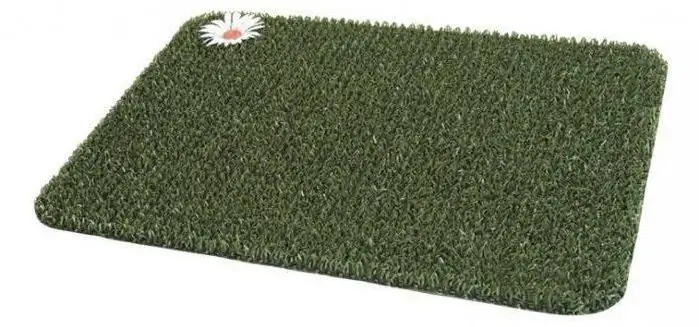 Laying rugs
Laying bristle mats in front of a door or on a porch is easy. You can cut this material with an ordinary sharp knife or even large scissors. The bristles on the rugs are arranged in rows, and therefore it is simply impossible to cut such a canvas crookedly. Coatings of this variety are laid without any additional fastening.
As you can see,bristly coating, the price of which is not too high - the products are really convenient and not too difficult to care for. Buying such an accessory will have almost no effect on the family budget, but the rug can ease the work of the hostess to a large extent.
Recommended: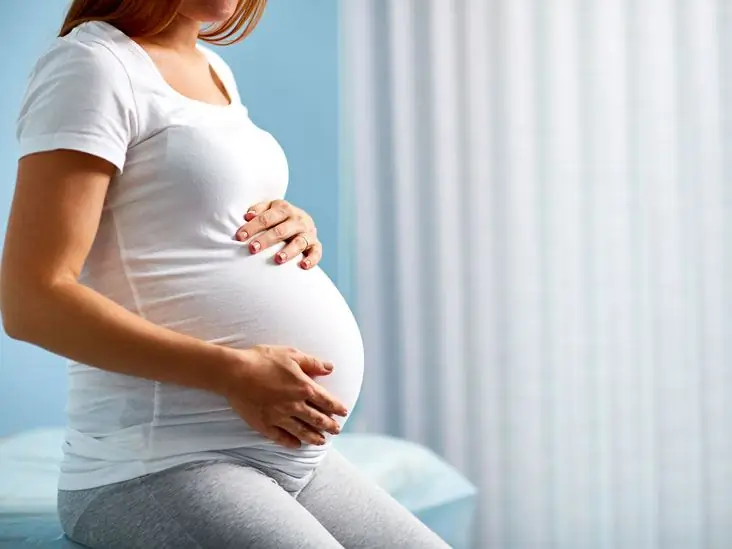 The period of pregnancy is associated with future mothers with great joy and great anxiety for the he alth of their crumbs. These feelings are quite natural and accompany a woman for all nine months. At the same time, even if there is no reason to worry, the pregnant woman will be worried and constantly listen to her feelings. And if doctors noticed some deviations from the norm during a routine examination, it is difficult for a woman to calm down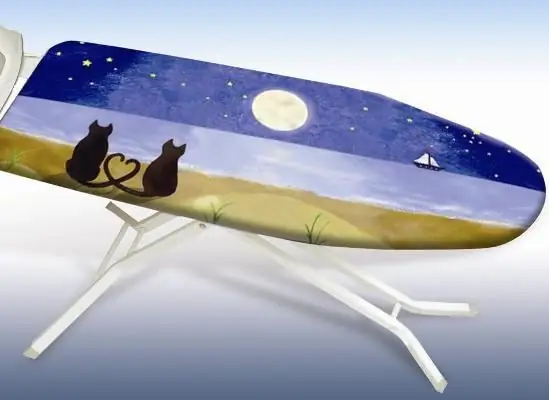 Ironing board covers wear out over time and need to be replaced. How to choose the best option for "clothing" for the board and not be disappointed in the purchase?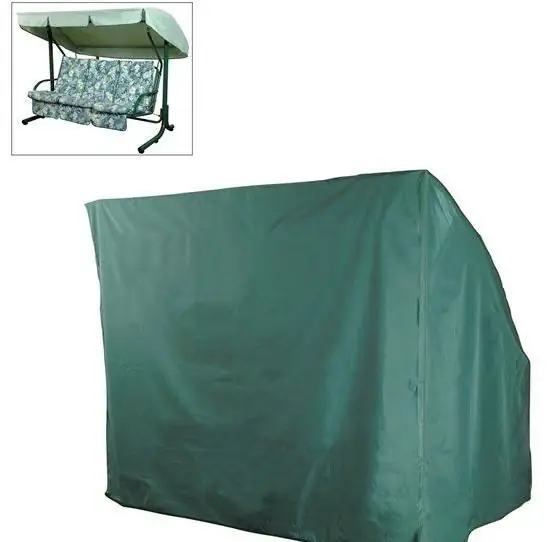 Garden swing covers will protect your furniture from bad weather, heavy rain and ultraviolet radiation, as well as various pests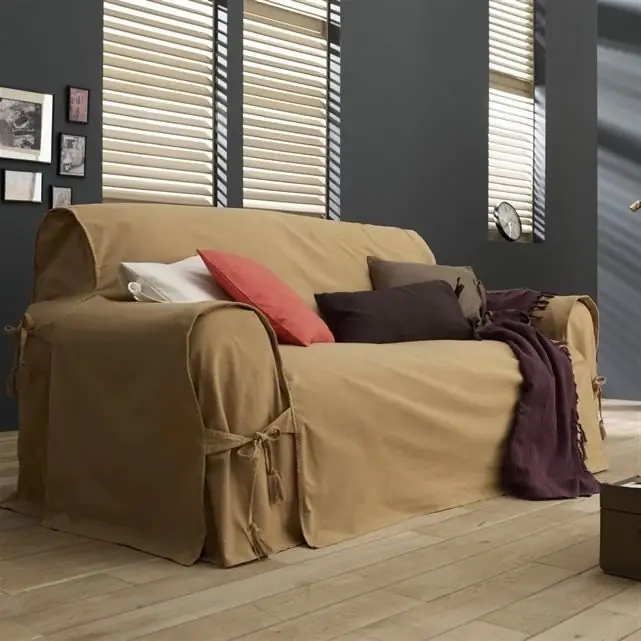 Each of us wants the house to be neat and comfortable, and the furniture to serve for a long time. Textile products in the apartment - covers for sofas, curtains, rugs, decorative pillows, tablecloths - must match the overall style and design of the room and blend harmoniously with each other. In addition, when choosing them, it is worth considering how easy they are to care for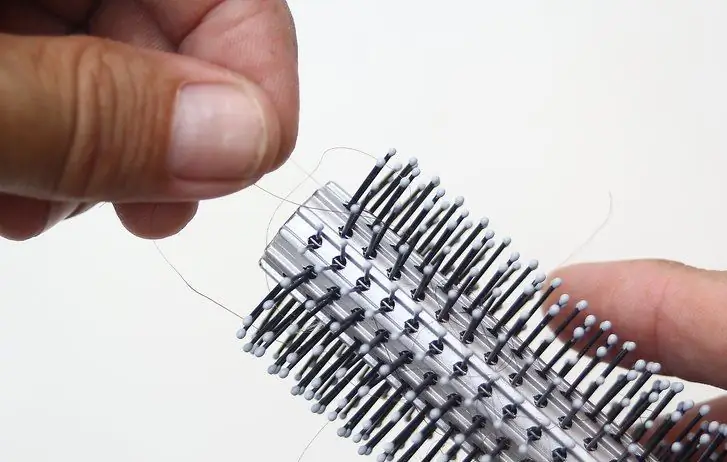 Every day we start by brushing our teeth, grooming ourselves and combing our hair. Especially the last procedure takes a lot of time for women. A comb is needed not only for separating strands, but also for decorating hairstyles. With its help, curls are twisted and individual strands are combed. With use, skin flakes, sebum particles and dead hairs accumulate between the teeth. Today we will talk about how to clean the comb from dirt