Even curtains for a children's room should be selected with special attention, because the whole style composition is made up of little things. The room is a magical world for the baby, in which he spends a lot of time. Psychologists note that the environment has a direct impact on the psyche of the child. With an illiterate approach to design, children will not fully develop.
Primary Requirements
First you need to understand the most important nuances, without which it is impossible to make a choice of curtains for a child's room.
Safety is a top priority. Do not purchase fabrics that are prone to ignition in the room. Synthetics are also not suitable for such premises, as they are capable of releasing harmful substances. Do not choose materials that cause allergies in the child.
Ease of care is another requirement for curtains. Children very quickly stain the surrounding objects with felt-tip pens, paints, food and otherways. In this regard, you should not buy fabrics that are difficult to care for in order to avoid unnecessary trouble. The material should be as practical as possible.
Naturality is welcome for obvious reasons. However, purchased curtains should not be too expensive. Replacement may be required at any time.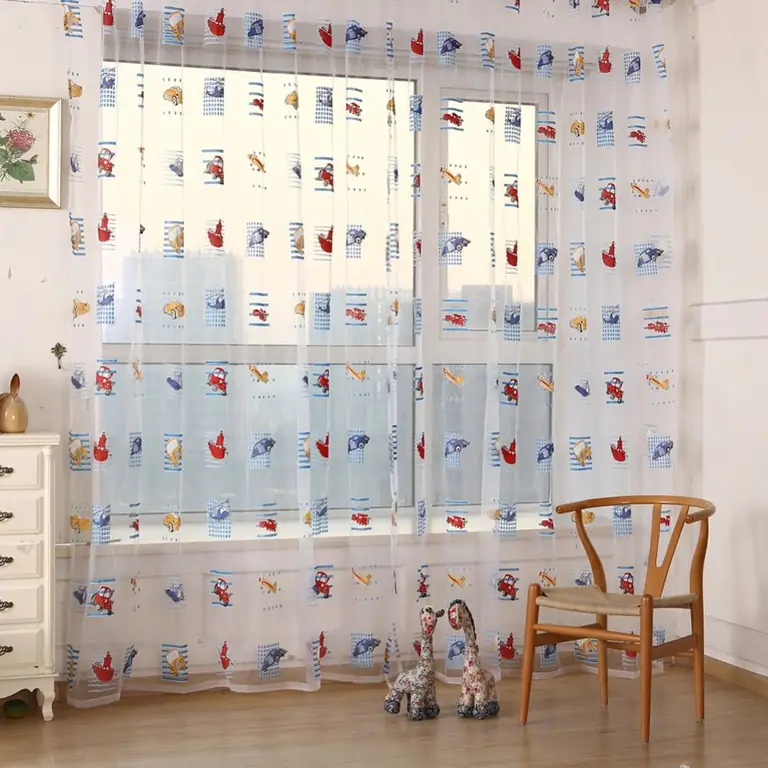 Special attention should be paid to the eaves. It must comply with safety measures and be easy to use. The curtains themselves for the children's room can be hung on rings or clothespins so that they move freely along the guide bar.
Possible options
In the room for a child, you can use almost any model. However, much will depend on the size of the room, style and personal taste. The simplest options are the most commonly used.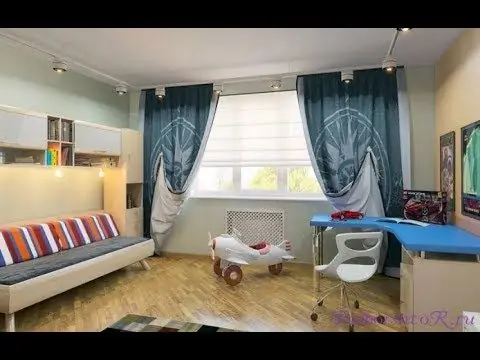 Classic curtains with sheer tulle. Another element that is included in the usual kit will be a lambrequin. The classic version attracts with its simplicity. There are no problems in the operation of such curtains, since they are not equipped with additional mechanisms.
Austrian curtains are quite an attractive option for children's rooms. They form a smoothed canvas in a free state. To control them, a regular cord is used. To lift, just pull on it.
Roman blind for a child's room is perfect, especially if it is decorated in a minimalist style. It is better to make it monophonic, but withIf necessary, you can consider the option with a bright pattern. However, it must be understood that only an older child can handle the control mechanism.
Blinds are actively used in rooms for school-age children. They will be able to regulate the amount of light without the help of their parents. You can buy regular aluminum blinds painted white, or opt for wood and various fabrics.
Japanese curtains will fit well into the children's interior. They differ from other analogues in the principle of control. They can be moved along the guide as you like.
Design Features
Many parents strive to make the room for the child fabulous. However, they do not pay much attention to the design of curtains for the children's room. Often curtains are not combined with the main style decision. Therefore, it is not possible to achieve harmonious design.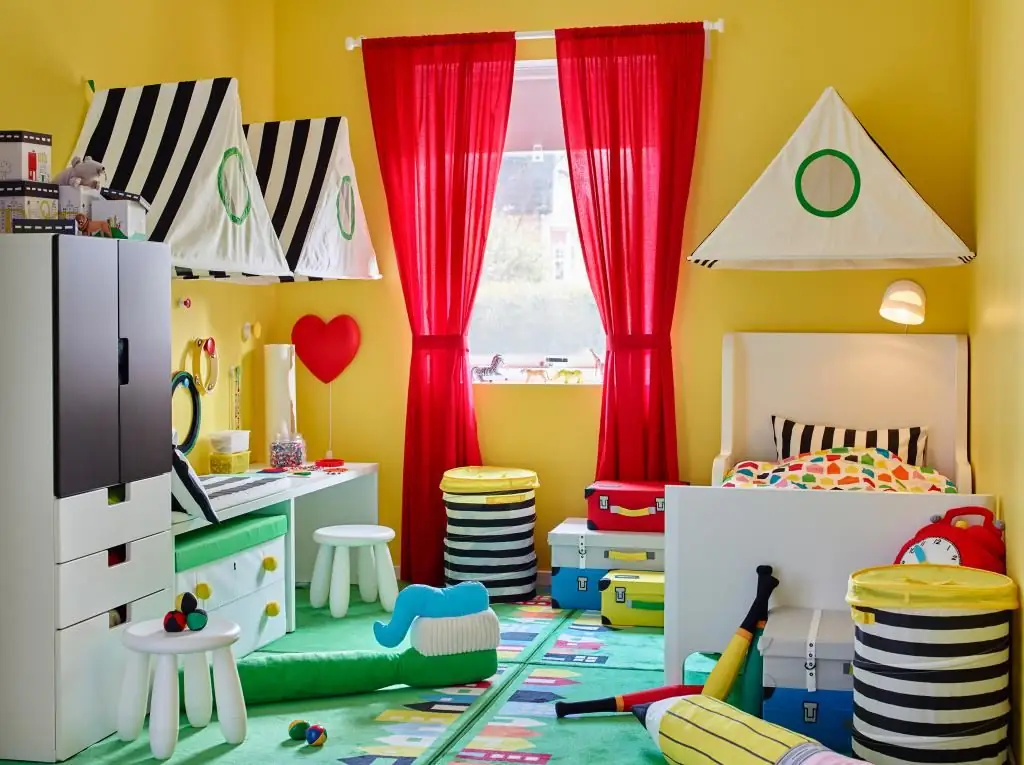 It is the curtains that give the design composition a solid look. They are a kind of continuation of the atmosphere that prevails in the room.
In the baby's room, it is best to purchase curtains in calm and simple tones. Excessive visual strain is not recommended for children of this age.
In a moderately decorated room, you can hang brighter curtains with complex designs.
In small rooms, bulky curtains will look ridiculous. They will take up a lot of space.
North-facing windows are best designed with light and translucent materials.
Bindoors for children, it is recommended to create a creative and casual look.
Which curtains are suitable for a boy's nursery?
In the room for a teenager, you should hang straight classic models. They can occupy both the entire height of the wall, and a certain part. Drapery, ruffles, tails and other decorative elements should be completely excluded. An alternative is to use roll products.
When choosing curtains for a boy's nursery, one should not forget about character and nature. For creative preschool children, canvases with images of cartoon or fairy-tale characters are suitable.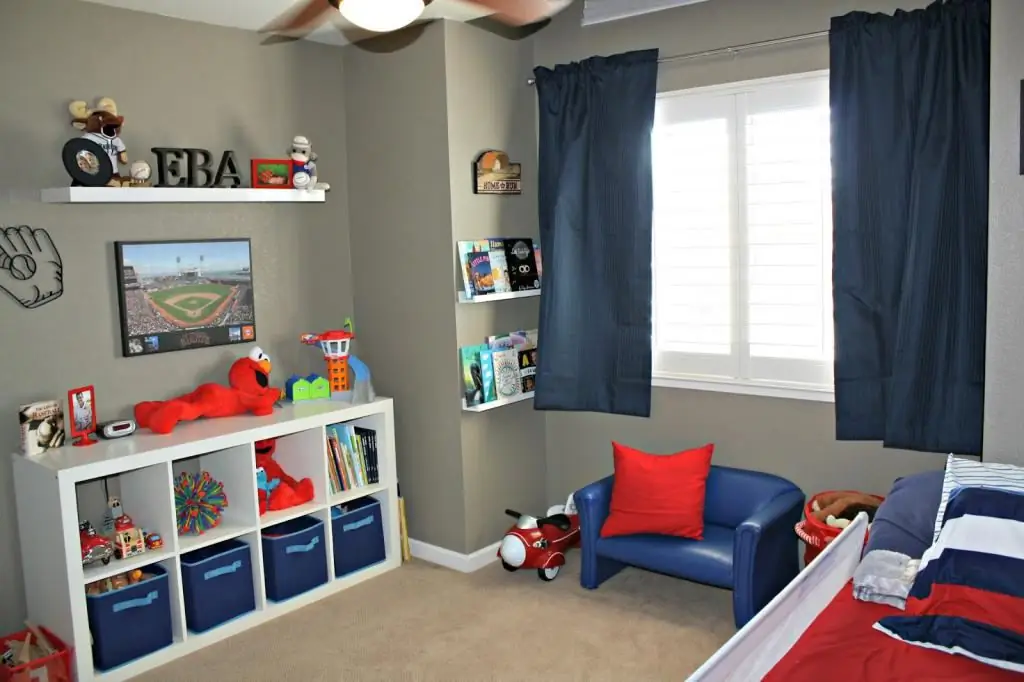 As for any decorations, there should be a minimum amount. If desired, you can place toys or the boy's favorite items on clothespins. For example, you can hang souvenir boxing gloves, a bunch of decorative balls or flags.
Which curtains are suitable for a girl's nursery?
Neutral colors suit any space. They can be in a girl's room of any age. Problems with the introduction of such tones into the interior usually do not arise. They will be relevant in cases where the space is overflowing with too colorful and bright colors.
When choosing curtains for a girl's nursery, do not forget about the size of the room. With small dimensions, light colors should be used, then the curtains will not dim the natural light.
Curtains in green, yellow, pink and blue are ideal. The listed colors are able to maintain a joyful mood, while irritability and excessive impulsiveness do not occur. In a girl's room, it is best to use two panels. They expand design possibilities and allow you to experiment with decoration elements.
In the girl's room, it is recommended to use dense, but soft enough fabrics. The tulle between the two panels will allow you to choose two possible light modes. With the curtains open, the room will be filled with diffused light. In the closed position, the room can be darkened.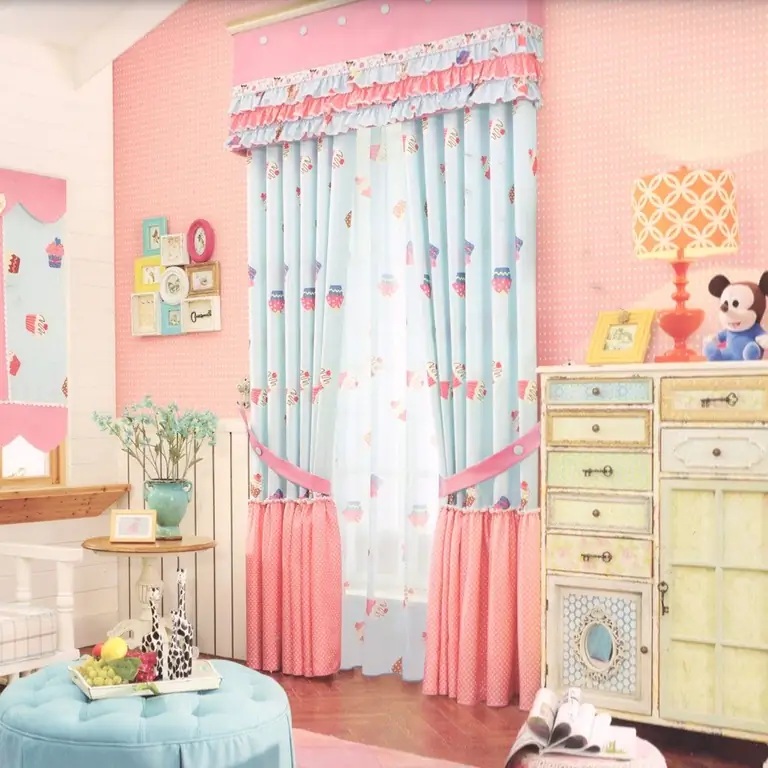 Optimal length
Ideal - short curtains for a children's room. Long canvases will be out of place here, as is the case with the living room or bedroom. Excessive folds of expensive matter will become an additional problem, especially if the child is small. An active baby will constantly get confused in them.
It is better to hang curtains up to the window sill if the child has not reached school age. With low ceilings, you can even bring them close to the frame. This option looks interesting in a country house.
Suitable materials
When choosing curtains for a children's room, attention should be paid to the fabrics listed below.
Linen is one of the most suitable curtain materials when it comes to children's rooms. There is an opinion that it absorbs the radiation emitted by household appliances, and is also able to create a he althy microclimate in the home.
Cotton is inexpensive,but at the same time it is a natural material. Curtains from it are easy to wash and iron. They are not prone to attracting dust, but the contaminants eat into them quite deeply.
Bamboo fiber is becoming more and more popular. Curtains from it will be appropriate in the child's room. The range is represented by a rich selection of color shades. The unusual structure of products is not able to repeat any traditional material.
Mixed fabrics are more practical and affordable. They are made by mixing synthetic and natural fibers. When buying, you need to pay attention to the percentage of materials used. The amount of synthetics should not be too large.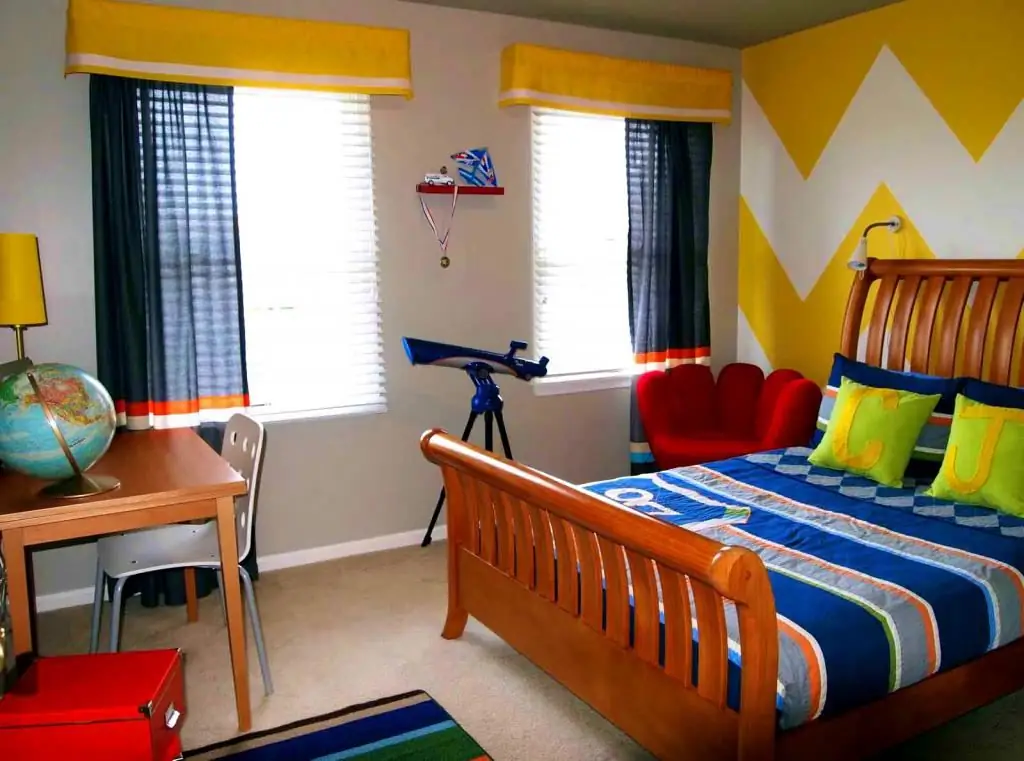 Combination with walls
It is necessary to choose curtains and tulle for the children's room, taking into account the finish of the side surfaces. If there is decor on the walls in the form of a pattern or pattern, then it is recommended to choose curtains of the most neutral colors. As for the tone, it can coincide with the base component of the palette or with certain elements of the composition. In the children's room, two opposite walls can be highlighted in different colors. In this case, the curtains should match one of them in tone.
If calm shades prevail on the walls, and furniture and other interior items do not have extremely bright colors, you can buy colorful curtains. In this case, you will get a combination of noble tones with the madness of the palette on the window.
When there is a striped wallpaper appearsthe possibility of using curtains with small polka dots or a small flower. The most interesting thing is that even lines are successfully combined with floral ornaments and dotted patterns.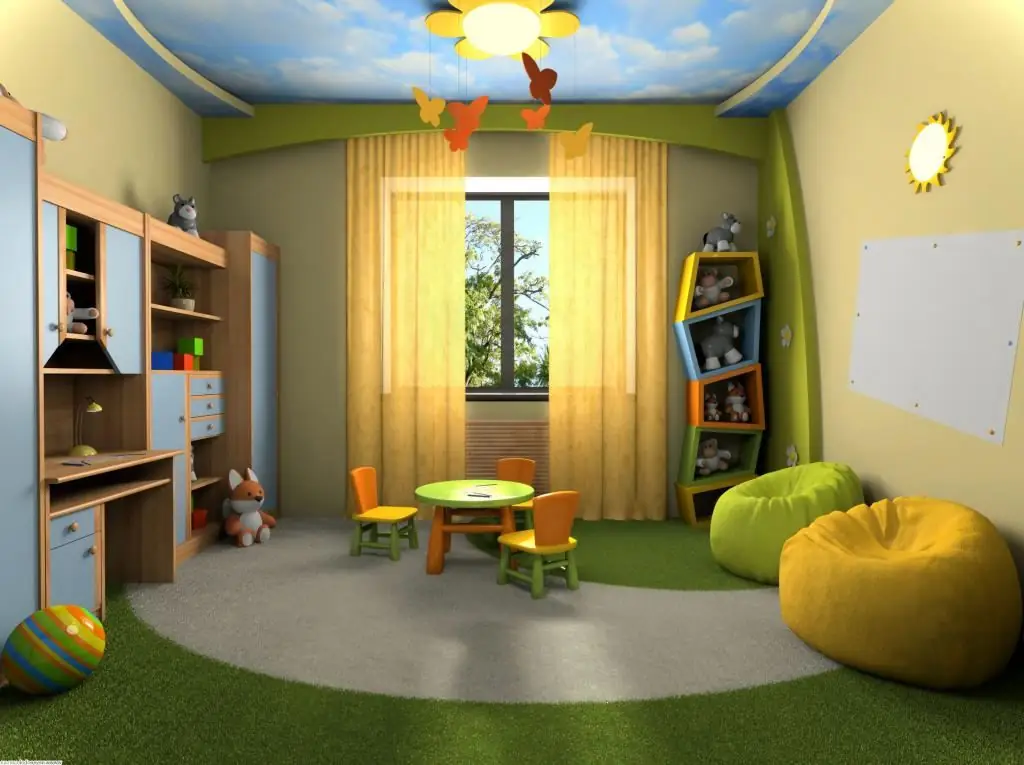 Age based selection
Purchase curtains for children's rooms should be age-appropriate.
Children from 1 to 3 years old will love the curtains in warm pastel colors. With their help, you can create an atmosphere of care and love.
At the preschool age of 3-5 years, imagination develops, so canvases with interesting images will be appropriate.
At 6-10 years old, a child is under the influence of informational and emotional stress. For him, it is better to choose calm tones.
Curtains in a children's room for a teenager are purchased taking into account hobbies. It can be, for example, a sports theme.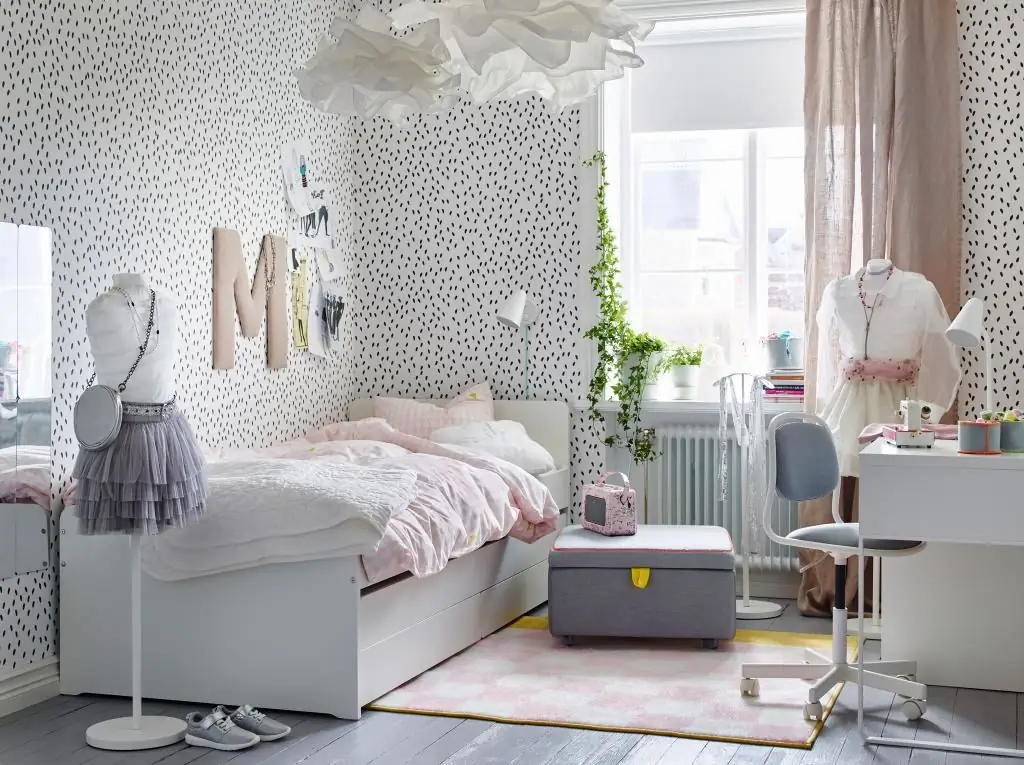 As a conclusion
Psychologists say that the colors and shapes that surround children in the course of their lives should fully correspond to the character. For creative natures, it is desirable to choose bright and saturated colors. For a restless child, pastel colors that have a calming effect will be appropriate. Boys and girls with a rich imagination will feel comfortable with floral ornaments and patterns. It is very important to take this into account when choosing curtains and decorating the room as a whole.
Recommended: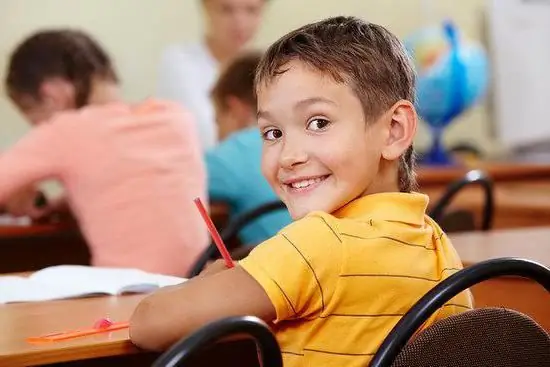 Who exactly should be considered gifted and what criteria should be followed, considering this or that child the most capable? How not to miss the talent? How to reveal the hidden potential of a child who is ahead of his peers in terms of his level of development, and how to organize work with such children?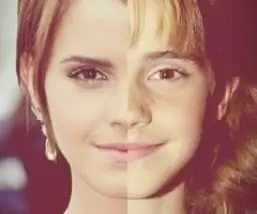 Many parents of girls, unfortunately, forget about their childhood and adolescence, and therefore, when their beloved daughter reaches adolescence, they are not at all ready for the changes taking place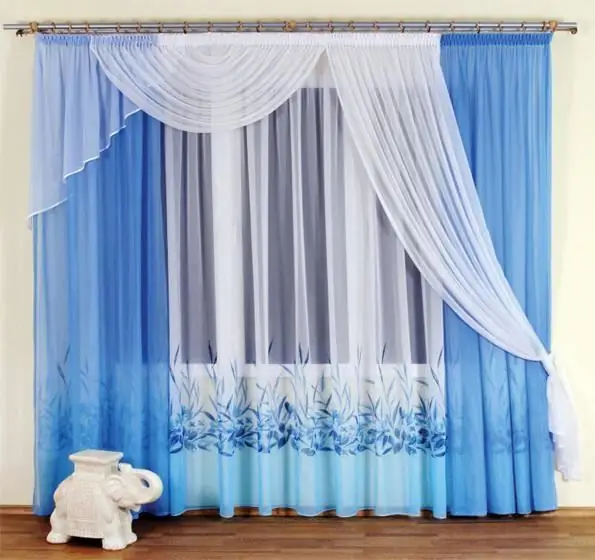 Curtains are light curtains that are designed to decorate a window opening. There are several varieties of them, they should be selected depending on the type, size and design style of the room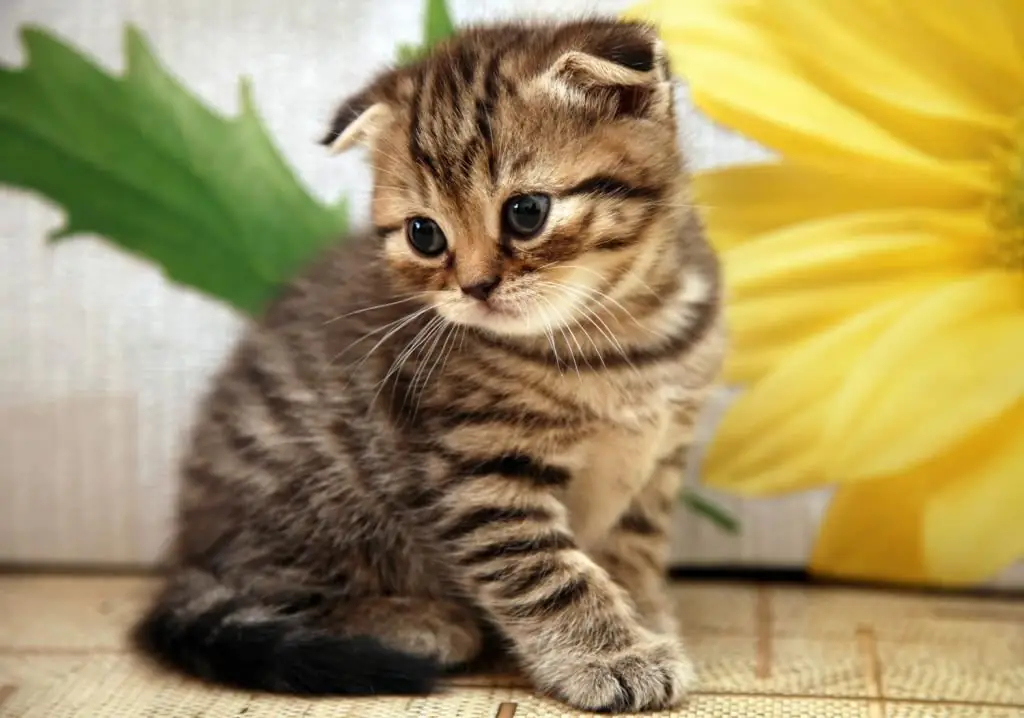 Although there are a lot of options for how to name a Scottish kitten, it is with their nicknames that difficulties often arise. Completely loyal to everything in the world, the Lop-Eared is extremely picky about how they are addressed. Animals need to be watched. The owners often imagine a cat with the manners of an empress, and the pet is more like Lara Croft. Therefore, you should come up with different options for nicknames in advance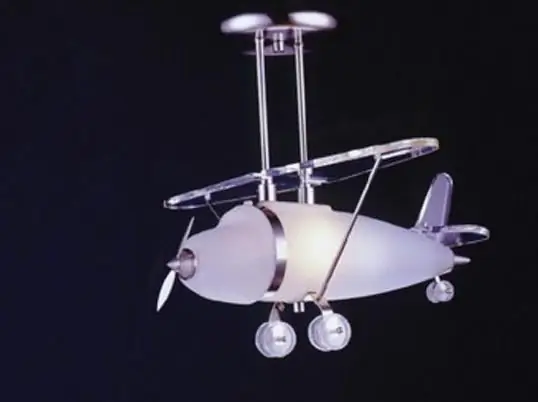 It is necessary to design a children's room in accordance with the age and gender of the child. It is important to create the right lighting with different light sources. To date, their choice is huge: children's chandeliers, table lamps, nightlights, sconces and much more