Not all parents pay due attention to the rules of the road. Even if they are explained to children at home, then repetition is the mother of learning, so it is necessary to teach children already at preschool age, for example, by filling out a corner of traffic rules in kindergarten.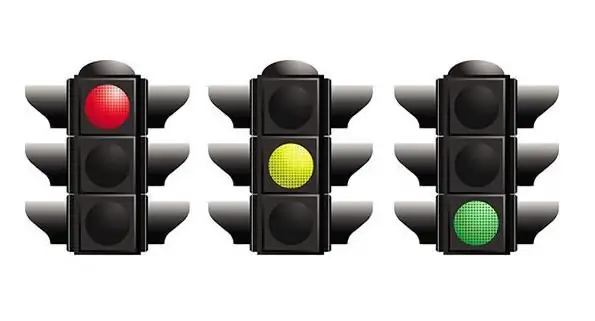 Elements of the corner dedicated to the rules of the road
What elements should be used to decorate this composition? Some of the details included in the traffic rules corner in kindergarten are easy to arrange with your own hands. For example, colorful posters with various situations on the road, which should not be many so as not to overload the attention of the children. As heroes of such sketches, cartoon, fairy-tale characters or animals are quite suitable. After the children have already learned something, you can give them the opportunity to draw such drawings themselves.
List of the main elements that it is desirable to include in the traffic rules corner in kindergarten:
Along with situational images, illustrations showing the location of pedestrianand transport roads on the street, in particular at the intersection, traffic lights and zebra markings close-up, types of transport, types of cars from different sides.
Cards with road signs, dolls in the form of traffic police inspectors, toy models of cars, traffic lights, roadbeds. Particular attention should also be paid to safe routes from kindergarten to home.
Colored paper and everything you need to work with it will allow educators and children to create applications of varying complexity, from a traffic light with green and red circles to models of a roadway and a railway.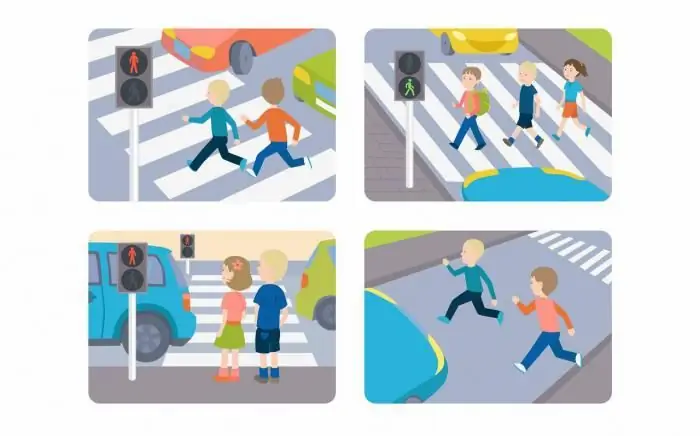 Teaching traffic rules should be in the form of a game
The interest of children in learning traffic rules is the key to their safety on the roadway in the future. Therefore, to maintain attention and remember information well, a game approach is necessary, especially in the preschool period. The traffic rules corner in kindergarten will help create an entertaining and educational environment at the same time. Its function should be to explain in a playful way the rules of behavior on the roadway, pedestrians and railway tracks.
How to arrange a traffic rules corner in kindergarten in a game plan? There are two main ways to act out situations on the road:
Costume performance with the children themselves. To do this, it is enough to have some attributes of a traffic police inspector (baton, cap and whistle), a steering wheel is suitable as a designation for a car, a zebra can be created from white strips of paper, and by adjusting the traffic light layout letone of the guys is doing it.
Board games using roads, signs, figurines and/or building blocks. Some elements can be made with your own hands, but it is better to purchase the simplest large-sized model of a street with a pedestrian road, a crossing and a roadway. To develop the correct behavior of children on the railway tracks will allow the game using a toy railway with signs, bridges, crossings or even a train station, station, platform.
You can also sew or purchase vests for children with the image of different types of transport. An entertaining game is a question-answer option. Such a test of knowledge in children is sold ready-made or conducted in an oral informal survey, for example, on the topic "What is this sign".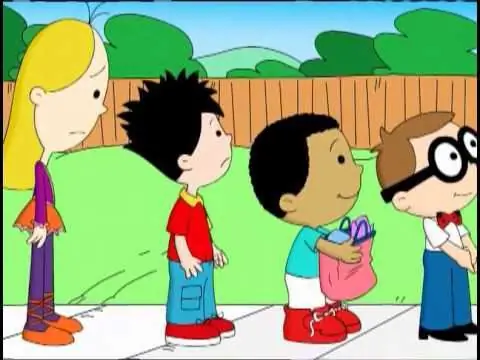 Modern games for teaching children traffic rules
The process of teaching children to behave on the pedestrian and carriageway of the street can be made more interesting by modern technologies: animated slides, short fragments, computer games on similar topics, electrified stands or LED panels with a switch to highlight a certain sign.
Traffic rules for children
The traffic rules corner in kindergarten should have several features depending on the age of the children. In the younger group, children should be conveyed knowledge about the most common signs and modes of transport using tangible objects, pictures and role-playing games. Do not immediately offer advanced electronic learning methods, which canmake it uninteresting for the child to cut out objects from colored paper, sculpt from plasticine, and so on. At older preschool age, the number of multimedia learning methods can be increased.
Children should also be shown information about difficult road crossings, types of specialized vehicles (ambulance, police car), a wider range of signs (children, crossing or cycling is prohibited, as well as underpass and pedestrian crossing, marking of the installation point etc.).
Popular topic