Each kitchen has at least a minimum set of household appliances. Advanced housewives try to entrust all the work to devices, more conservative ones acquire only the most necessary. But those and others usually have a blender in their kitchen appliances. The main admirers of this device are mothers with small children.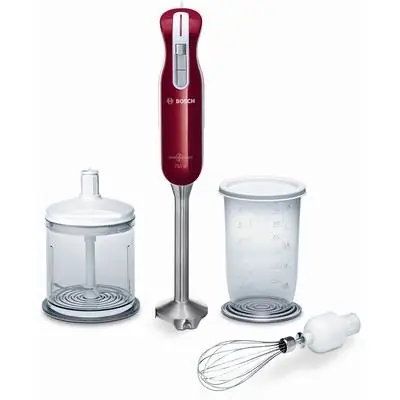 Diversity of brands also divides consumers into adherents of certain brands. The Bosch blender is not offended by fans - this is facilitated by the functionality and durability of the device. Another plus of the brand is the widest price range. A family with any budget can buy a Bosch blender, and the quality of the device will always be high.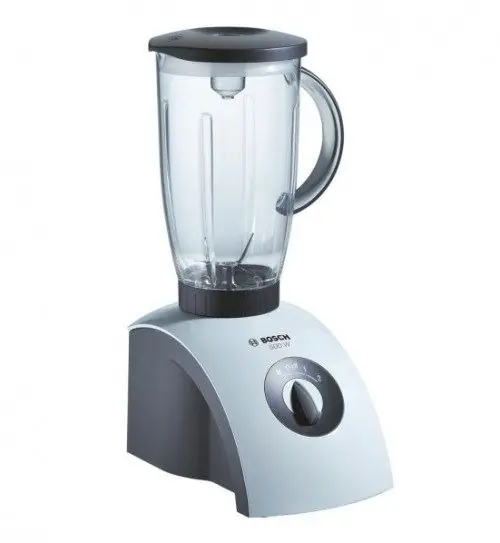 Prices depend on the power and configuration of the device. The more power, the higher the price of the blender. Stationary multifunctional usually cost more than submersible. Which type to choose depends on the desire of the consumer and on the type of work that is supposed to be done with this device. Bosch blender is ready to take on the maximum number of functions.
For compact kitchens, a type of submersible blender is more often bought. The minimum equipment consists of a removable knife forlong leg (immersion part) and a plastic or glass cup in which the knife can work. A Bosch blender may have a plastic dipper on cheaper models and a metal one on more expensive ones. Metal is preferred - it allows you to puree hot soups and sauces.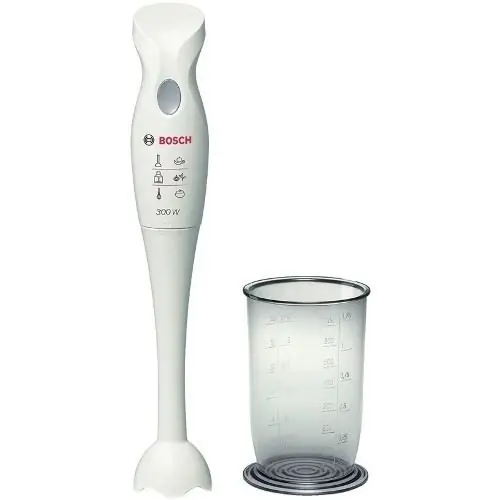 Standard Bosch blender is equipped with a whisk and chopper. If the family menu contains omelettes, pancakes and pastries, the whisk will be especially in demand. With good blender power, this attachment can replace a mixer.
Is it convenient to use the chopper offered by the Bosch blender? Consumer reviews invariably pay attention to sufficient power and good knives. At the same time, the chopper will not replace the meat grinder. It has a relatively small bowl, up to 600 ml, which is enough for chopping raw vegetables and cooking a small amount of minced meat.
Small volumes of products are used in baby food and in a small family. Is it worth installing a meat grinder to make a few tablespoons of minced meat for meatball soup? A small chopper is good for chopping onions without tears or smelly hands.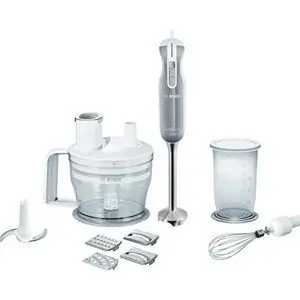 In addition to the minimum and standard equipment of blenders, the BOSCH brand offers an extended set of accessories. The fundamental change concerns precisely the functions of the grinder. For example, for the MSM 7800 brand, the capacity of the chopper bowl is 2 liters, and the power of the device is 750 watts. As attachments, there is a whole set of graters, disks forcoarse and fine shredding of vegetables. Having such a blender, you can do without buying an expensive combine.
Stationary blenders, although they look more solid than manual (submersible), functionally they are inferior to them. Their most common function is to make fruit and vegetable smoothies and mix liquids.
Popular topic